« On Veterans Day [KT]
|
Main
|
Ace of Spades Pet Thread »
November 11, 2017
Saturday Gardening Thread: The Birds follow the Bees [KT]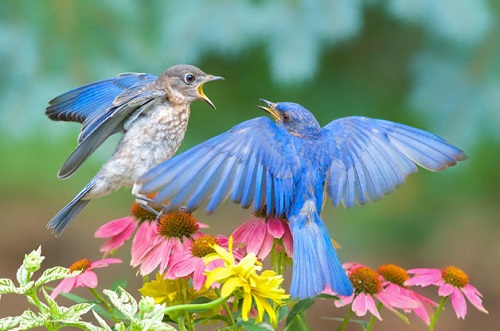 Hello, gardeners and friends of gardeners. As the weather gets chillier, I am thinking less about insects and more about birds. We still have bees out here, but I expect that is not true in much of the country. We are starting to see some migrating birds here in the San Joaquin Valley. Mostly big ones. But today, I would like to concentrate on smaller birds. They often depend on seeds and fruits pollinated by bees. They also like some shelter.
Above is the Birds and Blooms 2016 photo contest winner. You can vote for a winner in the 2017 contest at birdsandblooms.com/contests in the categories "birds" "blooms" and "butterflies". We have some fine photographers in The Horde. I think some could submit competitive photos for 2018. Scary to think it's coming up so soon.
Crabapples and Cider
Some members of The Horde make apple cider. Some crabapples can be used to add a little zing and astringency to apple cider. This is an alternative to special "cider apples" for this purpose. Some edible crabapples are better for jelly or spiced crabapples. There used to be a line of crabapples outside the School of Business at the University of Utah. I think it was 'Dolgo'. It was sweet, but had a "bite", too. I think it could be useful for cider. The fruit is about the size of a small plum. Here are its spring blossoms: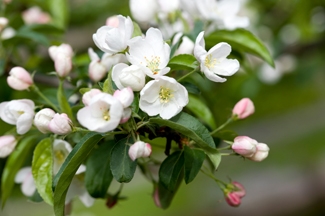 The blossoms of Dolgo are fragrant and mostly white. Some crabapples have pink or red blossoms. Even the strictly ornamental crabapples (the ones that make fruit, anyway) attract birds in winter to feast on leftover fruit. This one is Prairie Fire, with a Blue Jay.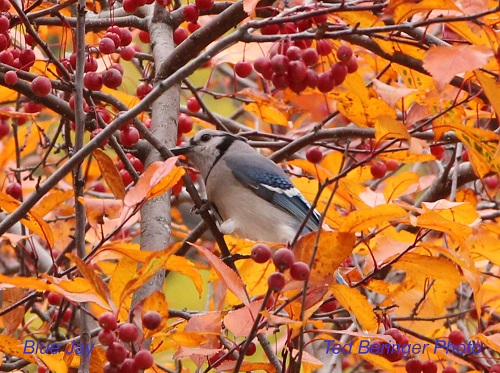 Do you grow a crabapple tree? Are you thinking about growing one?
Bee Science
Gordon alerted us to a study suggesting that certain flowers use a blue halo to attract bees. This type of halo may have developed from "evolutionary disorder" in the petal surfaces.
"Insect visual systems are different to human ones," explains Edwige Moyroud, from Cambridge's Department of Plant Sciences and the study's lead author. "Unlike us, bees have enhanced photoreceptor activity in the blue-UV parts of the spectrum."

"Humans can identify some blue halos - those emanating from darkly pigmented flowers. For example the 'black' tulip cultivar, known as 'Queen of the night'."
Do you see a blue halo?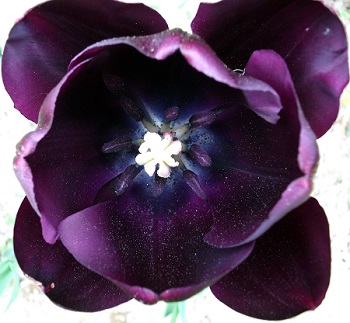 "However, we can't distinguish between a yellow flower with a blue halo and one without - but our study found that bumblebees can," she said.
I don't know about that. I think I have seen flashes of blue at certain angles on this flower. Do you recognize it (without reading the links)?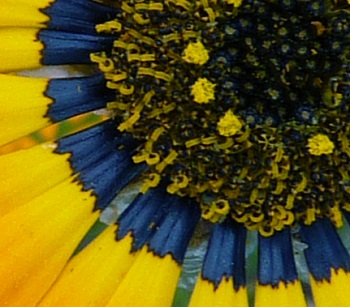 Flowers for Bees and Little Songbirds
We have already discussed the Coneflowers under the bluebirds at the top of the post. Bees love them. Birds love the seeds from the cones after the petals drop. The same is true of several other flowers included by catalogs in "songbird mixes".
Centaureas for bees and birds
There are several Centaurea species that bees love. We have already discussed cornflowers. A favorite in wildflower mixes.
Another is a native annual, Centaurea americana. Cultivated forms can grow up to 6 inches (!!!) across. This is Aloha. Don't know the reason for the name. Maybe it is used in leis.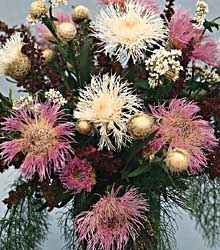 This side view of a wild blossom from the University of Texas shows why it is also called
Basket Flower.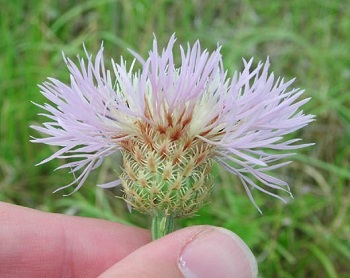 Naturally, the honey that Food and Wine Magazine calls "The Champagne of Honeys" comes from a disgusting plant, Yellow Star Thistle.
Along with Russian Knapweed, it poisons horses in a terrible manner. But other grazing animals like sheep and goats can be used to control the plant.
Control of star thistle in Yosemite is quite the dramatic thing. Note the blue-dyed Round-up. Not "organic". Heh.
Here is a dried bouquet withThistle, Cedar Rose and Yellow Star Thistle.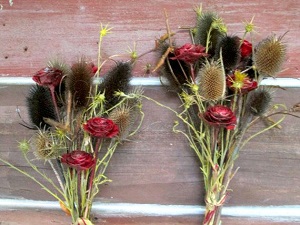 I am OK with thistles in bouquets that one does not have to carry around. Guess you could hang these bouquets outdoors and let little songbirds pick seeds out of the seedheads.
Wood Roses and Deodar Cedar
The Cedar Roses (Wood Roses) above are maybe something I could get used to for indoor dried bouquets. I didn't know what they were. From a woman who gathers pine cones commercially in Redding, Callifornia:
Worden's favorite cones are from deodar cedars. The trees aren't native. Rather than forests, she finds them in Redding neighborhoods and knocks on doors to get permission to gather.

"It's one of the ugliest cones It looks like a cross between a hand grenade and a beehive," Worden said. But the bottom of the cone disintegrates and the top, which resembles a wooden rose, detaches.
Here is a photo by Arthur Chapman of the cone before it disintegrates to leave a Wood Rose.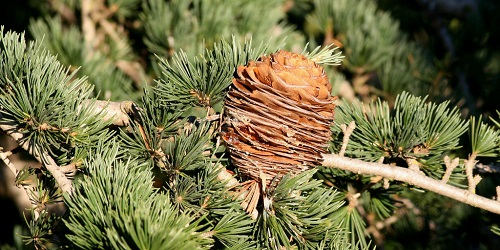 The Deodar Cedar is the National tree of Pakistan. In its native habitat it is a majestic tree, with variable form The wood is used for building and to make incense. Hardy to Zone 7.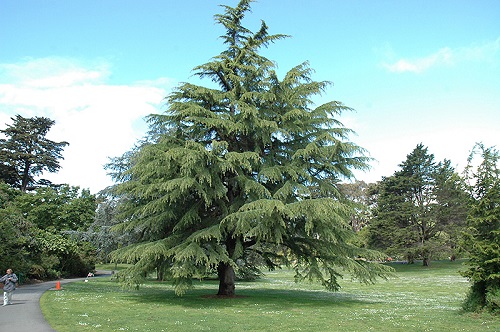 There are a number of cultivars grown from cuttings, including dwarf and prostrate types. Here is a dwarf deodar called 'Silver Mist'. Pretty little tree. Good bird cover.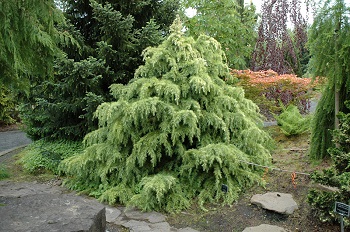 Gardens of The Horde
Warmer this week than last week. Kinda cold this morning. Weed control continues. Anything going on in your garden?
If you would like to send information and/or photos for the Saturday Gardening Thread, the address is:
ktinthegarden
at g mail dot com
Include your nic unless you want to be a lurker. We take bird photos.


posted by Open Blogger at
12:49 PM
|
Access Comments