« Weird News Dump
|
Main
|
Saturday Gardening Thread: The Birds follow the Bees [KT] »
November 11, 2017
On Veterans Day [KT]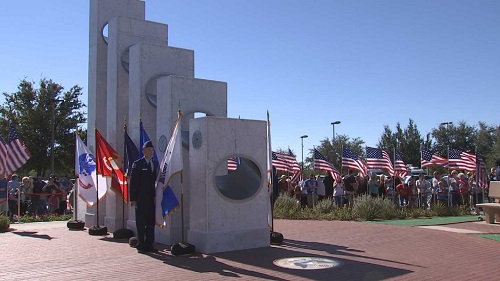 Veterans Memorial
Anthem, AZ
Good morning. Hope you have a meaningful Veterans Day today. Any commemorations going on near you? There are near us. The parade in Fresno, plus smaller events at veterans halls, little cemeteries, fairgrounds and other venues all over the Valley.
Below, a quote from my grandfather, a young chaplain in WW I whose habit was to go in unarmed with the front line troops. This is from a letter to his father from the Belgian Front, late 1918:
I am happy to say that peace seems to have come. I was slightly wounded in the right arm in the offensive we took part in on the Belgian front. I felt happy to be alive and safe and I look forward to coming home.

My sympathy goes out to those who will never go home and for those who expect to see friends and relatives who will never come back. I have come to the conclusion that life is a precious gift and is worth living, no matter what the difficulty, but we are so helpless to save it or preserve it that it is not worth while to consider our health and happiness and comfort above that of others. It is worth while sometimes to die, if death will serve to help others. When we think too much of our comfort we expose ourselves to more danger by disintegration than we do when we make a brave fight and face every danger and exposure.

I hope I come home from this war more of a man then I went into it. If I don't I'll feel that I have not played my part.
WW I was not the only thing going on during that time. We passed a milestone this week, 100 years of communism. Why won't the nightmare dream die?
Partly because of people like Bernie Sanders, who honeymooned in the USSR.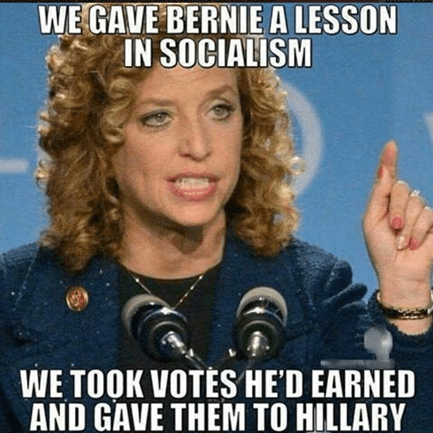 The image above is from Dan Mitchell, A humorous lesson about socialism. More images at the link, plus this video if you follow the links in Dan's piece, from an outfit headquartered in London. Might be worth sharing with a youngster who is not too far gone, but who likes foreign accents. Got any other ideas for giving kids a dose of reality regarding socialism?
But back to Veterans Day: My grandfather suffered wounds not mentioned in the letter above. He carried shrapnel in his back for the rest of his life. Couldn't eat chicken because of an experience with spoiled chicken under desperate circumstances. Still, he was ready to volunteer for WWII. To fight communism's more practical heresy, fascism.
Thanks to our veterans.
NOTE: This is the Thread before the Gardening Thread.
Serving your mid-day open thread needs

posted by Open Blogger at
11:11 AM
|
Access Comments