« Mass Shooting in Sutherland Springs, TX Church; Update: At Least 27 Dead and 30 Injured
|
Main
|
Weekend Gun Thread »
November 05, 2017
Food Thread: It's That Time Again...Thanksgiving! (Or, "Oh damn..thanksgiving)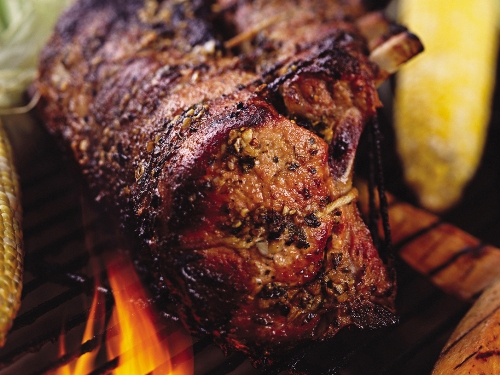 [Photo courtesy of
The Food Network
, illustrating a very interesting looking dish]
Yup...someone else is cooking the turkey for Thanksgiving at Chez Dildo. Real men eat rotisserie pork roast, brined for several days in lots of good stuff. And to answer your next question: no, the bones will not be Frenched, because that is a crime against nature. Whoever thought of stripping fat and meat off the bone just to make it pretty was a bad, bad man. I will get the bones split, so it it is easy to carve. That takes any butcher about 30 seconds and is a huge time-saver.
And speaking of butchers, I make a mess of tying roasts. I can't seem to get the hang of the technique, so I just tie each bone separately. It takes longer, but accomplishes the same thing. Of course I do it in the privacy of my kitchen, with the blinds drawn. it's too embarrassing for public consumption.
******
Before we continue, here is a message from the Moron Cookbook committee:
DaveM -- please check your email that you used to send in your Death by Cinnamon Coffee Cake to the Moron Cookbook. Bluebell needs clarifications for a few things. Thank you!
Left unsaid is, "Now, or we'll shiv you in the yard before lunch"
******
Stuffing is one of those great and simple foods that is festive and easy and actually tastes good. Here is my favorite recipe...one that I have worked on for a few years to simplify. Obviously it is almost infinitely modifiable, so for instance, I will probably use about half hot sausage and half sweet...just for kicks. Here is the PDF of the recipe, because otherwise this thread will be about four feet long....
Sausage And Cornbread Stuffing

******
Another regular visitor to The Thanksgiving table at Chez Dildo is Squash Soup. Hell, it's so easy, and it tastes so good I have no idea why I don't make it more often. I use butternut squash, but I'll bet there are other varieties that are as good.
I like to garnish it with baguette slices that I have soaked in olive oil, toasted, and then smeared with goat cheese. But any garnish that will float will work. Maybe I should go for the chicken feet garnish I mentioned recently.
******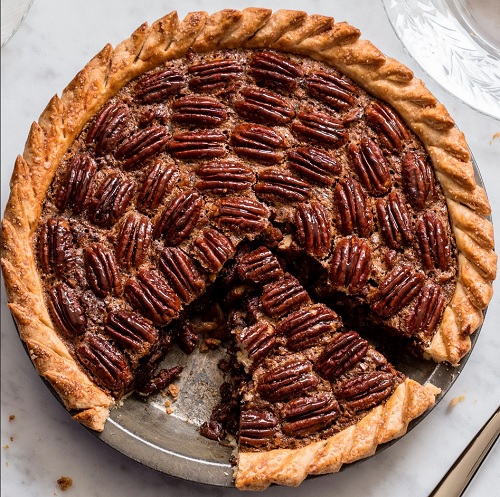 Here is Bluebell's recipe for Pecan Pie, which she swears by. Notice there is no recipe for the crust, because that's how most cooks roll; leave something out so they can chuckle over somebody else's last-minute panic. She did say to use lard in the crust, so I guess she can be forgiven...a bit.
Pecan Pie
1 cup sugar
1 cup light corn syrup
1/3 cup butter
4 large eggs, lightly beaten
1 teaspoon vanilla extract
¼ teaspoon salt
1 unbaked 9-inch pastry shell
1 ¼ cup pecan halves
Combine first 3 ingredients in a medium saucepan; cook over low heat, stirring constantly, until sugar dissolves and butter melts.
Remove from heat; let cool slightly.
Stir in eggs, vanilla, and salt.
Pour filling into pastry shell, and top with pecan halves.
Bake at 325 for 50-55 minutes or until mixture is set.
There is also a variation where you add 3 tablespoons of dark rum with the vanilla – I've never tried it.
[From: Southern Living: Our Best Christmas Recipes]
PDF here

******
Everybody gets into a tizzy over Thanksgiving, mostly because people forget that the point of the holiday is to enjoy (or tolerate) the people around you. The meal is a delightful bonus for which your guests should express themselves appropriately. And even if it isn't perfect -- and it won't be -- the meal should not overshadow the pleasure of seeing your friends and relatives in a relatively relaxed situation.
And here is my advice for those of you who will be hosting millenials or Gen-Xers....
Have them put their phones in a basket at the door. That's the price of admission.
If that is too much, at the very least turn of your WiFi and make them fend for themselves; why should you pay for their rudeness by supplying an internet connection?
What's that? How is my construction of a cellular phone jammer going? Quite well. There is the pesky issue of a federal rap if I am caught, but that is a small price to pay for the look of horror on the 20-something's faces when they realize that, "OH NO, I CAN"T SNAPCHAT!"
Okay..fine...one more bit of advice. Don't be a bartender for everyone. Beer, wine, a bottle of bourbon. Don't make nine different drinks because it takes way too long. We make a big pitcher of Margaritas as our one sop to the amateur drinkers in the crowd.

******
Food and cooking tips, great sourdough baguettes, spare bottles of Oban Scotch Whisky, fresh Morels and other goodies with impressive girth:
cbd dot aoshq at gmail dot com
******
&topic=world_news">

posted by CBD at
05:00 PM
|
Access Comments