« Thread before the Gardening Thread: Postmodern Art Therapy [KT]
|
Main
|
Ace of Spades Pet Thread »
November 04, 2017
Saturday Gardening Thread: These plants have spine(s) [KT]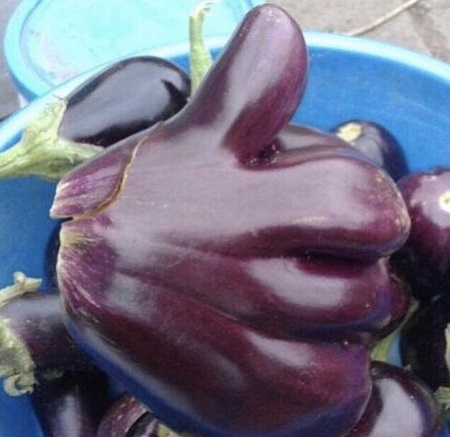 Hello gardeners and friends of gardeners. It's November! Time to transition from Halloween to Thanksgiving. I haven't quite given up on weird plants, though. This week, some more spiny plants, including eggplant. Not all eggplants have spines on the calyx, but most of the older varieties do.
Eggplant
Eggplant is one plant that makes it through our hot summers, as long as it has water. I should plant more of it. I seem to have a hard time picking it in a timely fashion. Do you like the Eggplant Affirmation above? Maybe it will inspire me for next year.
Epicurious asks, "Is it really necessary to salt eggplant?" Their answer seems to be "not usually". I think it might have been more necessary in the past. Plant breeding has changed eggplants.
Here's an actual trial of salted vs. unsalted eggplant from the LA Times. Their answer is "It depends".
Here's how to do a saltwater bath when your recipe demands one.
I'm open to some new summer recipes for eggplant. Don't bake much in the summer. Then again, it's fall now. So recipes for baked eggplant would be good, too.
Sea Hollies
Last week, before Halloween, we discussed Miss Willmott's Ghost, a biennial Sea Holly. Krebs v Carnot noted that:
We have not had the best of luck planting Eryngium varieties at our summer place. The flowers are striking and different, but the self-seededing and return in subsequent years has seldom lasted more than one additional year.

I recall reading somewhere that they are related to carrots.
Why, yes, they are! And they are also related to Cilantro. One of the plants in this genus is Culantro, an herb from Mexico and the Caribbean which is sort of like a more potent form of cilantro that can be dried or stored for a while in olive oil without losing its flavor. The leaves have spiny, serrated edges that you may want to cut off unless you use the tenderest growth.
Cilantro vs. Culantro
I am one of those people who has a genetic aversion to Cilantro, so I will probably never grow Culantro. But some in The Horde might like to try growing it. It is used a lot in Caribbean and Asian cooking. Often in combination with Cilantro. Sometimes in combination with Eggplant. Have you ever tried it?
The scientific name, Eryngium foetidum, translates to something like "foul-smelling thistle". The smell has been compared to crushed bedbugs. It was once used to treat convulsions.
The green flowers of this plant lack the showy collar of many sea hollies. People from the Caribbean recommend growing it in part shade. It is technically a biennial, but is often grown as an annual in the north. It does not bolt as quickly as cilantro from spring planting, and flavor can be maintained for a while by pinching out the summer flower stems.
You can grow culantro indoors. Long days stimulate flowering, which you don't want. So, you could grow it in winter under lights. Leave the 3 youngest leaves on each plant to encourage new growth. Other tips for commercial growers at the link.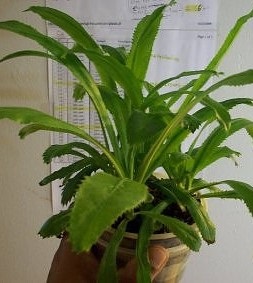 You can start plants from seed or from herbs you buy in the market. If the crown is intact, it will root in water, then can be planted in a pot. I have heard that some restaurants keep pots on or near diners' tables.
Old World Sea Hollies
There are about 250 species in the genus Eryngium. Sunset broadly categorizes Eryngium species for the garden into tap-rooted Sea Hollies from the Old World, often from dry, rocky areas, and species from the New World, which often come from moist meadows and have fibrous roots.
Tap-rooted Sea Hollies generally need excellent drainage, especially in winter. Garden forms tend to be perennial. They are hard to move once established but can be propagated by root cuttings. The ones grown in gardens are usually perennials, except for Miss Willmott's Ghost. They often have blue or amethyst flowers. Here is a hybrid called "Blue Jackpot". You can easily find more Sea Holly photos at the link. Nice blog.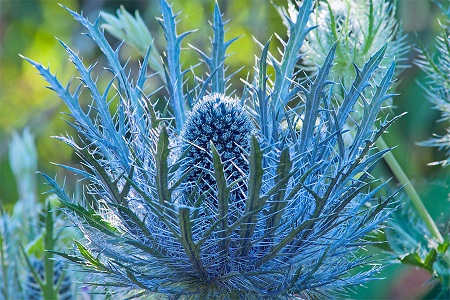 Eryngiums from the New World
Garden Eryngiums from the New World are more variable in form than Sea Hollies from the Old World. In addition to Culantro, here is an interesting smaller one grown for its foliage, E. venustum. In a Danger Garden. Motto: "Careful. You could poke an eye out."
Perhaps you need something strange & otherworldly for your low water garden? Well, look no further than this petite Mexican perennial with spacey, spiky leaves & starry silver thistle-like flowers. It is a prickly plant, but attractively so & we don't need all of our plants to be softly pretty, do we? Leaves are very boldly serrated & make a striking pattern even before the flowering stems arise. It's super easy to grow & very tough, needing very little water & surviving in hot, hot sun.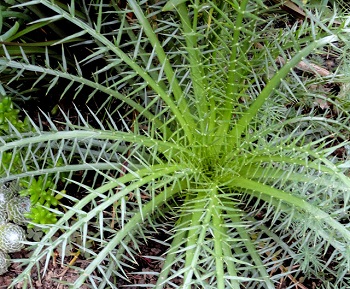 Attracts finches. Doesn't attract deer.
Those in more northerly climes might like to try a native of the tallgrass prairie and Eastern glades, Rattlesnake Master. Looks nice in combination with other bold native plants. See it backlighted on the left in a big urban garden.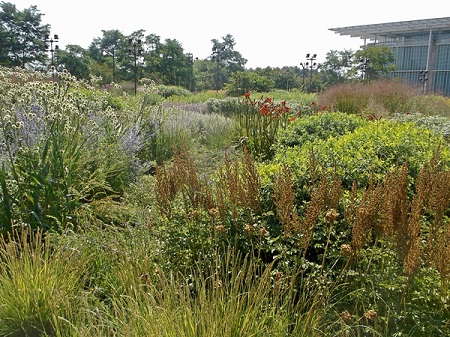 Eryngium yuccifolium is quite adaptable. Easy to care for. Attracts butterflies and birds. I have seen another Eastern species given the name "Rattlesnake Master", but I don't remember where.
Here's a showy one from the South-Central USA, E. leavenworthii. Don't know much about it, but it's an annual. Unusual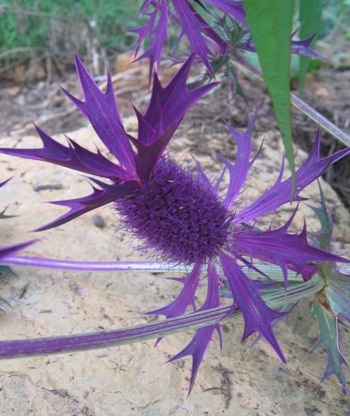 Photos from The Horde
Cactus
Last month, Don took some photos of several cactus species (or maybe some are hybrids) that he started in May. In Kansas. They are fascinating in the diversity of their form. Not sure why this one appeals to me so much: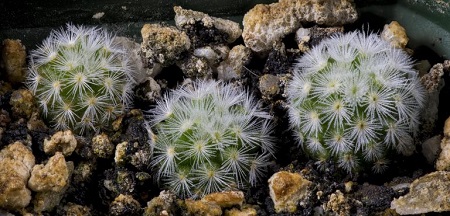 You should really take a look at all the photos. The spines on some of those cacti don't look particularly spiny.
Frostweed?
Cumberland Astro sent in the following:
With gardens petering out and the first freeze approaching, here is something fun that you might want to alert your readers to look for.

Frostweed (Verbesina Virginica) is a wildflower (or weed) that that creates a beautiful natural phenomenon on only one day per year. At the first freeze its sap explodes from the plant and freezes into a beautiful and delicate ice sculpture. I took the attached photos in 2009 when I lived in Austin, TX. Frostweed was all over my neighborhood and I looked forward to taking a walk on the morning of the first freeze each year so I could see the show. My experience is that Frostweed puts on its best show when the first freeze is also a hard freeze.

Although the range of Frostweed is the entire Southeast and Midwest, I do not see any Frostweed where I now live on Tennessee's Cumberland Plateau.

Frostweed blooms in August and September, so it sometimes has the same stigma as Goldenrod - it has the misfortune of blooming when people are sneezing from ragweed. People sometimes try to eradicate Frostweed in conjunction with ragweed removal.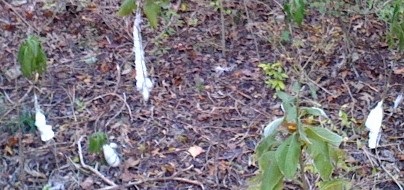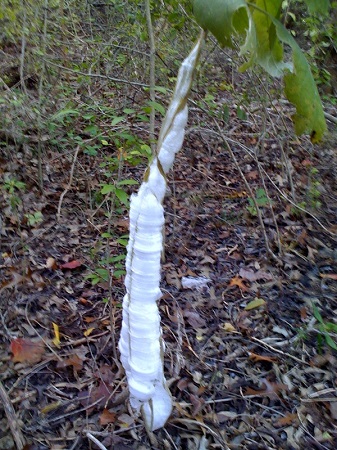 Thanks! Never heard of it before.
Mystery Plant of the Week
Socratease sends the following:
I ran across this evil-looking plant in Nikko, Japan, when I was there in the fall of 2009. I have no idea what it is, and Google image search turned up nothing. If you know what it's called, or could show it around and find out, I'd be interested to hear. Thanks!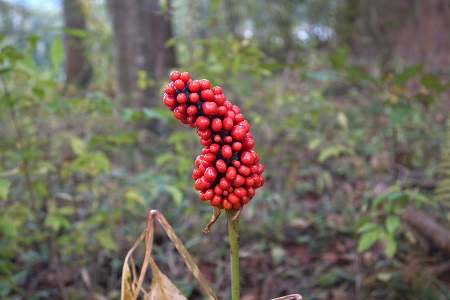 So, what do you think it is?
We have some great photos that I am saving to cheer us up as the weather gets colder, but we will accept more.
Gardens of The Horde
Rain has been forecast here for a couple of days, but so far, nothing but clouds. Doing weed removal. Poodly puppy got a rose stem stuck to his fur and resisted its removal until I put him on a leash. Calmed him right down.
Anything going on in your garden?
If you would like to send information and/or photos for the Saturday Gardening Thread, the address is:
ktinthegarden
at g mail dot com
Include your nic unless you want to be a lurker.

posted by Open Blogger at
12:45 PM
|
Access Comments