« Always Ready To Take The Easy Way Out
|
Main
|
Sunday Overnight Open Thread (10/29/17) Where Did The Weekend Go Edition? »
October 29, 2017
Goodbye, Meh Economy (MJ)
There are a ton of reasons why I could never vote for Clinton--the lying, the corruption, her inability to conquer modest level changes...
But there's only one reason I voted for Trump.

Many of you have had the pleasure of working in a decent economy. Many of you may even remember what it was like when Reagan was in office and an audible BOOM could be heard as America realized decline and malaise were not our destiny.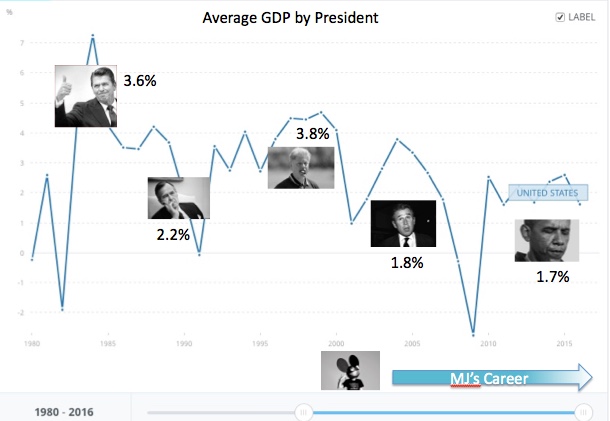 Entering the workforce in 2001 wasn't ideal. America was confused and the economy was shaky. Hell, everything was in doubt. But as the economy recovered and things were looking stable again, the epic disaster seeded in the Clinton years began to bloom like red tide. Bush's inability to head off the crash, and Obama's sophomoric view of the world led us right back to the malaise and talk of managing the decline rather than fighting to succeed.
Sixteen years of...unexpected. Sixteen year of...meh. Sixteen years of elitist garbage that always produced the same result.
It's the economy, phonies.
A sub 2% GDP isn't the norm and no matter how many politicians or political economists preach that nothing more is possible, its just not true. Post WW2 GDP is much like Hillary's blood alcohol content: always above 2% and averaging above 3.
So don't pay a Russian hooker to pee on my leg and tell me its raining vodka.
Americans my age have never worked in a decent economy. We've always been in the meh. But we don't have to accept it, and for many of us, Trump was the first person to really reject the notion that sustained growth was even possible.
Trump talked about optimism and that we can do better. That we don't have to accept a loss, fight for a tie, and spin it as a win a la the McConnell/Ryan wing of the Republican party.
He expects 3%, will push for 4, and then 5. No creature of government, regardless of party, would even consider the possibility.
Got my vote and will again.

posted by Open Blogger at
08:15 PM
|
Access Comments