« Weird News Dump
|
Main
|
Saturday Gardening Thread: Otherworldly Plants [KT] »
October 28, 2017
Halloween Treats [KT]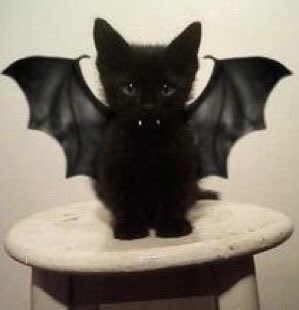 This Baby Animal is ready for Halloween.
Are you?
Greetings! Hope the Saturday Before Halloween is going well for you. I thought that today it might be a good idea to prepare something besides candy to pass out to Halloween visitors. Especially the teenagers. Maybe some adults and older children, too. Especially the ones who are afraid of Tiki torches.

I think the video below is a great one to pass out freely on Halloween, or more selectively on other days when the subject of the Alt-Right comes up. Like maybe when someone associates YOU with the Alt-Right.
This video is pretty much hysteria-free. Michael Knowles "took a deep dive into Alt-Right culture". He learned some simple, basic things that middle school students should know. And maybe some of their parents. Of course, if you are a regular reader of AoSHQ you already knew most of this stuff.
But it's nice to see the basics laid out so plainly for those who have been led to think of the Alt-Right as "the Right": The Alt-Right is an alternative to the Right. Sort of like the Left is an alternative to the Right. For example, both the Alt-Right and the Left are pretty much obsessed with race, while the American Right is not.
While we're on the subject of obsession with race, maybe some kids are confused because it is okay with many on the Left that Disney appropriated Polynesian culture in order to make a movie about Moana, but it is not okay for little white girls to dress up like this fictional princess. Perhaps some kids might start to think that those scolding leftists like big corporations better than children. Perhaps they would be right.
Children who are old enough to understand "colonization" might be interested to know that giant colonizers of the internet, namely Google and YouTube, are restricting access by young people to many videos like the one above. Because Google and YouTube are hostile to foreign cultures like American Conservatism. PragerU is suing Google and YouTube in California.
PragerU's lawsuit argues that "Google/YouTube use their restricted mode filtering not to protect younger or sensitive viewers from 'inappropriate' video content, but as a political gag mechanism to silence PragerU". The suit alleges Google/YouTube did this "because PragerU is a conservative nonprofit organization that is associated with and espouses the views of leading conservative speakers."

"This is speech discrimination plain and simple: censorship based entirely on the perceived identity and political viewpoint of the speaker not on the content of the speech," the lawsuit alleged.

The suit demonstrates this by presenting a chart presenting its restricted videos and other videos on similar topics that were not restricted.
Google and YouTube have not clarified exactly why they find the restricted videos unsuitable for the young. They basically just assert their privilege in a seemingly arbitrary fashion.
Watch that video while you can, kids.
Can you think of some other appropriate information to pass out to kids who might appreciate a little surprise on Halloween?
Hope you have a great weekend. And maybe some fun on Halloween.

Programming Notes: Yes, this is the Thread before the Gardening Thread. I am currently in an internet-free dimension, dependent for a few hours on the kindness of others (namely CBD) to post this and the coming Gardening Thread. Catch ya later.
Serving your mid-day open thread needs

posted by Open Blogger at
11:00 AM
|
Access Comments