« Matt Damon and George Clooney: Goodness Us, We Never Heard a Blessed Thing About Weinstein's Misbehavior (Except for the Things We Did Hear About)
|
Main
|
The Morning Report 10/24/17 »
October 23, 2017
Monday Overnight Open Thread (10/23/17)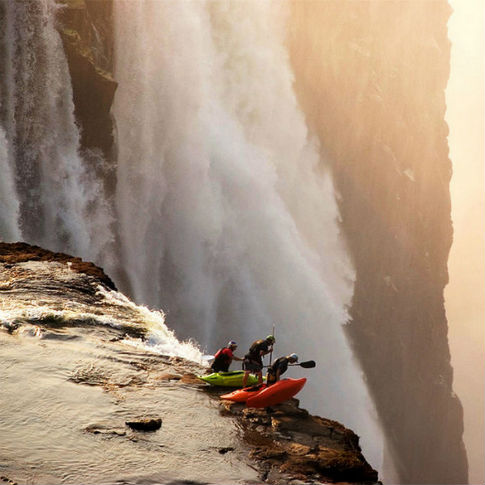 (Not sure if the ONT is down there)
*****
Quotes of The Day

Quote I

There are people who thirst for blood like tigers. Any man who has once tasted this unlimited power over the blood, over the body and spirit of a human creature like himself, a creature created in the same image and subject to the same law of Christ; any man who has tasted this power, this boundless opportunity to humiliate most bitterly another being made in the image of God — becomes the servant instead of the master of his own emotions. Tyranny is a habit. It can and does eventually develop into a disease. I believe that the best of men may grow coarse, degrade to the level of a beast by sheer force of habit. Blood and power intoxicate one, they develop callousness and lust. The greatest perversions grow finally acceptable and even delicious to mind and heart. The man and the citizen perish in the tyrant for ever and the return to human dignity, remorse and spiritual rebirth becomes scarcely possible to him. Besides, the example and mere possibility of arbitrary power are contagious; they are indeed a great temptation. A society which regards such things calmly is already corrupt at the roots. Fyodor Dostoyevsky

Quote II

You know how it works. When you criticize the alt-left, it's hate speech. When they criticize you, it's speaking truth to power. Howie Carr
*****
Humor in truth................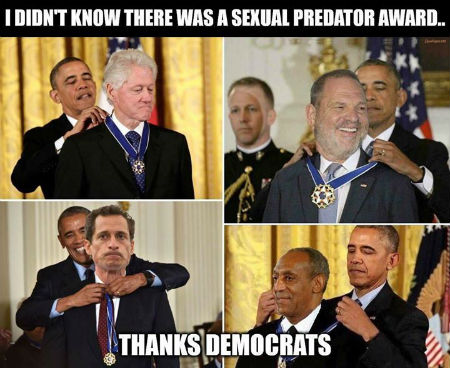 The ONT wonders if the reprobate Ted Kennedy received one of those awards?
*****
Soviet Union Naval Seals.
*****
Las Vegas massacre. We still haven't been told what the motive was. Mapping the massacre.

New York Times team including Malachy Browne, Drew Jordan, Nicole Fineman and Chris Cirillo has produced a video that maps a timeline of the Las Vegas massacre: "The shots began at 10:05. Twelve bursts of gunfire later, police broke down Stephen Paddock's door at the Mandalay Bay. Using forensic analysis, The Times mapped 30 videos that show a vivid picture of what happened that night."
*****
Do you use dating apps? Good news on the horizon.

He lives next door, is an excellent liar, and is only pretending to care how your parents are doing. No, not your ex, but rather a real-life psychopath. Most don't realize that psychopaths are rarely tucked away in high security prisons, but often live right down the street. Thankfully, Dr. Pascal Wallisch has our back, and the psychologist is hoping to protect us, the 99 percent of the population that can physically feel empathy and regret, from those who can't.

The term psychopath is used so often in media and everyday speech that the true meaning sometimes gets lost. Beyond the Hollywood glamor, psychopathy is a psychological diagnosis affecting a small but very prominent proportion of the global population
*****

Is Tesla about to change the auto insurance industry?

Tesla struck a deal with Liberty Mutual to create a customized insurance package — and the move shows how the electric automaker is intent on disrupting the insurance industry.

The new plan is called InsureMyTesla and was designed specifically for Tesla vehicles. Its benefits include replacing Teslas damaged beyond repair within one year. Tesla launched the package on October 13 in the US in all 50 states, but it already exists in 20 other countries, a company representative confirmed.
I suppose when you take a person's money and don't deliver as promised. Fewer cars on the road means fewer accidents.

And if you are lucky enough to purchase a Tesla you'll be spending some of your time charging the thing.

Long wait to purchase. Long wait to charge the thing. Leave it to the American Taxpayer to help out "Green Corporate Welfare". Musk just another mouth at the government teat.

Why build in the USA when you don't have the same obstacles American manufacturers have.
*****

Thank God Obama isn't POTUS. Other wise this despicable piece of shit would probably be walking the streets beside us.

Bowe Bergdahl, the U.S. Army sergeant who pleaded guilty Monday to deserting his post in Afghanistan in 2009, says his Taliban captors were more "honest" with him than the Army has been since his release three years ago.

"At least the Taliban were honest enough to say, 'I'm the guy who's gonna cut your throat,' " Bergdahl tells British TV journalist Sean Langan in an interview with the Sunday Times Magazine of London headlined "The Homecoming from Hell."
*****
Because being an Anti-Semitic asshole and just all around King Shit Touch isn't enough, Jimmy Carter wants President Trump to send him to North Korea to solve the tension.

Donald Trump loves delegating. He has the secretary of defense deciding troop levels in Afghanistan, his daughter pinch-hitting at meetings, and his son-in-law handling the Middle East, Mexico, China, criminal justice reform, and the opioid crisis. Now, former president Jimmy Carter has given Trump a way to hand off the de-escalation of tensions with North Korea, too: Send him.
"I would go, yes," Carter told Maureen Dowd (paywall), who wrote that the 93-year-old former president is eager to work with Trump on the issue. When Dowd said that many in Washington were concerned about the rhetoric between Trump and Kim Jong-un, he said he was "afraid, too, of a situation. I don't know what they'll do. Because they want to save their regime. And we greatly overestimate China's influence on North Korea. Particularly to Kim Jong-un. He's never, so far as I know, been to China. And they have no relationship. Kim Jong-il did go to China and was very close to them."
Because at age 93 he would hold up as well as Otto Warmbier.
*****
I sold my tickets otherwise I would have seen this.

So now, others are taking action in every way they can and are getting very creative in how they do so.

On Sunday morning, a plane circled the Green Bay Packers' Lambeau Field with a massive banner reading, "Real men and NFL owners should stand for our country!"
*****
The ONT Musical Interlude
October 23, 1962, 12 year old Little Stevie Wonder recorded his first single for Motown Records, 'Thank You For Loving Me All The Way' backed by the Funk Brothers. viathisdayinmusic.com
***
October 23, 1993, Meat Loaf had his first UK No.1 with 'I'd Do Anything For Love' (But I Won't Do That'). It stayed at No.1 for seven weeks. A No.1 in twenty-eight countries and gave Meat Loaf his first US No.1 hit. via thisdayinmusic.com
***

Photos
Rare photos from The Smithsonian.
*****

Do you have a stressful job? Why not vape some weed on the job?

"I have a high-pressure job," said Amy S., the CEO of an Internet startup with more than a dozen employees. When she's having a crazy day, the 40-year-old heads down to the alley across from her Canal Street office and reaches inside her Rebecca Minkoff handbag to retrieve her vaporizer. She spends 20 minutes or so puffing and making phone calls — to her adviser, her lawyer, her CPA, her dad.

"I'm not embarrassed," she said. "I don't think [smoking during the work day] should have a stigma. If I never told anyone, no one would know."
*****

The problem with selling on credit? Payment. What happens when a monument company doesn't get paid?

After a North Carolina family was unable to pay their bills, the grave marker for their 5-year-old son was repossessed, leaving the grave only covered with a plywood slab.

The Charlotte Observer reports that earlier this month, the parents of Jake Leatherman visited his gravesite only to discover that the monument marking their son's grave had been removed, and the only thing remaining covering his grave was mud and a slab of plywood. Jake, a 5-year-old child who lost his battle with Leukemia in 2016, had been laid to rest at Hickory Cemetery in Hickory, NC.
*****
As we approach Halloween, The ONT suggests that you don't go as John George Haigh.

The Acid Bath Murderer was one of the most gruesome serial killers of all time. While his abusive childhood may have played a huge role in his affinity for murder, this once-intelligent young man turned a dark corner he couldn't come back from.
*****
Do you like cake? Do you like cake so much that you end up as our Genius Award Winner?
*****
To serve and protect and to be compassionate. Tonight's Feel Good Story of The Day.
*****
Tonight's ONT has been brought to you by Excuses.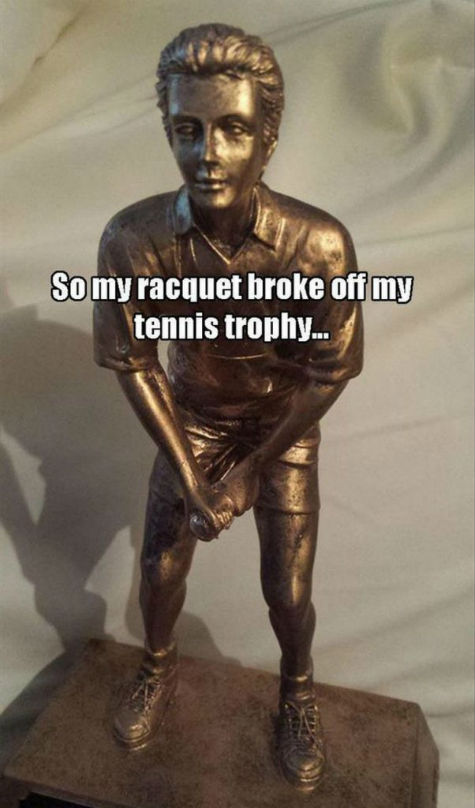 Notice: Posted with permission by AceCorp, LLC, NOTWITHSTANDING ANY TERM IN THIS AGREEMENT, OTHER APPLICABLE TERMS AND CONDITIONS OF THE ACECORP PROPERTIES OR ANY ACT OR FAILURE TO ACT BY ACECORP OR ITS VENDORS, YOU ARE EXCLUSIVELY LIABLE FOR ANY AND ALL SUBMITTED CONTENT YOU TRANSMIT VIA THE ACECORP PROPERTIES.

posted by Misanthropic Humanitarian at
10:04 PM
|
Access Comments