ę Weekend Gun Thread
|
Main
|
Saturday Overnight Open Thread (10/21/17) Short But Sweet Edition Ľ
October 21, 2017
Saturday Evening Movie Thread [Hosted By The JamesMadison]
Play Ball!

So, weíre in the middle of the playoffs. We almost had a World Series rematch. What better time to talk about some baseball movies than now?
Thanks to kallisto for the idea.
Americaís Pastime

Personally, I love the sport of baseball a lot more than any other (so you probably shouldnít get your hopes up too high for one of these on another sport). I love the fact that itís both an individual sport and a team sport at once. I love that it takes time and attention to appreciate. I love that it feels like a game and not a thinly veiled analogy for something else (like war). It knows what it is, itís well proportioned, well balanced, and a great way to spend a summer afternoon. Thereís also a very deep history to it allowing for peeks at America in completely different eras all through the familiar prism of this one sport.
Being such a beloved sport for so long, baseball has also inspired more than its share of movies. From Pride of the Yankee to Damn Yankees to The Sandlot weíve seen movies find the inherent drama of the game and capitalize on it to create some wonderful films. Two of those (lesser) movies that my dad always had a VHS of while I was growing up were Major League II and Rookie of the Year, but my favorite has grown to be Moneyball.
Drama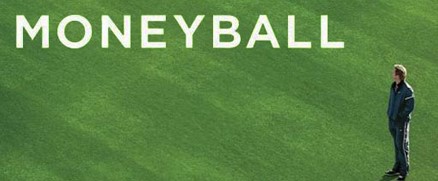 Sudden Turnarounds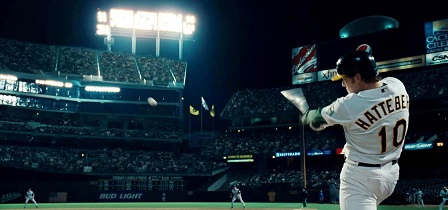 So, the history of the movie version of Moneyball isnít 100% accurate, but itís still a great piece of filmmaking. One thing that it does incredibly well, I think, is convey the true feeling of watching a baseball team through a year. This is highlighted in two sequences: The Streak, and the end of the season.
The Streak (where the Aís won 20 games in a row, an AL record maintained until this year when the Indians won 22), is an absolutely fantastic sequence, and it caps with the real life walk off home run after a roller coaster 20th game. Everything felt like it was going to end until that one play, and then an eruption of emotion. It wasnít as predictable as the one, two, three homerun (Hatteberg knocked out the very first pitch), but it represents the expectation of the high, the withdrawal away from that high, and then the sudden apex.

The end of the yeah happens in game 5 of the ALDS. Oakland is riding high when, almost inexplicably, it all just comes to a sudden end. The soundtrack quiets, and all thatís left is the sound of a radio
personality talking about how the Aís were good, but just not good enough. That particular level and delivery of disappointment is familiar to anyone who follows sports. "Weíre almost there!" "We lost? How did we lose?"

The Long Game

I think that the drama of baseball, though, comes in the length of the season, not in individual games. The drama of a game mostly comes from the culmination of a seasonís worth of work (are we that nervous at the end of game 3 of 162?). Baseball is a game of tension that builds over months and peaks in individual games while movies take place over 90-120 minutes. Condensing all of that into such a small frame is difficult, so the drama really changes.
Still, baseball has inspired good films, and we should celebrate that. All I know is that I need a live rooster.

The Elephant in the Room
Weinstein.
I donít care about the personalities behind movies. Certain people I wish to keep making movies forever (Terrence Malick being a prime example), but mostly, theyíre all disposable and easily replaceable. That gets doubled when it comes to the non-creative types, like most producers. Seeing him burn makes me smile more than anything else.
But, movies are a medium, not an industry or Hollywood itself. People in Spain make movies who have never been to Hollywood. Francois Truffaut had only seen Hollywood movies when he made The 400 Blows. If I never saw a Hollywood film again (past, present, or future), Iíd still never catch up with whatís been made much less whatís yet to come out.
Let Hollywood burn. All itís really doing is making superhero movies these days anyway.
Movies of Today
Opening in Theaters:
The Snowman
Geostorm
Only the Brave
Next in my Netflix Queue:
The World According to Garp
Movies I Saw This Week:
The American (Netflix Rating 4/5 | Quality Rating 3/4) Poster blurb: "Pretty solid little thriller." [Netflix DVD]
Arrival (Netflix Rating 5/5 | Quality Rating 3.5/4) "Very smart scifi film that takes its concept to a wonderful and emotionally satisfying
place." [Personal Collection]
Blade Runner 2049 (Netflix Rating 5/5 | Quality Rating 4/4) "As smart and visually stunning as youíve heard." [Theater]
Blow Out (Netflix Rating 5/5 | Quality Rating 4/4) "Hot damn, early Brian de Palma was great, wasnít he?" [STARZ]
Flight of the Navigator (Netflix Rating 3/5 | Quality Rating 2.5/4) "Never rises above cute, but still, pretty cute." [Netflix DVD]
Kiss of the Spider Woman (Netflix Rating 3/5 | Quality Rating 2/4) "An actorsí showcase that ends up feeling emptier than expected. A disappointment." [Netflix DVD]
Friday the 13th (Netflix Rating 2/5 | Quality Rating 1/4) [Rewatch] "Trashy nonsense that barely qualifies as a movie." [STARZ]
Friday the 13th Part 2 (Netflix Rating 2/5 | Quality Rating 1.5/4) "Seriously? Is this supposed to be an actual movie?" [STARZ]
Contact
Email any suggestions or questions to thejamesmadison.aos at symbol gmail dot com.
Iíve also archived all the old posts here, by request. Iíll add new posts a week after they originally post at the HQ.

posted by Misanthropic Humanitarian at
07:45 PM
|
Access Comments