« Thread before the Gardening Thread: Veil of confusion [KT]
|
Main
|
Ace of Spades Pet Thread »
October 14, 2017
Saturday Gardening Thread: Hunkering down, starting again [KT]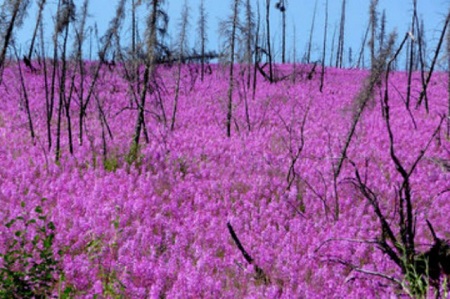 Fireweed, a survivor
Fire and Fireweed
The fires are still raging in California, though the winds that blew down the electrical poles and started the fires in the north have calmed down some. And more help is arriving. It's not over yet by any means. Read about some people who survived for 6 hours in a pool while their neighborhood burned. We are far from the current fires, but have been advised to stay indoors as much as possible due to reduced air quality.
Here's a link on landscaping for fire. Residents reducing wildfire risk. Don't know that landscaping would have made much difference when the winds were high. It has made a difference under more moderate conditions. Along with government doing its part in wild lands.
Speaking of government, it is illegal to fly a drone near a wildfire. In case you were considering "before and after" photos of a neighborhood.
I hope that some fireweed has gained a foothold where some of this season's earlier fires are now history. This plant has undergone a botanical name change recently. It is still bright and pretty. Perennial. Needs some water.
Its roots often survive a fire. And its seeds, on parachutes like dandelion seeds, blow into fire-ravaged areas. Some people make it into tea or jelly. We have an unimpressive annual relative growing wild in our yard.
The home of one of my cousins in Utah was threatened by a wildfire this summer. There was a fire truck parked by her house for an extended period of time. Firefighters kept the fire away from her street. Here are before and after photos from her annual Geranium Roundup. She says they have looked better the last two weeks than they have most of the summer, but frost threatens.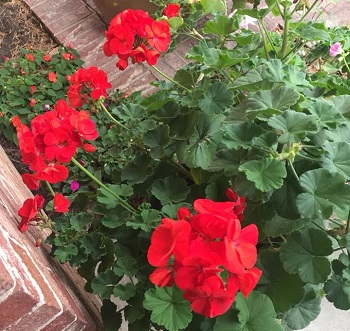 Her husband was the Geranium Wrangler this year. The plants spend the winter in front of windows in the unheated basement of their split-level home. There are 22 pots of geraniums in the herd, plus a guest pot.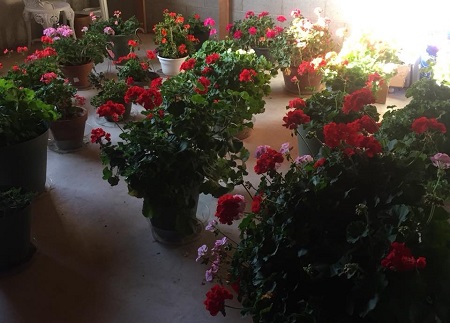 The Horde Gardens
Remember back in June when Sherpa_K2 sent in those photos of tomato plants growing in car tires? Well, on September 30, he sent photos of some of the resulting tomatoes, plus some other things he grew this year. I'm saving some of the photos for inspiration during the cold months.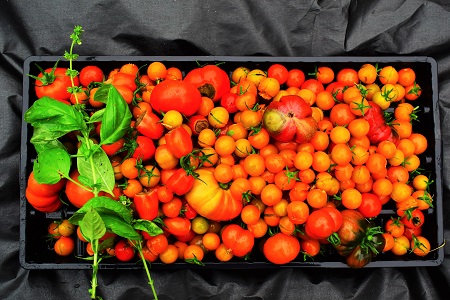 Heirloom tomatoes are still coming here in Port Townsend Washington. From our garden we grow heirloom tomatoes for making sauce and put it up for the winter months. Prepare tomatoes on oven sheet pans with olive oil, Walla Walls onions from our garden, fresh minced parsley, fresh oregano, fresh basil, Italian seasoning, granulated sugar, salt, red pepper flakes, minced garlic. Heat over to 275 degrees and bakes sheet pans with tomatoes and all ingredients for three three hours. Let cool and and place in freezer packs and smash it up and mix it up in the packs.
There are other members of The Horde who also recommend roasting tomatoes for sauce. Especially when you put stuff like onions and garlic in it, it's best to freeze it as above or pressure can it for safety.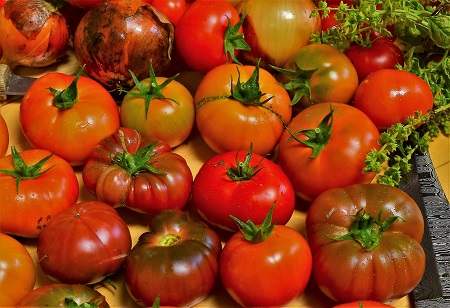 Here is one of his last-of-summer flowers. Nice color.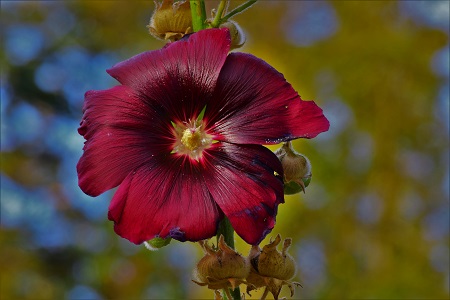 Intrepid Minnesota gardener and Star Tribune reader Gordon sent in an entertaining piece on abuse of children by squashes.
The Thulls do have one child, and the 4-year-old's name cropped up -- literally -- as John held aloft an oblong squash with the letters "M-A-S-O-N" on it.

"Last spring we sat with Mason and inscribed his name on one of the seeds. In August, I went out and scored one of them, and then we sent Mason out to the field to find 'his' squash. And he thinks it grew that way," said Jenny.

John grinned. "It just feeds into my crazy," he said.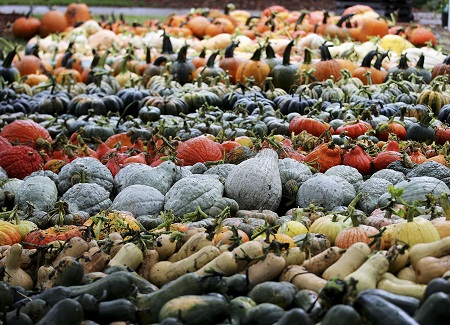 263 varieties
Follow-up from last week
Last week we discussed an easy cutting flower for fall sowing, Cleome (Spider Flower), plus a spineless hybrid suitable for containers and hanging baskets, Clio, reputedly hardy over winter in zones 6 - 9. (Remember, don't comment on old threads).
We got some comments on the tendency of the species to appear where it was not wanted in the Southeast. Another hybrid, Senorita Rosalita, is a mid-height plant that produces no seeds so it will not self-sow and doesn't need a lot of dead-heading. It also has no spines and is missing the slightly icky, sticky foliage of the species. Apparently needs full sun, does best when there's not too much rain. Flowers are not quite as big as on the species. You might actually find one of the hybrids in a nursery. This one may live over the winter in zones 9 and 10. Attracts hummingbirds and butterflies, resists rabbits, like the species. Reportedly. Looks kind of like fireweed from a distance, doesn't it?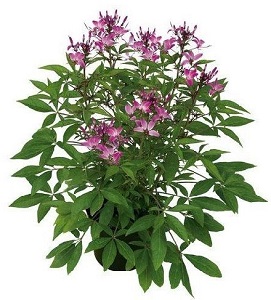 We also got some interesting recommendations for preserving beets, like juniper berries in pickles beets, or sous vide preparation instructions from DaveK. Scroll down a little for a fabulous pickle relish recommendation from sock_rat_eez.
Anything going on in your garden?

If you would like to send information and/or photos for the Saturday Gardening Thread, the address is:
ktinthegarden
at g mail dot com
Include your nic unless you want to be a lurker.

Signing off for this week with a bouquet from KT's niece. One last summer daisy surrounded by fall flowers.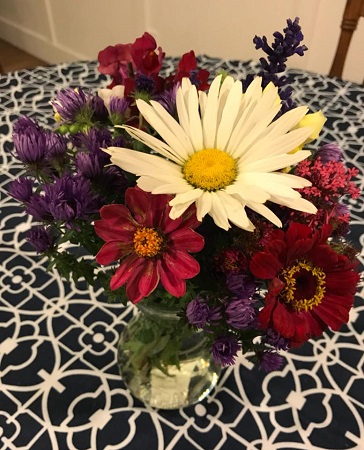 posted by Open Blogger at
12:43 PM
|
Access Comments