« Saturday Afternoon Chess/Open Thread (Featuring Dress Pr0n) 10-07-2017
|
Main
|
Saturday Overnight Open Thread (10/7/17) Point And Click Edition »
October 07, 2017
Saturday Evening Movie Thread 10-07-2017 [Hosted By: TheJamesMadison]
Cruelty

You people are cruel. 82% wanted me to do this. Well, I asked for it.

Assassin's Creed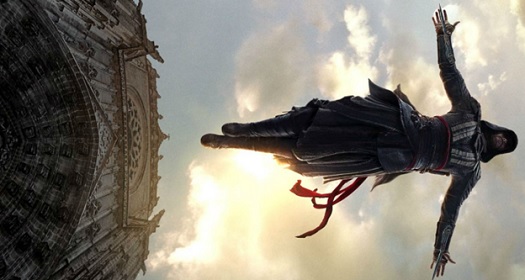 When Assassin's Creed was announced, I had some mild interest. I've played some of the games (beating the second one), and I had found them to be potentially good vehicles for an action movie franchise. When the director, Justin Kurzel, was announced, I became cautiously optimistic. I hadn't seen it yet, but his adaptation of Macbethwas well regarded and looked visually impressive from the trailers (I've since seen it and found it to be very good). When the trailers for Assassin's Creed started to come out, my enthusiasm wasn't really enhanced. The visuals looked good enough, but what big budget action movie doesn't these days?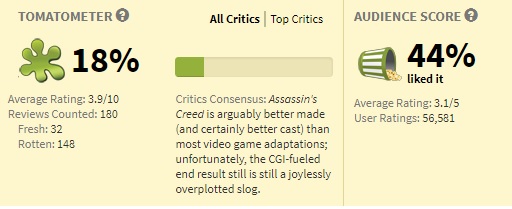 Then the reviews came in, and they were not kind. I saw the movie's 18% score on Rotten Tomatoes, just like everyone else. It's hard to go to the theater with a 3-year-old, so it wasn't like the score kept me from the movie, but my assumption was that the movie probably wasn't very good, but the zeitgeist had taken effect and the critics were overreacting. It was probably going to be somewhere between mediocre and okay.
I finally got my chance when the movie came to HBO on my very last day of having the service. So, I watched it.
Narrative Issues
So, the basic conceit of the movie is that a man from the present (Collum, played by Michael Fassbender) is the direct descendent of an Assassin who lived in Spain during the Inquisition. This Assassin was the last person known to have seen the Apple of Eden, the MacGuffin of the movie that supposed to be the key to free will…or something. The action gets split between the present day where Collum is executed for murder, revived by an evil corporation, and put into the Animus, the device that allows him to relive the genetic memories of his grandsire, and the actions of that grandsire in Spain.
At the heart of all of this is a problem. All of the action scenes except the last one are set in Spain, but our main character is in a completely different time and place. He's reliving the events, but nothing is ever at stake for him. He can't do anything "wrong" because he's not actually in control. He's just reliving the memories of someone else. There's some talk in the movie about how he's in synch with the memories, but that's a call back to a game mechanic that never really made sense from a narrative or even literal point of view. The script adapts it to be about how resistant Collum is to the memories. If he resists, then he's out of synch. If he doesn't resist, then he's in synch. If he's out of synch bad things happen to his body.
I'm obviously not a huge fan of the games having played only three of the dozen or so, but from my point of view, I've never cared about the modern day stuff. It's always been a distraction from the running around rooftops and killing people throughout history fun of the core game. I'm fairly sure that the game designers disagree with me, thinking that the core of the games (and movie, which they had a lot of creative control over) was that modern day stuff since it keeps coming back in the game series and takes such prominence in the movie itself.
I feel that the main character should be Aguilar, the assassin in Spain. He's the one is both looking for the Apple and also actually going through the action of looking for it as well. But, we never get to know him. He barely speaks. His character seems to be bad ass assassin, and little else. The one piece of information about his backstory we get (a single line of dialogue about his past) is given in the modern part of the film explaining that one of the bad guys killed his family. It's a real blink and you'll miss it moment. Oh, and this cipher of a person takes up a solid 40 minutes of screentime in a movie that's a grand 100 minutes long.

Exposition
The filmmakers set out to tell a rather complicated story. It involves weird technology that allows people to experience the lives of their ancestors first hand, a mystical MacGuffin, a large multi-national corporation that's somehow descended from the Knights Templar, the Inquisition, even Christopher Columbus (if a movie set in Spain in 1492 surprises you with an appearance by Christopher Columbus, then you deserve to be spoiled). Not to mention about half a dozen characters with significant amounts of dialogue to explain all of that in about 60 minutes of screen time (because the other 40 are action scenes).
What does all of that lead to? Yeah, a whole lot of George Lucas level dialogue. And, just like the prequels, you have very good actors (including Jeremy Irons who will give his all no matter what) delivering boring dialogue except this time they deliver it a bit better than anyone in Episode I ever did. Endless talk about the Apple, the corporation, the technology meet the audience at every turn. It's boring.

Dust
Have you ever noticed in Ridley Scott's movies how there's very frequently some kind of smoke in the frame? From cigarettes in Alien to fires in Gladiator, Scott uses smoke effects to fill the image and make it more dynamic. The director of Assassin's Creed apparently tried to mimic this, but at an incredibly ridiculous scale. Here's a screenshot from the movie.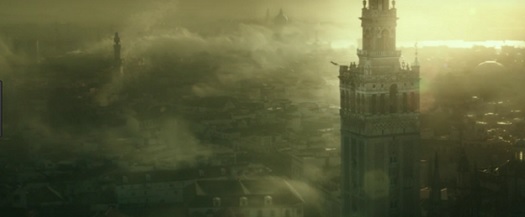 That's ugly. Here's another.



Again, ugly. This movie is, end to end, borderline painful to look at. I think it started out as an effort to make the movie have a Ridley Scott type feel, but ended up failing in two regards. First is that most of the dust effects are digital. Digital dust and smoke end up looking muddy instead of light and airy. I also think that it's budget related. The movie was made for about $125 million dollars, which is a significant amount of money, but it won't buy everything. I think they laid on the dust effects to cover up some less than stellar underlying CGI effects and to hide some seams between different types of effects. All it really ends up doing is making the picture ugly to look at.
It's full of an ugly brown color palate in the past and a lifeless white and gray one in the present. Nothing pops off the frame. Who thought that a lifeless and ugly pair of color palates was a good idea for something that's supposed to be visually impressive? It's hard to believe that the same director gave us this shot in Macbeth: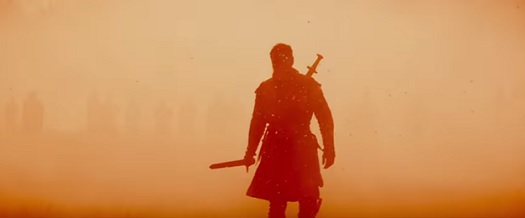 It's obviously in the same vein, but to much better effect.

A Second Viewing
I watched this movie a second time for the purposes of this post, and I was actually a bit worried as I went through it again. For the first hour or so I was thinking that the movie was bad, but it was the level of terrible that I had originally made it out to be. What would I do? Lie about my feelings because I had promised invective? Well, I don't need to fake it because the final act of the movie started and any level of moderate quality that had been established in that first hour got thrown away.
It's in the final act that the movie fully embraces its stupidity.
We have an extended fight and chase sequence involving our mannequins of main characters. There's a weird desire on the movie's part for us to feel the death of one character in past Spain, but I know nothing of her except that she's an assassin. Aguilar runs and makes an impossible jump (because video game source) which is so hardcore that it breaks the machine in the modern day…except that it all still works? Because Collum still sees his ancestor's memory of Christopher Columbus who makes a promise to keep the Apple safe until his death and his burial (after several journeys to and from America to end up in his tomb in Spain).
It's about here that we get our, "We're so doing a huge franchise" sequence as all of the assassins that Collum is descended from appear around him. Because a dozen generations of assassins lived long enough to have kids each time…sure. Whatever, stupid movie. He then goes on to beat a small army of modern day soldiers with a few friends, all of whom are running around in pajamas and using weapons that are hundreds of years old. Not designs that were hundreds of years old, but actual weapons that are hundreds of years old. Four people in their pajamas kill dozens of armed guards.

It gets worse
So, the Templars get away, find the Apple of Eden and convene together in a hall in London to unveil it to their whole society. You know who just walks in? Three people who just escaped from Templar imprisonment and are all descended from assassins and apparently gained all of their ancestor's abilities. That's right, at this huge meeting of Templars, where people have to go through security to get in, they never bothered to tell their security guys "Here are pictures of three people we know will be trying to come and murder us all."
Le sigh…
Okay…so the obvious happens and the assassins kill the bad guy and retrieve the Apple. Jeremy Irons gets his throat cut in front of everyone which sends everyone running away (including, apparently, security), but the true head of the Templars just stands there watching. As she looks over the guy who killed the man who retrieved the Apple of Eden, the one thing her organization has been obsessing over for hundreds of years, she says, "It is not to ourselves, but to the future, that we must give glory."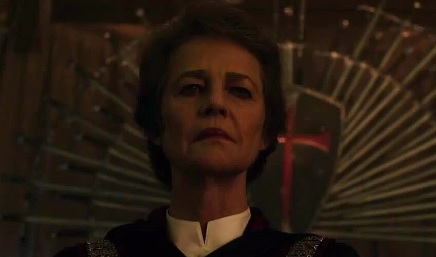 What?
It has something to do with Marion Cotillard's character becoming more important than her father (Irons), but…what?
And there's, literally, 15 minutes of credits.

Not Quite Complete Hatred
The movie's not completely worthless. I like the costume design, and how the 1492 segments are actually done in Spanish. The acting is also fairly good, but that's purely from hiring great actors and not because of the story.
And yet…for those who want morals in their stories, Assassin's Creed has probably the most confusing of all morals. It's in the actual creed which contains with these two lines: "Where other men blindly follow the truth, remember, nothing is true. Where other men are limited by morality or law, remember, everything is permitted."
Well, if "everything is permitted", then I guess that includes using the Apple of Eden to enslave the human race, right? Yeah, there's some rank stupidity at the heart of this movie.
Thinking back to my impression of the Rotten Tomatoes score (18%), I no longer though "How could it be so low," but instead had become, "How could it be so high?"

Movies of Today
Opening in Theaters:
Blade Runner 2049
My Little Pony: The Movie
The Mountain Between us

Next in my Netflix Queue:
The American
Movies I Saw This Week:
Proof of Life (Netflix Rating 3/5 | Quality Rating 2/4) Poster blurb: "Competently made, but mediocre entertainment." [Netflix DVD]
Assassin's Creed (Netflix Rating 1/5 | Quality Rating 0.5/4) [Rewatch] "See what I do for you people?" [HBO Now]
Ghostbusters (Netflix Rating 2/5 | Quality Rating 1/4) "Throw five funny people together, and you'll get some funny stuff here and there. The rest of it is boring garbage, though." [STARZ]
Bad Day at Black Rock (Netflix Rating 5/5 | Quality Rating 3.5/4) "Very good and tiny little movie that packs a surprising punch." ["Library"]

Contact
Email any suggestions or questions to thejamesmadison.aos at symbol gmail dot com.
I've also archived all the old posts here, by request. I'll add new posts a week after they originally post at the HQ.

posted by OregonMuse at
07:26 PM
|
Access Comments