ę EMT 10/08/17
|
Main
|
Suppressors, Death Squads And Hearing Loss: Larry Correia "Fisks" An Attack On Guns Ľ
October 08, 2017
Sunday Morning Book Thread 10-08-2017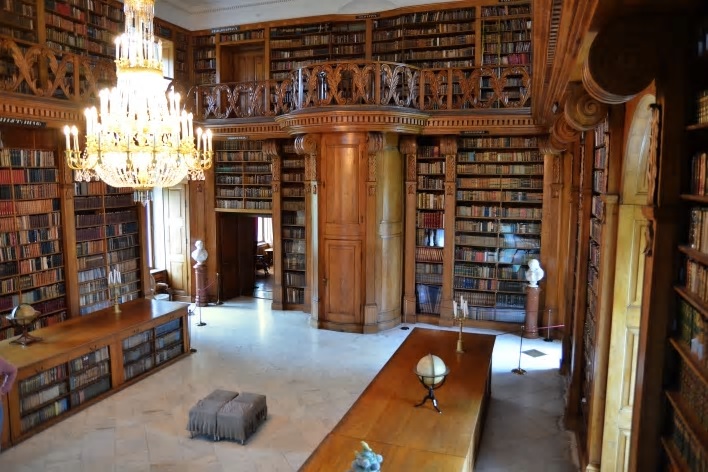 Library of Festetics Palace, Keszthely, Hungary
(Click for slightly larger version)
Good morning to all you 'rons, 'ettes, lurkers, and lurkettes. Welcome once again to the stately, prestigious, internationally acclaimed and high-class Sunday Morning Book Thread, a weekly compendium of reviews, observations, and a continuing conversation on books, reading, and publishing by people who follow words with their fingers and whose lips move as they read. Unlike other AoSHQ comment threads, the Sunday Morning Book Thread is so hoity-toity, pants are required. Like those worn by this moron, who, technically, is in compliance with the Book Thread's dress code.
(h/t Hank Curmudgeon for the pants pic)

Pic Note
This is the library in the privately-owned Festetics Palace in Keszthely, Hungary that's being offered as a filming location.

911? Maybe Not
My one complaint about the book Dial 911 and Die: The Shocking Truth About the Police Protection Myth, promoted by 'Jews For the Preservation of Firearms Ownership' is that there probably needs to be an updated edition. The publication date is 1999 and there's probably a wealth of new material that can be used and outdated information that can be replaced.
This intent of this book is to explode the "you donít need a gun because the police protect you from crime."
Anti-gun lobbyists get away with proposing to completely disarm the citizens only because most citizens just assume the police will protect them. That assumption is false. The police cannot protect everyone -- in fact the police usually have no legal duty to protect anyone.

Dial 911 and Die proves this fact. For nearly every American state and territory, this book shows how the police owe no legal duty to protect individuals from crime. The police in most places do not even have to come when you call.

Gun prohibitionist lobbyists, politicians and media have sold Americans the myth of police protection. Schools teach youngsters to "Dial 911." There was a television program with "911" in the title. That phone number is perhaps the best known in the country. A generation of Americans has come to trust a telephone number for self-defense.
Now that firearms and gun control have come up again on our cultural radar, these issues should be revisited.
It was very disturbing when I found out, several years ago, that the police are under *no obligation* to protect me or my family. Court cases have decided this question, i.e. cities/police departments have been sued by victims of crimes for failure to protect, and their cases have been thrown out with the reasoning being something like "look, you can't expect the police to be there instantly to protect you from any and all possible crimes", which sounds reasonable. The police do not have unlimited power, and that's a good thing. But then the state should not be putting in obstacles in the way of firearms ownership for those of us who want to defend ourselves and our homes. Depending on where you live, you might be in a damned-if-you-do-damned-if-you-dont situation where the police aren't obligated to protect you, and you can't protect yourself due to local firearms laws (like if you're in Chicago).

It Pays To Increase Your Word Power®
To EXAUSPICATE is to do something lucklessly or with little good fortune.
Usage: 'Ette Jane D'oh had to go to a holiday dinner with all of her with liberal relatives and quickly became exauspicated.
Clear!
Earlier this week, the subject of 'scientology' cropped up in one of the morning threads, prompting this recommendation:
308 I highly recommend the book "Going Clear" about scientology, really great read. In my opinion, that was the work that really brought them down.

One part that stuck out to me was the Scientologists basically brought the IRS to its knees. Sued every agent personally, constant litigation, etc and they basically caved to all their demands.

The whole time I was thinking why didn't conservatives like Tea Party groups engage in the same thing? We're talking .00001% of the population is in Scientology.

Posted by: Maritime at October 05, 2017 02:02 PM (lKmt3)
Here's the book, Going Clear: Scientology, Hollywood, and the Prison of Belief by Lawrence Wright, and it's not an "insider" account. At the time he wrote 'Going Clear', Wright was a staff writer for The New Yorker. He is also the author of The Looming Tower: Al-Qaeda and the Road to 9/11, which, as the title suggests, is an account of the men and events leading up to 9/11, a book which I've read and recommended.
It sounds like Wright is taking the same methodical, painstaking approach with the religion invented by L. Ron Hubbard:
Scientology presents itself as a scientific approach to spiritual enlightenment, but its practices have long been shrouded in mystery. Now Lawrence Wright—armed with his investigative talents, years of archival research, and more than two hundred personal interviews with current and former Scientologists—uncovers the inner workings of the church. We meet founder L. Ron Hubbard, the highly imaginative but mentally troubled science-fiction writer, and his tough, driven successor, David Miscavige. We go inside their specialized cosmology and language. We learn about the church's legal attacks on the IRS, its vindictive treatment of critics, and its phenomenal wealth. We see the church court celebrities such as Tom Cruise while consigning its clergy to hard labor under billion-year contracts. Through it all, Wright asks what fundamentally comprises a religion, and if Scientology in fact merits this Constitutionally-protected label. Brilliantly researched, compellingly written, Going Clear pulls back the curtain on one of the most secretive organizations at work today.
I've been watching Leah Remini's series on Scientology on the A&E network it's been in turns fascinating and appalling. Ms. Remini's own book on the subject, Troublemaker: Surviving Hollywood and Scientology, which Amazon blurb starts out
Leah Remini has never been the type to hold her tongue.
Yeah, no kidding. This is obvious from the series. She comes off as extremely driven and single-minded, and what is interesting is that in the second season of her TV show, she occasionally mentions that she is going to "do more" for the people she's interviewing than just tell their stories. She's hinting about some sort of legal action, which would very interesting. Although the COS is an organzation, as Maritime says, that has fought the IRS to a standstill.
Hmmm... That's an interesting question. In a fight between COS and the IRS, who would we want to win? Of course, we actually want both to lose, and lose badly so that each evil entity would be irreparably damaged, but that's not possible. I'm genuinely torn over this, but after some reflection, I think I would want the IRS to win -- by a hair. Because as corrupt as it is, the IRS does serve a legitimate purpose. The same is not true of COS.

Moron Recommendations
Moron franksalterego wants to recommend books written by his sister-in-law.
The first is The Night a Fortress Fell to Fairfield - about a B-17 crash after being caught in a blizzard:
On February 3, 1943, while on a routine ferrying flight from Great Falls, Montana to Ephrata, Washington, a massive B-17 Flying Fortress tangled with an unexpected blizzard. The Blizzard won. Dubbed the Fairfield Fortress, the bomber crashed its way into the lives of its flight crew, a farm family, and a small wheat farming town. The Night A Fortress Fell To Fairfield relives that cold stormy night and the memories that have survived. This true story was just a tiny incident within a nation at war, but left an enduring mark on all involved.
Available in paperback for $14.98
We Did It! - American Women During WWII - with accounts of hundreds of women, not only in the military, but on the home-front as well. (almost 500 pages):
Hundreds of books have been written about horrific combat stories from WWII, the most brutal war in history. Few books have been written describing the efforts of the American women during that time. Combat changed the lives of American men, while home front circumstances shaped a new way of thinking and living for American women. What did the women do to hold our nation together while their men were fighting overseas? What battles did the women face on a daily basis to keep our nation running smoothly? WWII changed American society forever by giving birth to the women's revolution and the Atomic Age. Both were explosive in their own right and changed the world forever.
$26 for paperback.
"Tonight We Fly!" The Soviet Night Witches of WWII - about an amazing group of highly decorated female fighter pilots. I knew we had female pilots in WWII, but they were used only to move aircraft from one place to another behind the lines, and did not fly combat missions. Thw Soviets, on the other hand, had some female pilots who definitely saw action:
The Soviet Night Witches were the most extraordinary and historically significant female fighting forces during WWII. These young women became the first in the world to fly combat missions, the first "stealth Bombers" in the truest sense of the term, and some of the most feared pilots during the war. They relentlessly bombed and harassed German strongholds in the dark of night. The Germans despised them, placed bounties on them and called them Nachtexen, Night Witches. They were the most highly decorated regiment in the Soviet Air Force.
Paperback for $15.
Unfortunately, no electronic versions of these books are available.
I noticed another author wrote an historical novel about the Night Witches entitled, appropriately enough, Night Witches: A Novel of World War Two by Kathyrn Lasky:
16-year-old Valya knows what it feels like to fly. She's a pilot who's always felt more at home soaring through the sky than down on earth. But since the Germans surrounded Stalingrad, Valya's been forced to stay on the ground and watch her city crumble.

When her mother is killed during the siege, Valya is left with one burning desire: to join up with her older sister, a member of the famous and feared Night Witches-a brigade of young female pilots.

Using all her wits, Valya manages to get past the German blockade and find the Night Witches' base... and that's when the REAL danger starts.
This book does have a Kindle version, for $10.99.

___________
Moron bensdad00 recommends Doctor Jad - The Way of Life of a Physician, first published in 1941. It's about the process of becoming a doctor, and a lot is still the same, even after 75 years. He tells me:
The most interesting historical nuggets are the complete lack of mention of anything that could even be interpreted as 'health insurance'. plus the (and I hate to use this phase) 'Pay it Forward' concept of individual doctors sponsoring the cost of medical education for promising students, with the understanding that those students would do the same.
His review is here. This book is long out of print, so perhaps abebooks or another used bookseller is your best bet. Or your local library.

Books By Morons
Science journalist and award-winning space historian Robert Zimmerman is one of our lurking moron authors, he writes, get this, science fiction (also non-ficion, but we'll get to that a bit later. So Bob tells me he has reached into the bottom of a disused cabinet drawer, blew the dust off of an old manuscript of a book he wrote all the way back in 1982, but never got around to publishing:
The time is 2183. Fifty-six-year-old Saunders Maxwell is a stubborn old space-farer who has spent his entire life in space...Later he turned to asteroid mining, captaining a small ship and crew of about a half dozen on repeated trips to the asteroid belt...he and his pilot Harry Nickerson are heading back to Mars when, as they fly over the vast slopes of the giant volcano Olympus Mons, Maxwell spots this strange glint below...they discover...the body of man who had disappeared on a distant asteroid almost a half century before. Sanford Addiono had been on one of the first manned missions to the asteroid belt when he and a partner had vanished. Nothing was ever heard from them again...Now, 46 years later, Maxwell finds Addiono's body on the surface of Mars. How Addiono had gotten to Mars from a distant now-lost asteroid orbiting beyond Mars--without a spaceship--was a riddle that almost defied an answer.
'Pioneer' by Robert Zimmerman is available at this link for $3.99 in .pdf, .mobi, .epub formats.
Zimmerman is also the author of Genesis: The Story of Apollo 8: The First Manned Mission to Another World
It was Christmas Eve 1968. And the astronauts of Apollo 8 - Commander Frank Borman, Jim Lovell, and Bill Anders - were participants in a mission that took them faster (24,000 mph) and farther from the earth (240,000 miles) than any human had ever traveled. Apollo 8 was the mission that broke humanity's absolute bond to the earth: it was the first manned vehicle to leave the earth's orbit. Confined within a tiny spaceship, the astronauts were aided in their journey by a computer less powerful than one of today's handheld calculators. Their mission was not only a triumph of engineering, but also an enduring moment in history. The words these three men spokefrom lunar orbit reverberated through American society, changing our culture in ways no one predicted.
This book is available on Kindle for $2.80 or other formats for $5.99.
___________
Don't forget the AoSHQ reading group on Goodreads. It's meant to support horde writers and to talk about the great books that come up on the book thread. It's called AoSHQ Moron Horde and the link to it is here: https://www.goodreads.com/group/show/175335-aoshq-moron-horde.
___________
So that's all for this week. As always, book thread tips, suggestions, bribes, rumors, threats, and insults may be sent to OregonMuse, Proprietor, AoSHQ Book Thread, at the book thread e-mail address: aoshqbookthread, followed by the 'at' sign, and then 'G' mail, and then dot cee oh emm.
What have you all been reading this week? Hopefully something good, because, as you all know, life is too short to be reading lousy books.

posted by OregonMuse at
09:21 AM
|
Access Comments