« Flood Thread
|
Main
|
I'd Rather Be in Texas »
August 27, 2017
Food Thread- CBD On Special Assignment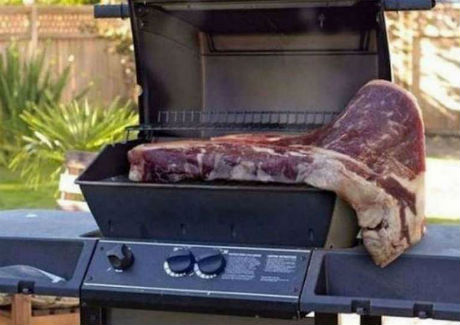 Chef Charles is on special assignment this week. You get me. It could be worse. At least that is what you should tell yourself. Over and over and over again.
As we approach the Labor Day Weekend, does The Horde have any special plans involving food? What's on the menu? That big ass steak above will involve a 2nd mortgage I'm afraid.
The Casa Mis. Hum. will be enjoying flesh grilled over charcoal. Do you use charcoal? Or are do you use LP Gas? There is no right or wrong answer. To be honest with you we have both types of grills here.
Speaking of menus, do you folks plan out menus at home? If so, how far do you plan out? What happens if things don't go according to plan? For example you forget to defrost the chicken, didn't catch any fish? Do you folks have a go-to-meal that is quick and delicious? I'm always looking for ideas.
*****

So if you are grilling out this upcoming Holiday Weekend nothing like a little dessert to top off the meal.
Creme de Menthe Squares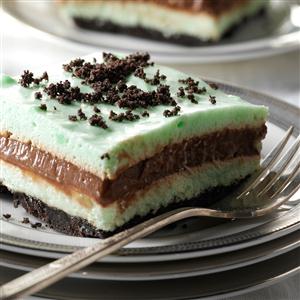 INGREDIENTS
1-1/4 cups finely crushed Oreo cookies (about 14 cookies)
2 tablespoons butter, melted
1 teaspoon unflavored gelatin
1-3/4 cups cold 2% milk, divided
20 large marshmallows
3 tablespoons green creme de menthe
3 ounces cream cheese, softened
1 package (3.9 ounces) instant chocolate pudding mix
1 cup heavy whipping cream
DIRECTIONS
In a small bowl, mix crushed cookies and melted butter. Reserve 3 tablespoons for topping. Press remaining mixture onto bottom of a greased 8-in. square baking dish. Refrigerate 30 minutes.
In a large microwave-safe bowl, sprinkle gelatin over 1/2 cup cold milk; let stand 1 minute. Microwave on high for 30-40 seconds. Stir until gelatin is completely dissolved. Add marshmallows; cook 1-2 minutes longer or until marshmallows are puffed; stir until smooth. Stir in creme de menthe. Refrigerate 15-20 minutes or until cold but not set, stirring often.
Meanwhile, in a small bowl, gradually beat cream cheese until smooth. In another bowl, whisk pudding mix and remaining cold milk. Gradually beat into cream cheese.
In a large bowl, beat cream until soft peaks form; fold into marshmallow mixture. Spoon half of the mixture over prepared crust; refrigerate 10 minutes. Layer with pudding mixture and remaining marshmallow mixture; top with reserved crumbs. Refrigerate 2 hours or until set. Yield: 9 servings.

We've been making this for a couple of years now for holidays and special occasions. It is tasty.
*****

If ifs and buts were candies and nuts we'd all have a merry Christmas Might, could, maybe.......Yet the average lifespan continues to increase.

Everyone knows that water is the healthiest thing you can drink — but science suggests drinking from plastic water bottles might not be the best thing for you or the environment.

While a bottled beverage here and there won't exactly destroy your body and the Earth, here's exactly why you should avoid drinking from plastic water bottles as much as you can — and that goes for disposable and reusable ones.
You have to be kidding? A Valu-Rite sammich.

We all try to smuggle food or alcohol into places they're not allowed. Whether it be movie theaters or sporting arenas, we'd rather bring our own stuff in to save some money. There's also plenty of hilarious tales about the more creative food smugglers, regardless of whether they succeed or not. This "vodka sandwich" escapade, for example, is a hilarious example of someone getting a little too creative.

As we approach Labor Day let us not forget that autumn is right around the corner. Nothing like warm apple cider and pumpkin pie candy. That's right, Pumpkin Kit-Kats.
Your Cob isn't a pumpkin fan. Think I'll pass on these Kit-Kats and continue to consume the good old regular candy bar.

Thanks for stopping by this afternoon. I have it on good authority CBD will be back next week, tanned, rested and ready to go.


posted by Misanthropic Humanitarian at
04:00 PM
|
Access Comments