« A Very Moron Friday Fiction 100 Word Challenge
|
Main
|
The Morning Report 8/14/17 »
August 13, 2017
Sunday Overnight Open Thread (8/13/17) It's That Time Edition
Weekly commenter stats for week of 8/13/2017

Top 10 commenters:
1 [542 comments] 'Insomniac ' [76.18 posts/day]
2 [447 comments] 'J.J. Sefton'
3 [414 comments] 'Your Decidedly Devious Uncle Palpatine. All Honor & Glory to Kekistan! '
4 [373 comments] 'Mike Hammer, etc., etc.'
5 [342 comments] 'Steve and Cold Bear'
6 [304 comments] 'Under Fire'
7 [287 comments] 'Jack Sock'
8 [280 comments] 'qdpsteve'
9 [279 comments] 'FenelonSpoke'
10 [276 comments] 'willow'
Top 10 sockpuppeteers:
1 [56 names] 'Steve and Cold Bear' [7.87 unique names/day]
2 [54 names] 'Mike Hammer, etc., etc.'
3 [47 names] 'Joe Biden'
4 [42 names] 'Under Fire'
5 [37 names] 'Notorious BFD'
6 [32 names] 'Adirondack Patriot'
7 [29 names] 'Cicero (@cicero)'
8 [26 names] 'Bertram Cabot, Jr.'
9 [24 names] 'Insomniac '
10 [23 names] 'Mortimer - Finish Her!'
Notice: Posted with permission by AceCorp, LLC. Ingredient: Organic ONT.
Tonight's ONT has been brought to you by Rewards.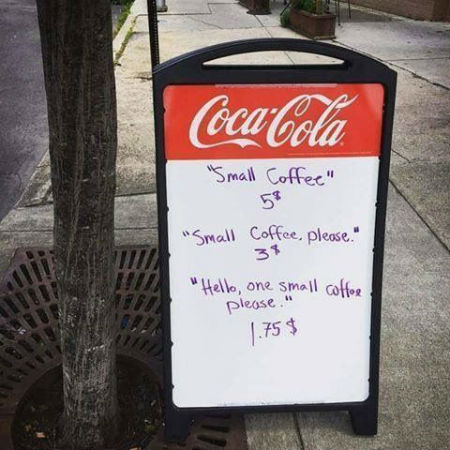 *****

Go-getters,Tonight's Feel Good Story of The Day.

Expensive joy ride or commonly known as Genius Award Winner.
*****
There are two ways to load a dirt bike. The wrong way. And. The right way.
*****

There is also a correct way to place your car on a ferry. h/t ibguy
*****

Research? Oh heavens no!!! Fake outrage and hypersensitivity.

Late in 2015, the student activists at Lebanon Valley College briefly became national laughingstocks for demanding that the name of Lynch Memorial Hall be changed. You see, it reminded them of lynching.

Although the students' other demands—for sensitivity training for faculty, for example—were greeted warmly, the demand concerning Lynch Hall met resistance. Clyde A. Lynch, as Emily Shire explained in the wonderfully titled "The Dumbest College Renaming Debate Yet" not only led Lebanon Valley through the Depression and World War II but also was "active in helping refugees settle in the U.S." after the war.
*****

What's not to like? A Golden Retriever puppy named "Ace".
*****

Sometimes the gene pool isn't that deep.
*****

Is there a way to avoid conflict with North Korea? Sanctions do not seem to work. What if we were to leave South Korea?

Why not move U.S. forces off the peninsula, let South Korean troops replace them, sell Seoul all the modern weapons it needs, and let Seoul build its own nuclear arsenal to deter the North?

Remove any incentive for Kim to attack us, except to invite his own suicide. And tell China: Halt Kim's ICBM program, or we will help South Korea and Japan become nuclear powers like Britain and France.
Love him or hate him, Patrick J. Buchanan presents some points to ponder.
*****

Conferences, workshops. Pick your subject matter. Book your location. Invite your speakers. Invite your guests. Pretty simple isn't it? No, not really. Writers workshop canceled due to lack of diversity.

A recent local example: A Minneapolis writing conference was canceled because of the lack of diversity of the presenters. Via the Star Tribune:

The lineup of speakers for the Loft Literary Center's conference on writing for children and young adults was stellar. William Alexander, winner of a National Book Award. Kelly Barnhill, winner of the Newbery Medal. Phyllis Root, author of more than 40 books for children. And 19 others.
Other than Alexander, who is Cuban-American, every writer who agreed to speak was white. And so, just days after announcing it, the Loft in Minneapolis canceled the Oct. 20-21 conference.
"We have set a goal for ourselves to be inclusive and to work toward equity, and we didn't think the conference would live up to that mission," Britt Udesen, executive director of the Loft, said Wednesday. "We made a mistake."

So diversity means different colors, amirite? Not so at Stanford. Stanford introduces a course Abolishing Whiteness.


Stanford University will introduce a course this fall which will task students with considering "abolishing whiteness" and the ultimate goal of understanding "what is the future of whiteness," according to the institution's course catalog.
The course, which is entitled "White Identity Politics," will be taught by instructor John Patrick Moran, and analyze the "future of whiteness." For the uninitiated, the concept of "whiteness" refers to the social aspect of race. According to the University of Calgary, "whiteness" is a socially and politically constructed learned behavior built upon the systematic privileges afforded to whites in Western society.
While Stanford is abolishing whiteness, perhaps they should study Joseph Gayetty.

Joseph C. Gayetty (b. 1827? Massachusetts - d.__ ) was an American inventor credited with the invention of commercial toilet paper.[1][2][3] It was the first and remained only one of the few commercial toilet papers from 1857 to 1890 remaining in common use until the invention of splinter-free toilet paper in 1935 by the Northern Tissue Company.[4][5]

Here's a suggestion. Don't care for Western Civ? Go somewhere where it isn't practiced. Say for example North Korea.
*****

Speaking of ass wipe toilet paper. The ONT is sure you have heard someone lament, "They don't make things like they use to. In the case of toilet paper, that is a good thing.

Most of us can't imagine this today, but in the early stages of toilet paper usage, many of the rolls actually contained splinters! This was mainly due to the crude production techniques that were being used at the time.
*****

From past ONTs you have probably concluded this Cob is ambivalent on the legalization of marijuana. Pretty much ambivalnent on tobacco as well even though I am an ex-smoker.
If there was an industry promoting a product which associated with a three-fold risk of death from hypertension what would our Nanny State say? Very little as one of the industries pushing this product is government.

Marijuana use is associated with a three-fold risk of death from hypertension, according to research published today in the European Journal of Preventive Cardiology.1

"Steps are being taken towards legalisation and decriminalisation of marijuana in the United States, and rates of recreational marijuana use may increase substantially as a result," said lead author Barbara A Yankey, a PhD student in the School of Public Health, Georgia State University, Atlanta, US. "However, there is little research on the impact of marijuana use on cardiovascular and cerebrovascular mortality."

Big Tobacco was the target of the Nanny State and their extortion law suits. Will Big Marijuana be in their cross hairs eventually?
*****

Graham crackers. Good stuff. From cheese cake crusts to S'mores to sex. SEX???

Most would be surprised to learn, then, that the Graham Cracker — most commonly associated with s'mores (an undeniably sensual snack) — was actually created to stifle sexual urges.
The cracker/cookie combo was the brainchild of Sylvester Graham — a Presbyterian minister and huge Debbie Downer who lived in Philadelphia in the mid-1800's
*****
Maybe Gamers should get off their duffs and do something for their community. Gamers petition IKEA to build affordable gaming table. Let's not let capitalism, supply and demand get in the way.

He writes:

The board gaming community is passionate and fickle about their gaming accessories. They are also a large group with disposable income. There have been many attempts in the community to develop a high-quality table appropriate for both dining and gaming, but few have been affordable enough for the community at large to enjoy.
*****

A genius award winner is taken into custody. Construction worker style.
*****
The ONT Musical Interlude
August 13, 2009, Guitarist Les Paul died in hospital in White Plains, New York at the age of 94 suffering from severe pneumonia. Paul is credited with developing one of the first solid-body electric guitars, which went on sale in 1952 and contributed to the birth of rock. He also developed other influential recording innovations such as multi-track recording and overdubbing. In the early 50s, Paul and his wife Mary Ford had a string of hits including 'Mockin' Bird Hill', 'How High the Moon', and 'Vaya Con Dios'. via thisdayinmusic.com
***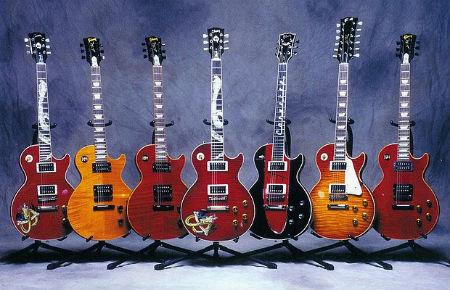 Nice collection of Gibson Les Paul guitars owned by Slash.
***
August 13, 1951, Born on this day, Dan Fogelberg, US singer songwriter, (1979 album 'Phoenix'). Worked with Joe Walsh, Jackson Browne, Randy Newman. Fogelberg died on 16th Dec 2007 at his home in Maine at the age of 56 of prostate cancer. via thisdayinmusic.com
*****

The future of America? Bright or dismal? The ONT will let The Horde decide.

Those who make up Generation Z — generally defined as those born after 1995 — are coming of age after the Great Recession and the September 11, 2001 attacks. They do not remember a US president before Barack Obama, or life without the iPhone. Everything has always been one tap away.

At approximately 60 million, Generation Z Americans outnumber millennials by nearly 1 million. Compared with their predecessors, members of Gen Z are true digital natives, with 92% having a digital footprint on social media and the web. But that doesn't mean they overshare. Teens are more likely to curate their profiles than their parents, who just put everything up.
*****

Experts can identify psychopaths as early as age 3. Previously considered untreatable, there is now hope.

From the start, Samantha seemed a willful child, in tyrannical need of attention. But what toddler isn't? Her biological mother had been forced to give her up because she'd lost her job and home and couldn't provide for her four children, but there was no evidence of abuse. According to documentation from the state of Texas, Samantha met all her cognitive, emotional, and physical milestones. She had no learning disabilities, no emotional scars, no signs of ADHD or autism.


But even at a very young age, Samantha had a mean streak. When she was about 20 months old, living with foster parents in Texas, she clashed with a boy in day care. The caretaker soothed them both; problem solved. Later that day Samantha, who was already potty trained, walked over to where the boy was playing, pulled down her pants, and peed on him. "She knew exactly what she was doing," Jen says. "There was an ability to wait until an opportune moment to exact her revenge on someone."

Being a parent is one of the toughest jobs one will ever have. I can't imagine having to go through what these parents have.
*****

Imagine being the parents of this woman. Woman intentionally blinds herself.

Jewel Shuping was born with perfectly healthy eyes, but she told Barcroft TV in a recent interview that growing up there was always something missing.

"By the time I was six I remember that thinking about being blind made me feel comfortable," she said. She fantasized constantly about losing her vision, and spent hours staring directly at the sun after her mother warned her that it would damage her eyes.
*****

It looks like Brazil, the 2016 Olympics host, flushed a hell of a lot of money down the drain.

The 2016 Summer Olympics in Rio de Janeiro were doomed from the start. Some daft optimists thought that maybe, just maybe, if we just believed in Brazil, the politicians would pull through on their promises that the games would lift the city up to a new level of prosperity. But a year later, the opposite is true.
*****
Fruit Cake in the news. h/t Mis. Hum daughters.

Dark Fruit Cake Recipe. (Do not post in old threads)
*****

Big Ass Snowflakes (BAS) Montclair State University offers a "weekly discussion group" exclusively for LGBTQ students who are "fat-identified." The discussion group, colloquially referred to as "F.A.B." ("Fabulous and Big")
We already know you are big. If you were fabulous you wouldn't have to tell us. At the time of the national divorce, I do not want custody.
*****

Baby Boom parents. The worst ever? Slide show.
*****
Finally, a soccer game Deplorables will enjoy.
*****

"People who are good at excuses are seldom good at anything else." HOW PRIVILEGED ARE YOU? Competitive Victimhood 101.

But "privilege" per se? It is a stupid word in most of the contexts in which the "intersectional" mush-minds use it. Mostly it is used as a bludgeon with which to browbeat anyone who has worked hard and achieved anything. And also to excuse massive laziness and the eagerness to demand benefits unearned except on the basis of some accident of birth, like color or gender.

The whole school of thought makes me sick – not just for the inherent unfairness of blaming people for reading to their children, for being smarter than the average bear, for "not building" the many businesses they worked 12 hour days to sustain. But even more for the disaster that professional victimhood inflicts upon those who rely on it to skate through life.
*****
So un-PC we just had to share with you.
Quotes of The Day

Quote I

"It has been said, 'time heals all wounds.' I do not agree. The wounds remain. In time, the mind, protecting its sanity, covers them with scar tissue and the pain lessens. But it is never gone." ― Rose Fitzgerald Kennedy

Quote II

"Time you enjoy wasting is not wasted time."
― Marthe Troly-Curtin,

Quote III

"It's being here now that's important. There's no past and there's no future. Time is a very misleading thing. All there is ever, is the now. We can gain experience from the past, but we can't relive it; and we can hope for the future, but we don't know if there is one." ― George Harrison
*****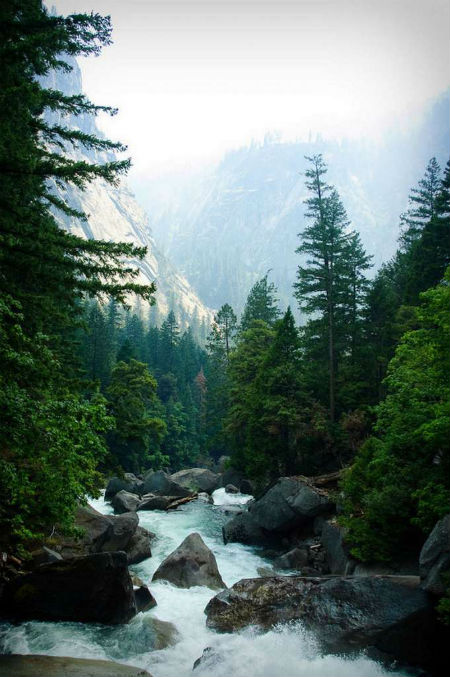 (Stressed? What stress?)

posted by Misanthropic Humanitarian at
10:02 PM
|
Access Comments