« Saturday Gardening Thread: Trying to play it cool [KT]
|
Main
|
Saturday Afternoon Chess/Open Thread (Featuring Dress Pr0n) 07-22-2017 »
July 22, 2017
Ace of Spades Pet Thread

Good afternoon and welcome to the almost world famous Ace of Spades Pet Thread. Sneak a beverage past that vicious guard dog above and enjoy!
*****
A Little of This. A Little of That.

Ever wonder how the dogs on Cops know how to get the bad guy?

Green with envy? No just a green puppy.

Breaking and entering, Goat style.
Here's a link from our pal J&B K, about Dog Flu.

I'll be honest with you. Your humble Cob doesn't let his dogs interact with strange dogs. Going on 2 years ago, we had to kennel our dogs. They have all their vaccinations plus they had the kennel cough vaccination. Guess what? Yes, 2 of the 3 came down with it and then unbeknownst to us they gave it to Mid-Kid's dog.
The kennel had no idea they had taken in an infected dog.

Now a new flu for dogs? Great. Will I give my dogs the vaccine? Probably not. I don't get flu shots either.
*****
Meet The PetMorons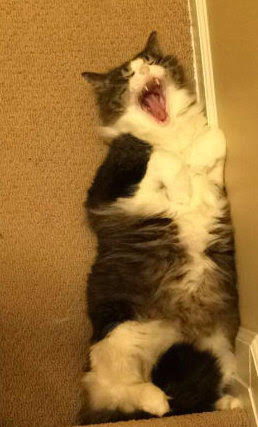 My daughter took this picture of our cat Duchess, and it cracks me up every time I see it. -Eric
Quite the cat!
*****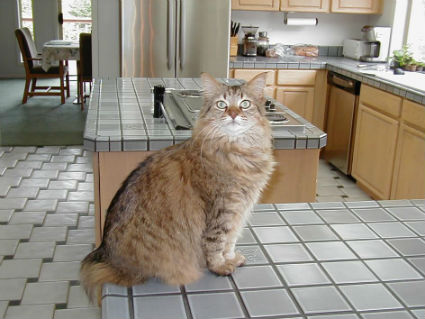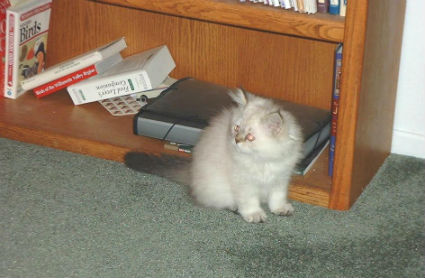 It looks like you may be running short of contributors, so I will come out of lurking just this once. I have been reading Ace of Spades for years.....

​
Anyway, I am sending you pictures of our old kitty and less old kitty .

(Photo 1) ​This is Natasha. And no, this isn't allowed, but a camera was handy so I took this before the usual screaming and flailing about.


(Photo 2)​​Nikki, the hated interloper at 3 months old​. We tried Feliway, to no avail. Engaged a kitty shrink who prescribed kitty Prozac for the crank, which has kept the fisticuffs to an acceptable level. And it helps that she now dwarfs Natasha.

I don't know how you use these, so I am sending them as attachments, too.

Pets are a nice break from politics!

Jane of Amboy, Washington (a red pocket in a very blue state).

Thanks Jane!!!!
*****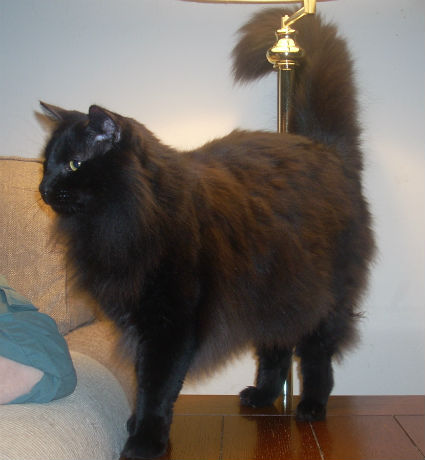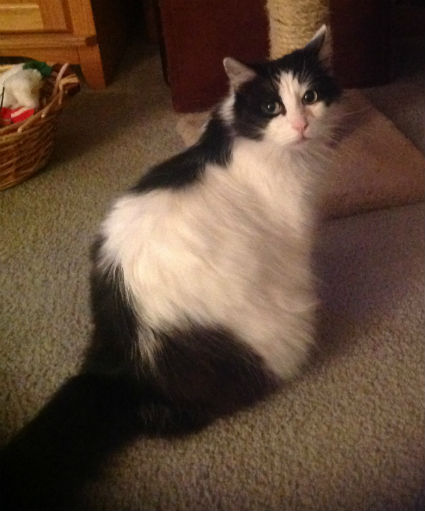 Moron Wolfus Aurelius here. These are my two furry roommates, aka thugs in fur coats. The big black fellow is Wolf, aka Wolfus Aurelius (whence my screen name); the white-and-black miniature panda is Chekov, a Siberian. I'd had Chekov for a year when I rescued Wolf, a year-old cat who'd been abandoned. Normally there are scuffles and difficulties when introducing two unrelated cats, especially males. Not in this case. They walked around each other warily, but didn't hiss or growl. In an hour, I found them sitting in the window together, watching birds. Now they sleep together and groom each other. (One of these days I'm going to come home and find them braiding each other's tails and watching "Glee"!)
Sounds like they have found quite the home!
*****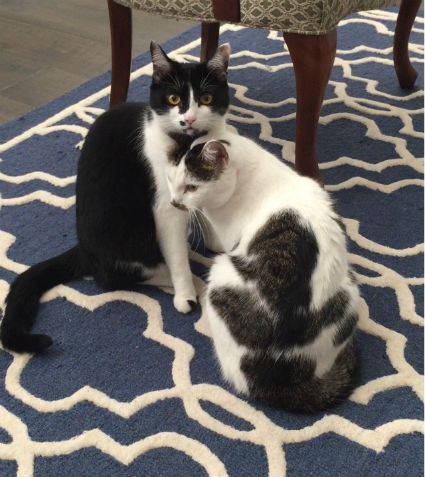 Love the pet feature every Saturday. I am mostly a lurker, but occasionally post as "Jen Westin". Prefer to keep my real name private, should you post this.

Here are our two youngest cats, Cici (white) and Liberty (black), who are turning 3 years old this weekend. On the Fourth of July in 2014, my neighbor found Cici and Liberty, along with their three siblings, sealed in a bucket next to a bike bath. They were just a couple of days old, as they still had their umbilical cords attached. We took care of them for the first couple of days while our neighbor went out of town, and miraculously, all five kittens survived. My neighbor raised them after that, and found homes for all of them. We decided originally to adopt only Cici, but she and Liberty did everything together, and we did not want to separate them. My husband and I are convinced that the two of them believe I am their mother, as they follow me everywhere I go. Both cats are full of personality and very affectionate, and have been a wonderful addition to our home.

"Jen Westin"
Not a problem Gertrude Ace of Superior, WI j/k
*****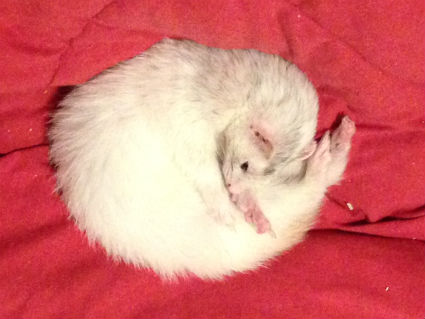 Hi, I've been lurking for years but never commented. I always love the pet thread. I was startled today to see Tessa, a Devon Rex with the Tetralogy of Fallot.

My ferret Molly, pictured above, has the same condition. She has made it (somehow) to the advanced age of six years, nine months. As Brandon said of Tessa, the prognosis is dismal, but Molly's experiencing better living through chemistry. Most days she gets around and has a pretty comfortable ferret life. I hope Brandon's Tessa has as good a life as Molly. -Lee
*****

If the Pet Thread was King. Every child would experience life with a puppy.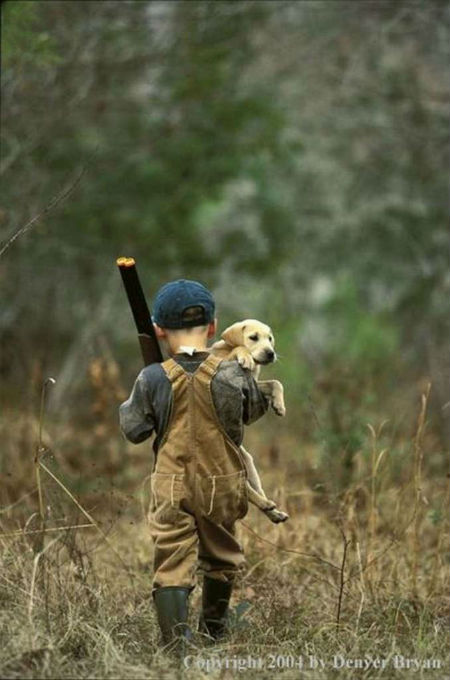 *****

So, you're asking why so many cats today? We post the photos as they come in. Seems there was an avalanche of cat photos. Mix and match? Perhaps. Maybe. You never know.
A great looking group of PetMorons. Thanks for stopping by this Summer afternoon. If you have photos, tips, stories or something else pet related. Please submit to us here at petmorons at gmail dot com.
Here's hoping you have a great week!!

posted by Misanthropic Humanitarian at
03:10 PM
|
Access Comments