« Thursday Night's ONT is Fried
|
Main
|
Mid-Morning Open Thread »
July 07, 2017
The Morning Report 7/7/17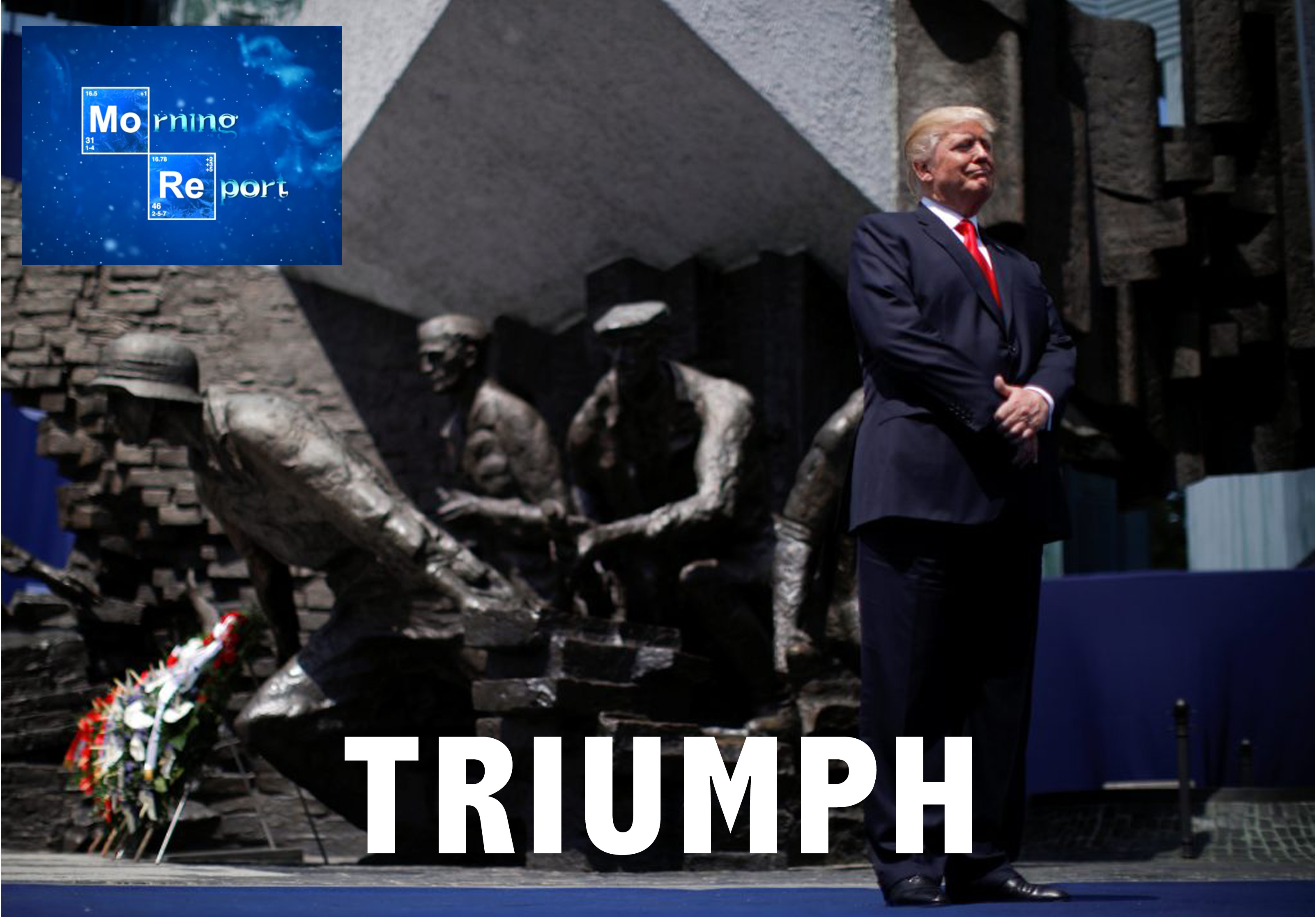 Good morning, kids. We close out a week loaded with linkage and on something of a high note. First and foremost, Steve Scalise, the victim of a Democrat terrorist, took a turn for the worse and had to undergo an operation to stave off infection. The operation was successful but he is still in the ICU in serious condition. Prayers to him and his family.
In Warsaw, on the eve of what will no doubt be a contentious G-20 summit in Hamburg, the President hit it out of the park yesterday in one of the best and most impactful speeches given by a chief executive since Ronald Reagan. He reaffirmed America's purpose, the cause of freedom, the need for an abiding faith in the Almighty, openly identified radical Islamism for the threat it poses to our way of life and laid down a rhetorical gauntlet to the Deep State bureaucracy that oppresses the will of the people. Thank you, Mr. President.
On the flip side of the coin, we have the mayor of New York City who is so utterly corrupt and drowning in the bitter bile of a poisoned, murderous ideology that he chose to abandon his duties and responsibilities to the people of the city that elected him and be with actual thugs and vermin rioting against his president and other European leaders. That alone would be bad enough but he fled a city where homelessness and crime are on the rise, the transit system is breaking down and worst of all, barely 48 hours after a beloved, veteran police officer was assassinated by dare I say someone who shares his weltanschauung about cops. And on the same day that the Police Academy held a somber graduation ceremony. Gutless, morally bankrupt bastard that he is, he kept the trip completely under wraps until 90 minutes before the flight out. Bill DeBlasio, there are no words to describe the disgust and loathing I have for you and everything you stand for. I know considering the politics of this city that it will more than likely be a lost cause but I hope and pray Nicole Malliotakis kicks your ass come Election Day or at least wipes the floor with you during the debates.
Anyway, links from around the world, across the nation and up your street. Have a better one and remain blessed.

posted by at
07:10 AM
|
Access Comments