« Oh, Canada!
|
Main
|
Ace of Spades Pet Thread »
July 01, 2017
Saturday Gardening Thread: Long Weekend [KT]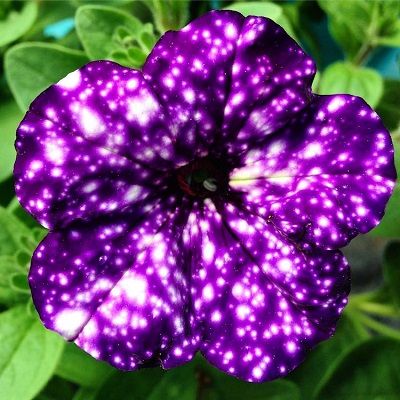 Silent Fireworks
Happy Holiday Weekend! Here in the San Joaquin Valley, I've already seen my first Commemorative Brush Fire from fireworks, on the way home from the supermarket last night. And the dogs have been suffering through explosions in the night for a while. I really wish people would save the explosive stuff for the Fourth, and maybe celebrate with something quieter during the lead-up to the Fourth. But boys will be boys, I guess.
About the flower above:
According to Burpee, "a large variance between day and night temperatures will cause temporary white coloring to form on the flowers." Thus, to guarantee that your Night Sky Petunias are always shining, you should aim to keep them toasty warm during the day (around 100 degrees F) and cool at night (about 50 degrees F).
Have a greenhouse? You can buy seeds via the AoSHQ Amazon Store.
Traveling with The Horde
A while ago, California Girl (not CaliGirl) sent in this photo of one of her favorite flowers, the California Poppy, from a day trip to Murphys, California. Don't stick your hand among those rocks, California Girl. There could be a rattler in there.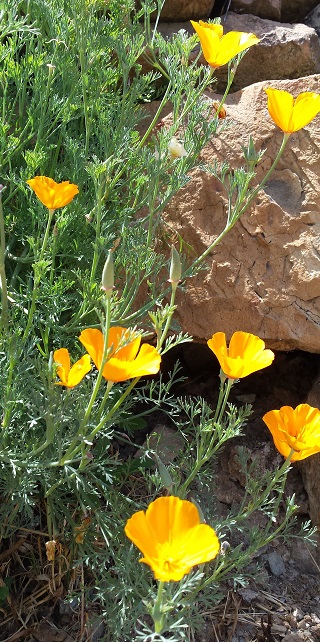 Before they were called California Poppies, Eschscholzia californica flowers were called "Golden Poppies", which certainly fits the photo above. A female botanist convinced the California government to name this flower as the California State Flower. I usually think of it as the "State Flower" in terms of hillsides and valleys full of flowers, but it is charming close up, too.
Before the EU issued the list of plants registered for sale the the EU, the number of strains of California Poppies available at Thompson & Morgan was truly remarkable. The contrast between their catalogs before and after the "White List" was sad. There are now very few strains of flower seeds developed in the EU by dedicated amateurs. But the number of strains of California Poppies is beginning to climb again, even in the EU.
I think it's remarkable that breeders have developed strains like these from wild California Poppies: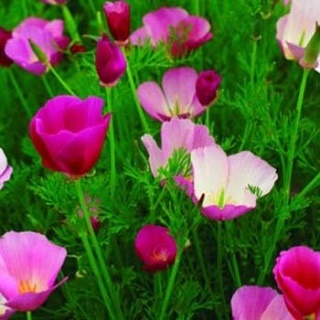 Purple Gleam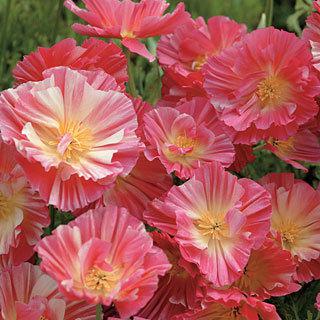 Wrinkled Rose
There are both annual and perennial forms of the California Poppy. They include a couple of short yellow perennial subspecies from the coastal areas of northern California that are often used in gardens. They may be better choices for cool, wind-swept gardens than taller annual California Poppies, which close in cloudy or windy weather.
And there are other species. You can see the resemblance to California Poppies. This is a little species from the Sierra foothills. This specimen is from Butte County.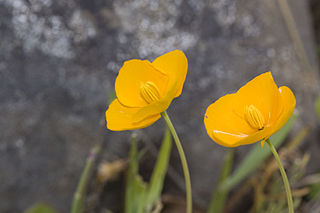 Frying Pans - E. Lobbii
Which brings us back to mining towns. I had never heard of Murphys, California, the town California Girl visited. It was a booming mining town at one time where one could reportedly make a fortune from an 8 x 8 foot claim. Destroyed by fire twice. It is now a tourist town, featuring vineyards and one of the few privately owned caverns in America. It is in Calaveras County, home of those famous invasive bullfrogs which sometimes comes under suspicion in the disappearance of the Mountain Yellow-legged Frog. Thinking of visiting Murphys?
Flowers are a big draw there. Wildflowers in the mountains, swaths of daffodils planted by vineyard owners and others, and California poppies planted between rows of wine grapes. No purple ones, though.
The road to the high country (Highway 4) just opened yesterday, so there should be some alpine wildflowers ready for viewing.
Veggies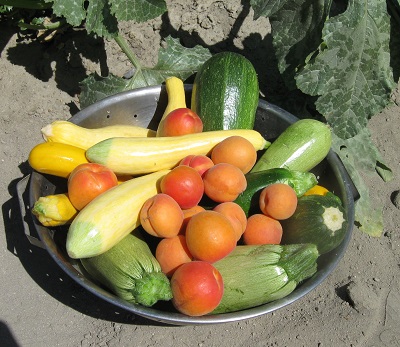 KT's garden in more productive days
Other than tomatoes and greens, I don't have much going on in the veggie garden this year. But a friend has given me yellow squash and a zucchini. I like yellow squash steamed with onion, and maybe a young zucchini for contrast. Do you have a favorite method of preparation?
Until the AoSHQ Cookbook comes out, here is James Beard's recipe for zucchini bread. Have a great weekend and a wonderful Fourth.
Got something for the Gardening Thread?
There are some great photos waiting for future episodes of the Gardening Thread. Photos of flowers and photos of gardens. Not so many photos of veggies. If you would like to send information and/or photos for the Saturday Gardening Thread, the address is:
ktinthegarden
at g mail dot com
Include your nic unless you want to be a lurker.

posted by Open Blogger at
12:29 PM
|
Access Comments