« Bits and Bobs Open Thread
|
Main
|
The Morning Report 6/22/17 »
June 21, 2017
Overnight Open Thread 6/21/17 (tmi3rd)
Good evening, Morons and Moronettes. I'm tmi3rd,, and I'm filling in this evening. The fact that there just happens to be a tropical system about to go ashore on the Gulf Coast is merely a coincidence.

Seriously.

More beneath the fold...
Well, since tropical weather has traditionally been my beat, let's touch on it very briefly...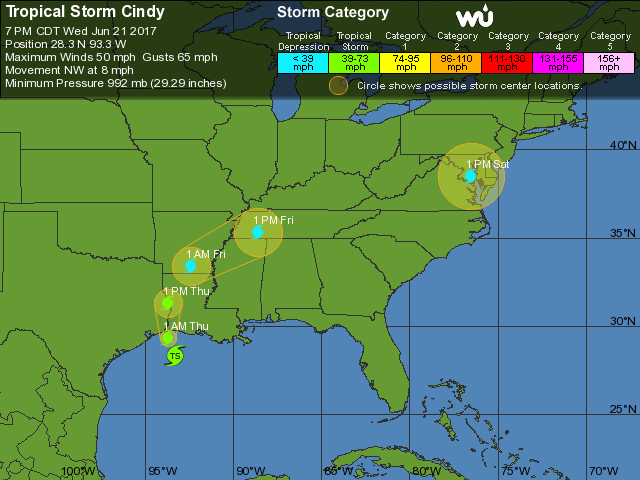 Tropical Storm Cindy will go ashore around Sabine Pass (roughly the TX/LA line), and a Tropical Storm Warning is in effect from San Luis Pass to the mouth of the Mississippi River (basically the greater New Orleans area). Winds are sustained at 50 MPH with gusts to 65 as of 8 PM EDT, and what's going to happen is that it's going to take its time moving into southern Arkansas. About 3 days in, it'll get absorbed by a cold front and haul ass off to the east.

The thing to bear in mind is that what typically gets people in trouble in tropical weather is not wind, but flooding. So anywhere you've got sustained heavy rain (particularly in the first three days after landfall with this one), you have that potential for severe flooding. If you're in the path of this storm, just please stay away from high water.

On to the fun...

So the Stanley Cup Finals finished up in the last week or so, and my Nashville Predators lost to the Pittsburgh Penguins in six games. It was a bummer of a way to lose a series, but I'm not going to re-litigate the series. Instead, I will extend my sympathy to one of the teams my Preds beat, the St. Louis Blues. The following video documents the pain fans of this franchise have been through.

CONTENT WARNING: if you're a Blues fan, this is absolutely BRUTAL.

Yikes. Sorry, guys.

Sooo... this is a thing, eh?

Australian man who binged on meth feared dead after attempting to have sex with crocodile

Welp.

...on this occasion, the man would make a fateful decision while his judgment was impaired by the drug. "He was a few hundred metres down the beach when he started pulling his clothes off," said the friend. "We thought he just wanted to streak or something but then up ahead we were shocked to see a croc."

The group of friends shouted at the man to leave the crocodile alone, which was estimated to be around 2 metres long. "We were worried he was so off his face on ice he'd try to provoke it, but nothing would prepare us for what he did next."

According to the friend, the man- now naked- leapt at the crocodile and started trying to have intercourse with it. "We were still a fair distance back, but I reckon he just about got it in," said the witness. "Of course, the croc wasn't having a bar of it, and it started thrashing around like crazy."

The man's friends were powerless to help as the crocodile clenched its jaws across the man's torso and hauled him into the water. "There was some thrashing around under the water for a few seconds before nothing- it was just still," said the distraught friend.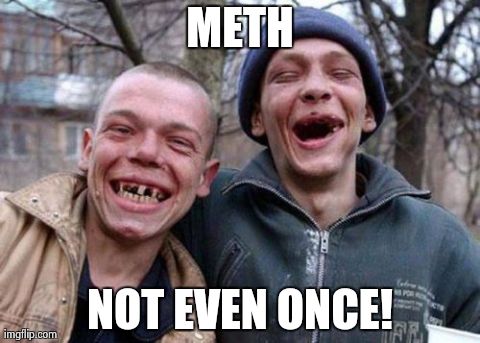 Tonight's musical selection...

This guy's name is Peter Kastner, and he's a session bassist from Los Angeles. He's playing a tune called "Nardis", and he's playing a really amazing instrument made by a luthier named Rob Allen. The MB-2 (or MB-5 in its 5-string version) is a semi-hollow instrument, and I was STUNNED when I picked one up for the first time.

I *SUCK* on upright bass, but I've done plenty of live and session work on bass. When I need to get an acoustic sound of one form or another, I can get EXACTLY the sound I'm after from this instrument, and I'll be picking one up shortly. Those of you who are familiar with my playing know that I'm a Pedulla guy when it's up to me, and usually wind up playing Fender in the studio. The Rob Allen basses are truly exquisite instruments, and you can check them out at roballenguitars.com.

One more musical selection...

This is just more of my study music. If I'm listening to classical, I'm conducting it and it's a distraction. So I stick to deep house.

Some closing thoughts...

So Ace and Instapundit have been spearheading the "punch back twice as hard" initiative (for lack of a better word) against the left, and I largely agree. There are a few things I want to point out that are worth imitating from the left, and there are a few worth avoiding.

As a preface- this is just my take, so it's worth exactly what you're paying for it. Your mileage may- and probably will- vary.

First of all, I agree with this piece: "Political Violence Is A Game The Right Can't Win". Here's why, part one: as the linked piece notes, yeah, we're better armed on the right, but they organize better. From the piece:

The first thing righties have to understand about Lefties is that lefties have a lot more practice building their own institutions, and assuming control of existing institutions, than their counterparts on the right do, and they share their practical experience with each other. Righties who like to build churches will build a church and worship in it. Lefties who like to build churches will build a church, write a book telling people how to build churches, go out and convince people church-building is the thing to do, run workshops on how to finance, build, and register churches, and then they'll offer to arrange church guest speakers who'll come preach the Lefty line.

Righties need to do a better job of teaching each other. And not just teaching the right-winger closest to them. The most organized groups on the Right are the pro-life and RKBA activists; everybody else on the Right should be learning from them.
Strong stuff. Here's the second part:


The second thing to understand about Lefties is how they actually function. There's a lot of independence involved. Righties like hierarchy, so often think of the Lefties as taking marching orders from George Soros or whoever in a very hierarchical fashion. Not so much. A lot of left-wing organization is very decentralized, and they negotiate with other lefty groups as to exactly how they'll do things and time things to not hurt each others' work, so the labor movement's march is not derailed by black-bloc window-smashing (see, for example, DIRECT ACTION, L.A. Kauffman's excellent history of the Left from the 60s on).

The Lefties call that approach "embracing a diversity of tactics," which, taken to its logical extent, is a weasel-worded way of saying that the lefty mainstream is comfortable with radical leftist violence. People don't like to talk about this much. But while it's impossible to imagine, say, an abortion clinic bomber getting a cushy job at an elite university, that's exactly what happened to a number of alumni of the 1970s leftist terror group known as the Weather Underground. As fugitives, they were financially and operationally supported by members of the National Lawyers' Guild; afterward, they were so normalized that the 9/11 issue of The New York Times infamously ran a profile lauding Weatherman alumnus Bill Ayres. By contrast, right-wing terrorist Eric Rudolph's fugitive days were spent hiding in the wilderness because no one would help him. He was caught literally dumpster-diving for food. Potential right-wing extremists face opportunity costs that their left-wing counterparts do not.
As you can imagine, it's time to read the whole thing. I've got one final point to make, and then the rest of the evening is yours.

On the right, we've been led around by media hosts who told us what we wanted to hear, only to find out that about half of them were in it to take our money. Thus, my skepticism of Jack Posobiec and Laura Loomer. They created a spectacle, and the GoFundMe page for their legal fees is doing quite well.

Because we've had so many political candidates essentially run for office in order to do book tours and become Fox-famous, I want to see these folks put their money where their mouth is, which leads me to my bigger point:

Nobody likes a scold, and nobody likes annoying people. Ace has said this for well over a decade, and it can't be emphasized enough: we gain nothing by becoming snowflakes, SJWs, or all the things we rightfully point at, laugh at, and detest.

That doesn't mean that we shouldn't hit back, but it means that we need to not become exactly what we despise about the left.

Kick that around and decide for yourself a) whether that's something you can get behind, and b) what it means to you. Mine is a decidedly imperfect take on it, as I threw it together in the last ten minutes before putting this post up, but again,
see what you think.

Thanks as ever for reading- I'm back to med school in another couple of weeks, so I'll be pretty busy shortly. That said, if you need to get a hold of me, please don't hesitate to come find me on Twitter, and have a good evening! I have to be up with the kids in the morning, so I won't be around too late tonight.

-tmi3rd

posted by Open Blogger at
09:55 PM
|
Access Comments