« Thread below the Gardening Thread: Roman Drama [KT]
|
Main
|
Ace of Spades Pet Thread (6/24/17) »
June 24, 2017
Saturday Gardening Thread: Firewater [KT]
Oregon Tiger Lily, Photographed by Kindltot
Well, we've got something pretty close to "fire" going on all over the southwest. "High pressure system", they call it. "Miserable" I call it. And some actual fires in a few places. One near my cousin's home. And there is a lot of water in the Southeast about now. Is everybody OK?
The closest thing I have had to actual "firewater" this week has been sedatives for a rather unpleasant medical procedure. And we are adjusting to someone who works a night shift moving into the house. I have not been well-organized, so don't expect much of a theme today. There are some garden news items today, though.
Kindltot on our lead photo today:
These are the Oregon Tiger Lily, Lilium Columbianum. Such a showy lily in the woods here, they prefer open forest and the edges of clearing s and pastures. They grow a good 5 feet tall in the woods

The bulbs are supposed to be edible when steamed, but who would want to do that when the flowers are so beautiful? You can get them from native flower nurseries around here. They are very productive and grow even taller when they are watered and fertilized
They sound like a great plant for those who have some room.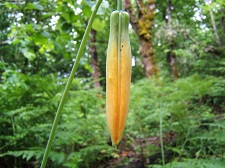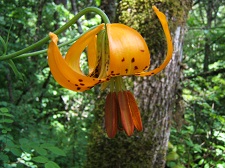 Gizmos
Mr. Bar-the-Door has been looking at tillers. Here's something a lot smaller: a prototype Roomba for your garden. Solar powered. You need to keep your plants taller than the weeds and put collars around the seedlings you want to keep. Some other people are working on weeding robots, too. Check around.
I don't think I'me neat enough in the garden for this gizmo to work for me. How about you?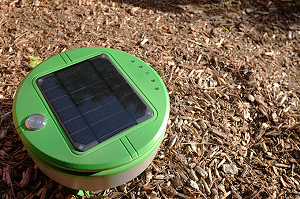 On an unrelated note, inspired by the weather, when's the last time you changed your AC filter? Do you have an older neighbor who may need help?
Recipe Time
Remember that it is time to submit your recipes for the AoSHQ Recipe Book. One of the recipes I am submitting calls for peeled tomatoes. Some varieties of garden tomatoes peel easily (pulling skin against a paring knife) without any treatment if fully ripe. But many do not, even when perfectly ripe or even a little over-ripe.
There are several methods for peeling tomatoes. This is a basic blanch-and-peel method. Bonus: Seeding a tomato:
But if you will be cooking a big batch of tomatoes, this is faster. Really. Plus, you can feed the skins to the pigs!.
Plants in the News
A study finds that green space around schools helps kids think. Plants around the house help, too. But not as much. Probably because, you know, common spaces.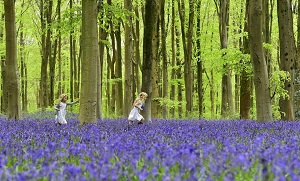 Kids running through bluebells
Climate scientists are not the only ones who hide data, apparently. Here, results of a glyphosate study were apprently hidden because they were not negative enough. Heh.
I can dream, can't I?
We haven't forgotten those with cooler, shadier yards. Looking for something fragrant to go with your fragrant hostas?
Polemonium caeruleum 'Bressingham Purple' - Polemonium 'Bressingham Purple' is a Jacob's ladder with purple foliage and purple flowers that smell like grape Hubba Bubba bubblegum!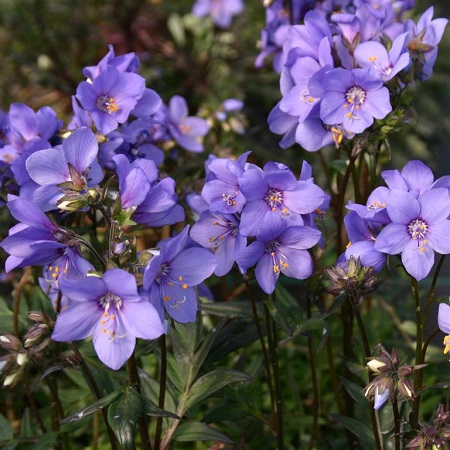 Jacob's Ladder 'Bressingham Purple'
The plant above is rated for hardiness zones 4 - 9. You can see a photo of a variegated Jacob's Ladder in this post. Even though the flowers are similar, the plants give very different effects.
Gardens of The Horde
Trying to keep plants alive in the heat. Weeding some. Anything going on where you are?
If you would like to send information and/or photos for the Saturday Gardening Thread, the address is:
ktinthegarden
at g mail dot com
Include your nic unless you want to be a lurker.


posted by Open Blogger at
12:24 PM
|
Access Comments