« EMT 06/11/2017
|
Main
|
Gun Thread: Ruger Mark IV Recall And Other Assorted Tidbits »
June 11, 2017
Sunday Morning Book Thread 06-11-2017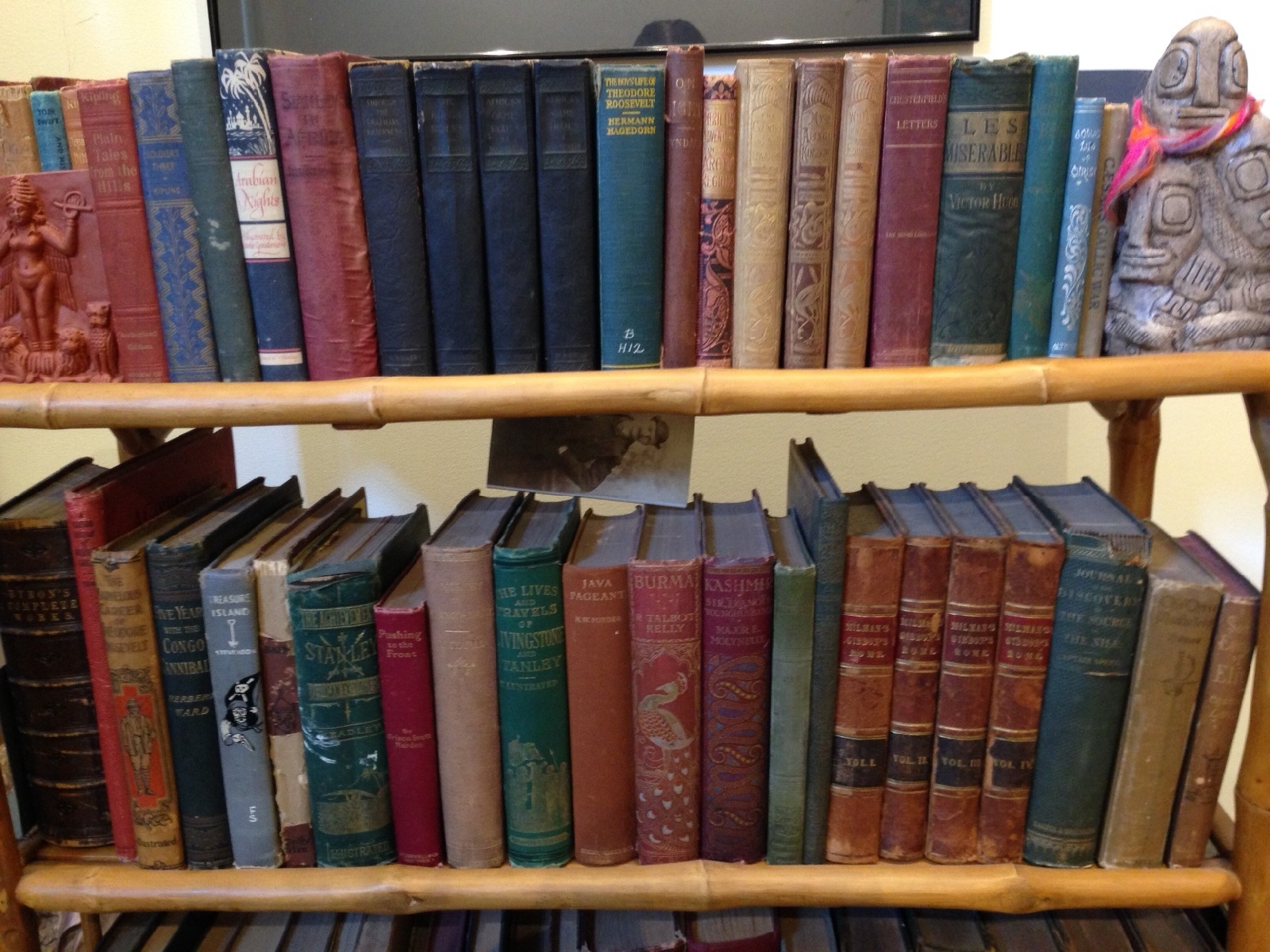 Vintage Books From The Library of All Hail Eris


Good morning to all you 'rons, 'ettes, lurkers, and lurkettes. Welcome once again to the stately, prestigious, internationally acclaimed and high-class Sunday Morning Book Thread, where men are men, all the 'ettes are gorgeous, safe spaces are underneath your house and are used as protection against actual dangers, like natural disasters, or Literally Hitler, and special snowflakes do not last. And unlike other AoSHQ comment threads, the Sunday Morning Book Thread is so hoity-toity, pants are required. Even if it's these pants, which, aaaagghh, look more homo than a macrame handbag full of rainbows.

Now With More Covfefe!
In one of my threads earlier this week, one of our regular morons commented:
45 I haven't read the book but have heard that "The Siege of Mecca" a book about terrorists taking over the mosque there, quotes Saudi officials as saying that the Saudi royal family's OUTREACH to the radicals after this was because Jimmy Carter refused to affirm support for them.

Posted by: Nigel West Dickens at June 08, 2017 08:43 PM (phoPy)
I've mentioned The Siege of Mecca: The Forgotten Uprising at Islam's Holiest Shrine on a book thread about a year and a half ago, but in view of recents events, perhaps it's worth a revisit.
On November 20, 1979, worldwide attention was focused on Tehran, where the Iranian hostage crisis was entering its third week. That same morning, gunmen stunned the world by seizing the Grand Mosque in Mecca, creating a siege that trapped 100,000 people and lasted two weeks, inflaming Muslim rage against the United States and causing hundreds of deaths. But in the days before CNN and Al Jazeera, the press barely took notice.
The Saudis made a "please eat us last" deal with the devil by coughing up billions to fund extremist imams, mosques, and madrassahs all over the world. This much I knew. What I didn't know is that they were stiffed by the feckless Jimmy Carter, and the result is yet another one of his foreign policy triumphs that we're still cleaning up after, 35+ years later.

It Pays To Increase Your Word Power®
Something that is OSSIFRAGOUS is powerful enough to break bones.
Usage: Sally Kohn's rank stupidity is ossifragous. Also, the stuff of legends.
And Now, A Public Service Message From The AoSHQ Sunday Morning Book Thread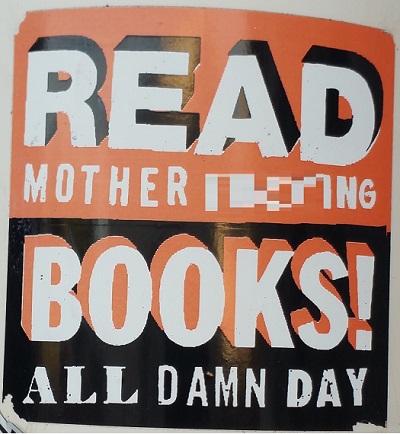 This has been public service message From The AoSHQ Sunday Morning Book Thread. And the Ad Council.
(Mrs. Muse and I saw this sticker on a utility pole when we were out and about last Friday evening, so naturally I just had to grab a snapshot. Of course, what with this being the high class book thread and all, I had to do some strategic blurring, but if you click on it, you'll see the uncensored version. Not that it'll be a surprise.)

Railing Against The Evils of Capitallism Sure Pays Well
Bernie Sanders speaks truth to power:
Socialist Sen. Bernie Sanders, I(diot)-Vt., received a $795,000 advance for a book published in the days following the November election, according to a financial disclosure filed Sunday.
795 large? Holy cow, that will buy a lot of beans for the toiling workers. I wonder how much of the loot will be donated to charitable causes.
The book he "wrote" is called Our Revolution: A Future to Believe In
In Our Revolution, Sanders shares his personal experiences from the campaign trail, recounting the details of his historic primary fight and the people who made it possible. And for the millions looking to continue the political revolution, he outlines a progressive economic, environmental, racial, and social justice agenda that will create jobs, raise wages, protect the environment, and provide health care for all—and ultimately transform our country and our world for the better. For him, the political revolution has just started. The campaign may be over, but the struggle goes on.
"And our righteous struggle would've worked, too, if it hadn't been for those meddling kids. And Trump. And getting schlonged by Hillary in the primaries. I'm so mad about that, I'm not going to invite her to any one of the three houses that I own."
Sanders' income was more than $1 million last year, including his Senate salary, according to his disclosure.
I think it's just fabulous how congressmen and senators always seem to end up being millionaires.

Moron Recommendation
Moron commenter Hillbillyking recommends Kel Kade's King's Dark Tidings series. The first book in the set is Free the Darkness:
Raised and trained in seclusion at a secret fortress on the edge of the northern wilds of the Kingdom of Ashai, a young warrior called Rezkin is unexpectedly thrust into the outworld when a terrible battle destroys all that he knows. With no understanding of his life's purpose and armed with masterful weapons mysteriously bestowed upon him by a dead king, Rezkin must travel across Ashai to find the one man who may hold the clues to his very existence.
He also likes Battle Mage by Peter Flannery:
Falco Dante is a weakling in a world of warriors, but worse than this, he is the son of a madman. Driven by grief, Falco makes a decision that will drive him to the brink of despair. As he tries to come to terms with his actions Falco follows his friends to the Academy of War, an elite training school dedicated to martial excellence. But while his friends make progress he struggles to overcome his doubts and insecurity...Will he unlock the power trapped inside of him or will he succumb to madness and murder like his father?
Two epic sword-and-sorcery fantasy adventures, each for $3.99 on Kindle

Books by Morons
Moron author Mark Haugen has just published Bags of Bodies,which is the first of three books he'll be releasing this summer featuring #HardBoiled detective Bags Morton. Mark says that you morons
...might relate to Bags Morton, ex-state cop, as he is a man of loose morals but unbending principles. He keeps getting dragged into bad situations. Like the day when one of those bad guys with a grudge kills his mechanic, then his barber and finally his veterinarian.

"Even if they don't like me, who kills a guy's mechanic?" He takes it upon himself to find out. The manhunt intensifies as it becomes apparent his plumber may be the next target. And Bags loves his plumber, Samantha, his celibate soulmate.
"Loose morals, but unbending principles". Isn't that pretty much the story of AoSHQ?
With three ex-wives, maybe four, and a plethora of parolees as suspects, Bags winds his way through the dive bars, strip joints and dark corners of western South Dakota looking in vain for somebody to shoot.
What a Moron.
Available on Kindle for $2.99
Mark is also the author of Zoo Falls and Joshua's Ladder.

___________
Another new moron author, Paul Battaglia, has just published his first book, The Unit, a novel about the dope police:
In the late 80's Reagan declared war on drugs, nobody told the officers in the UNIT that he was just kidding. One day Pete and company are on patrol writing tickets and driving a patrol car. The next day they find themselves sent to a new investigative unit, a narcotics task force. Bad tempered Sheriffs and Chiefs of Police populate a new investigative unit with their malcontents, screwups and problem children without a thought to future success. Reminiscent of an Uncle Remus tale the volunteers climb out of the "briar patch," learn their trade and get down to work. They find out working dope is the most fun a cop can have with their clothes on.
And Paul knows whereof he speaks:
I was a cop for thirty years and assigned to a Narcotics Task Force in Texas for fifteen years. I have seen my share of drug deals, search warrants and buy busts. On top of that, I've been to a couple of goat ropings and nut cuttings. I'm not telling which of the exploits in the book are true or untrue. Hopefully, it is entertaining.
The Kindle edition is $9.95.

What I'm Reading
I've been reading a very depressing book, Tommy Robinson: Enemy of the State, which is basically Robinson's autobiography. If you think Sweden has problems with a hostile Muslim population, reading Tommy's book and you'll see that England is arguably worse off. In many English cities, the Muslim communities have grown large enough that the government doesn't want to do anything to piss them off, so when a guy like Tommy Robinson comes along, who wants to talk about the problems the Muslims are causing and the shari'a-loving extremists who are, in many cases, ensconced in positions of leadership in these communities, the police focus all their attention on guess who, Tommy Robinson for being a sh*-stirrer (Remember the disgusting Rotherham sex trafficking scandal where young girls were lured away from their families and forced into prostitution? The authorities knew what was going on, but anyone who suggested that they do something about it got slapped around for "Islamophobia").
So it seems that the British establishment's guiding principle is "Don't do anything to make the Muslims angry." So any time there is a conflict, the British law enforcement comes down like a tonne of bricks on whoever it is that is protesting or criticizing Muslim criminality.
Because of this, Tommy has served several terms in jail and sometimes gets thrown into the general population which can consist of hardened Muslim criminals who know who he is and hate him and want to kill him. The prison officials know this, but they throw him in there, anyway.
Robinson is not a perfect citizen, and he's made a lot of mistakes, but even so, the sheer amount of injustice he has suffered at the hands of the British authorities is infuriating.
The book is written in idiosyncratic British English, which sounds a bit off to my American eyes, but most, if not all, of what he's saying can be figured out from the context.
Prepare to be appalled and depressed.

___________
Votermom reminded me that the July GoodReads group buddy read is on sale until Monday June 12. And that book is moronette author Gunnar Grey's historical mystery/thriller novel Deal with the Devil:
August 1940. He wasn't supposed to be on the plane. Now Major Faust is a prisoner of the English and he must escape before they break him. But every time he gets away, another woman is raped and murdered. The English need someone to hang. He's the hot suspect. He's got to catch the killer, even though he's helping the enemy. It's collaboration, almost treason. It's making a Deal with the Devil.
The Kindle edition is on sale through June 12th (that's tomorrow) for $1.99.

___________
Don't forget the AoSHQ reading group on Goodreads. It's meant to support horde writers and to talk about the great books that come up on the book thread. It's called AoSHQ Moron Horde and the link to it is here: https://www.goodreads.com/group/show/175335-aoshq-moron-horde.
___________
So that's all for this week. As always, book thread tips, suggestions, bribes, rumors, threats, and insults may be sent to OregonMuse, Proprietor, AoSHQ Book Thread, at the book thread e-mail address: aoshqbookthread, followed by the 'at' sign, and then 'G' mail, and then dot cee oh emm.
What have you all been reading this week? Hopefully something good, because, as you all know, life is too short to be reading lousy books.

posted by OregonMuse at
08:53 AM
|
Access Comments