« Ace of Spades Pet Thread
|
Main
|
Terror Attack in London »
June 03, 2017
Saturday Afternoon Chess/Open Thread 06-03-2017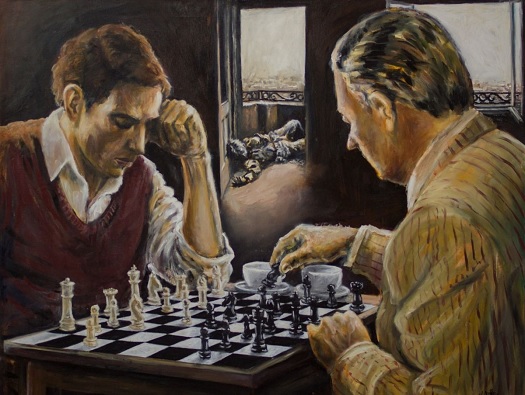 The Chess Match
Lautauro Fiszman, 2008

Good afternoon morons and moronettes, and welcome to the Saturday Afternoon Chess/Open Thread, the only AoSHQ thread with content specifically for all of us chess nerds who pay homage in the temple of Caïssa, goddess of the chessboard. Also, dress pr0n. Each week, for the 'ettes, I try to pick out a few lovely, conservative dresses to ooh and ooh over. And, for those of you who aren't nerdly enough for chess, you can use this thread to talk about checkers, or other games, or politics, or whatever you wish, only please try to keep it civil. Nobody wants to get in the middle of a Gallic fish fight on a Saturday afternoon.

The Eternal Question
What about your chess GAINZZZ, brah?

Problem 1 - Black To Play (BWTC 202)
Hint: Black mates in 2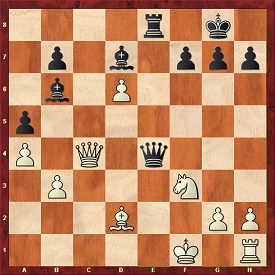 4r1k1/1p1b1ppp/1b1P4/p7/P1Q1q3/1P3N2/3B2PP/5K1R b - - 0 1


Problem 2 - Black To Play (497)
Hint: Black wins material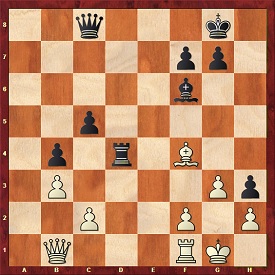 2q3k1/5pp1/5b2/2p5/1p1r1B2/1P4Pp/2P2P1P/1Q3RK1 b - - 0 1



Pic Note
This is kind of an odd painting, namely, the dead guy. Why is there a dead guy in the background? What is he doing there? Did he die during the game, or did he die previously, and the players had to step over his body to get to the playing table? Mysteries abound.

Problem 3 - White To Play (494)
Hint: White mates in 6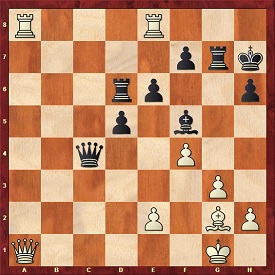 R3R3/5prk/3rp2p/3p1b2/2q2P2/6P1/4P1BP/Q5K1 w - - 0 1



Problem 4 - White To Play (BWTC 52)
See how many paths in the tree you can trace out.
Hint: White can force a mate in 4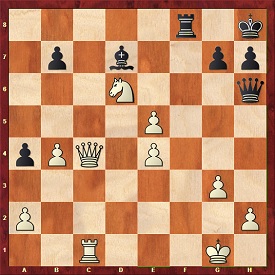 5r1k/1p1b2pp/3N3q/4P3/pPQ1P3/6P1/P6P/2R3K1 w - - 0 1



Endgame of the Week (50673)
It's White's move.
This endgame is a good example of why I find chess so fascinating. This endgame is really devious: it all boils down to ONE crucial move. If White makes it, he will win. If he doesn't, it will be a draw. I hope zombie can make it here this afternoon, I am very much looking forward to seeing what he'll be able to do with it.
Hint: The difference between the move that wins and the move that draws is ONE square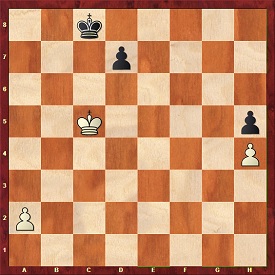 2k5/3p4/8/2K4p/7P/8/P7/8 w - - 0 1



And Now, For the 'Ettes -- Dress Pr0n!
A knit dress? I have never seen one of these before. Were they A Thing back in the day?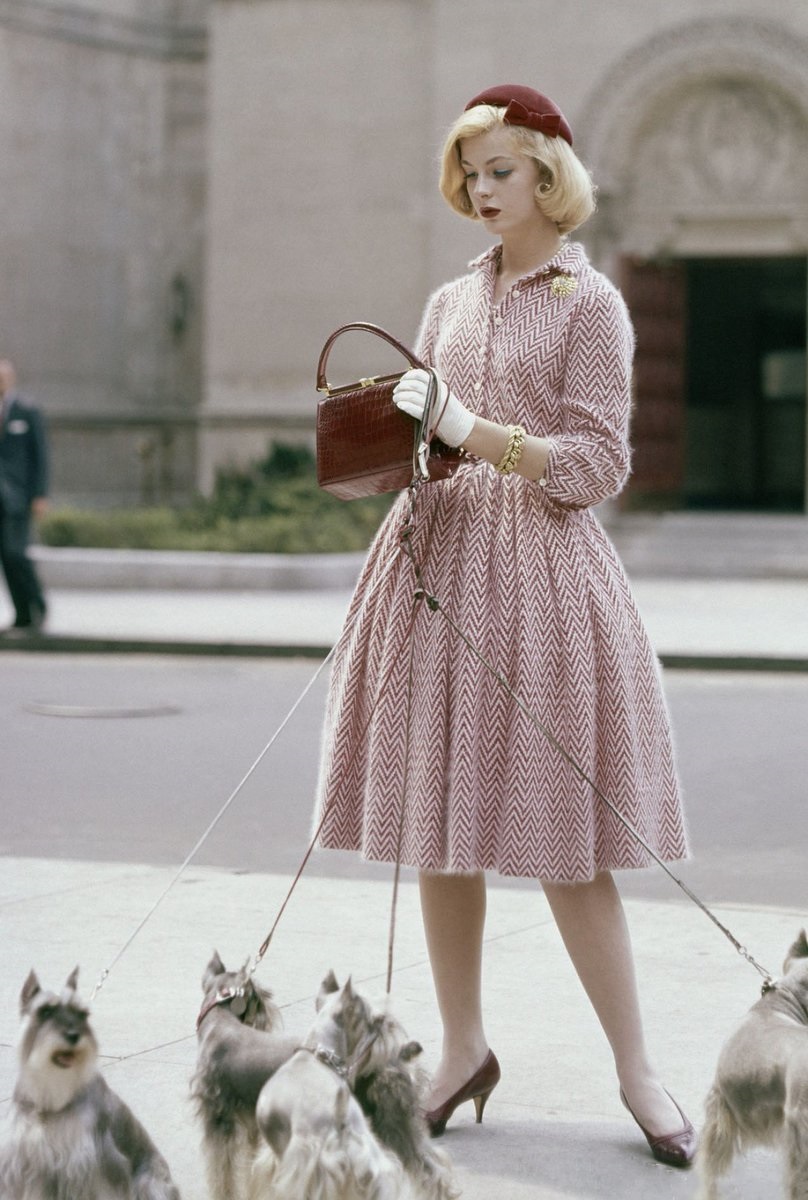 (Click For Larger View)


From Glamour, Oct. 1955. That's one year before I was born.
(pic stolen from Lost In History)

And now, some mother-daughter dress pr0n: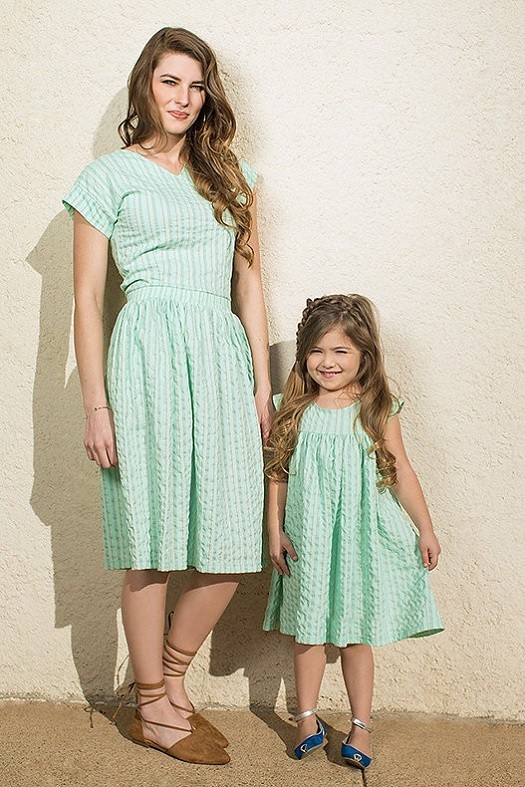 I've seen that material before, but I'm not sure what it's called. Is it seersucker?

___________
Solutions Update
Problem 1 - Black To Play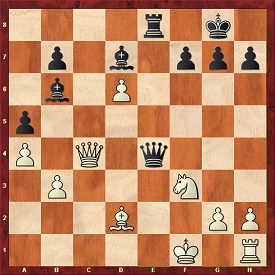 4r1k1/1p1b1ppp/1b1P4/p7/P1Q1q3/1P3N2/3B2PP/5K1R b - - 0 1


Get that pawn on g2 out of the way and the rest is easy:
1...Qxf3+!
2.gxf3 Bh3#

Problem 2 - Black To Play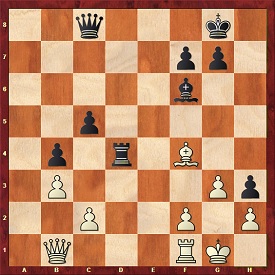 2q3k1/5pp1/5b2/2p5/1p1r1B2/1P4Pp/2P2P1P/1Q3RK1 b - - 0 1


1...Rxf4!
And White cannot retake 2.gxf4? because of 2...Qg4+ 3.Kh1 Qg2#
So, White's best hope is
2.f3
And now Black and simplify to a won game. It might go like this:
2...Bd4+
3.Kh1 Qc6
4.gxf4 Qg6
5.Rg1 Bxg1
6.Qxg1 Qxc2
7.Qf1 Qg2+
8.Qxg2 hxg2+
9.Kxg2 c4
10.bxc4 b3
11.Kf2 b2
12.Ke3 b1=Q and wins

Problem 3 - White To Play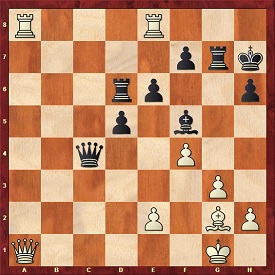 R3R3/5prk/3rp2p/3p1b2/2q2P2/6P1/4P1BP/Q5K1 w - - 0 1


Even though it's a 6 move mate, it's not especially difficult since many of the moves are forced and the decision tree doesn't have many branches:
1.Rh8+ Kg6
2.Rxh6+ Kxh6
3.Qf6+ Kh7
If 3...Kh5 then 4.Rh8+ Kg4 (not 4...Rh7 5.Qg5#) 5.Bf3#
4.Qh4+ Kg6
5.Qg5+ Kh7
6.Qh5#

Problem 4 - White To Play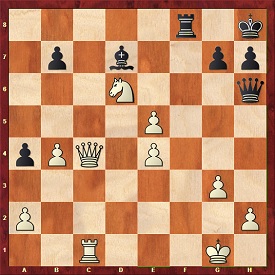 5r1k/1p1b2pp/3N3q/4P3/pPQ1P3/6P1/P6P/2R3K1 w - - 0 1


You might have seen the smothered mate 1.Qg8+ Rxg8 2.Nf7#, but unfortunately for White, Black can instead play 1...Kxg8 and the smothered mate falls apart. There's no way for White to force the black king back into the corner. So this is not a good line.
Instead, White needs to bring the knight up immediately.
1.Nf7+ Rxf7
With this rook capture, Black fatally weakens his back rank. But if instead 1...Kg8, then White can uncork the smothered mate: 2.Nxh6+ Kh8 3.Qg8+ Rxg8 4.Nf7#.
2.Qc8+ Bxc8
2...Be8 results in 3.Qxe8+ Rf8 4.Qxf8#
3.Rxc8+ Rf8
4.Rxf8#

Endgame of the Week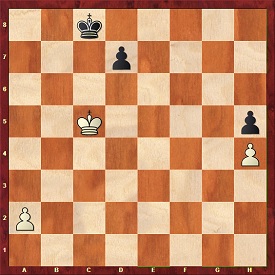 2k5/3p4/8/2K4p/7P/8/P7/8 w - - 0 1


So the first order of business is to prevent Black from causing trouble by pushing his free pawn, so
1.Kd6!
And Black is forced to respond
1...Kd8
Now, this is where it gets fun. The two move possibilities here are 2.a3 and 2.a4. If you're like me, you want to get the pawn down there as fast as possible, so you'll opt for 2.a4. Like I did when I first tried to solve the problem.
And that's the wrong move. It leads to a draw. This is how it plays out.
2.a4 Kc8
3.a5 Kd8
4.a6 Kc8
5.a7 Kb7
6.Kxd7 Kxa7
Experienced players can eyeball this position and see that it's a draw. The reason is that there isn't enough space separating the two kings for White to be able to go over and pick off the pawn on h5 and then move his king to the g-file so his own h pawn can advance. Black will be able to get right in his face and keep him on the h-file. The game might continue like this:
7.Ke6 Kb6
8.Kf5 Kc5
9.Kg5 Kd6
10.Kxh5 Ke7
And now it's a race to control the queening square:

11.Kg6 Kf8
12.Kh7 Kf7
And now White is trapped on the h-file, and his pawn can't queen. So draw.
Now let's look at the other possibility:
2.a3!
The correct move. Black's strategy is pretty much the same, that is, protect the d7 pawn as much as possible until White's 'a' pawn advances too close. And White just advances the pawn.
So let's see how this plays out:
2...Kc8
3. a4 Kd8
4. a5 Kc8
5. a6 Kb8
6. Kxd7
In this position, there's no need for White to advance his pawn. Black is going to have to drop down to pick up the pawn and White will be over to scooch on over to the h file to clear the way for his other pawn.
6...Ka7
7.Ke6 Kxa6
8.Kf6 Kb7
9.Kg6 Kc8
10.Kxh5 Kd7
Can Black force White up against his own queening square?

11.Kg6 Ke7
12.Kg7 Kd6
No, he can't. There's now no way for Black to get around White's king to stop the pawn. Black is now in a resignable position.
I'm not sure I can adequately explain why 2.a3 works but 2.a4 doesn't. I think it's probably a timing thing. By the time White's 'a' pawn is advanced to the point of being a threat, Black's king is in a slightly different position. I think. I don't know for sure. Trouble is, if I faced this position OTB, I don't think I'd be able to figure it out in advance.
That there are these fascinating positions (where, in this case, the difference between a win and a draw is only a one square difference between two moves) is why I love chess.
Hope to see you all next week!
___________
Note: that cryptic line of letters and numbers you see underneath each board diagram is a representation of the position in what is known as "Forsyth-Edwards Notation", or F.E.N. It's actually readable by humans. Most computer applications nowadays can read FEN, so those of you who may want to study the position, you can copy the line of FEN and paste into your chess app and it should automatically recreate the position on its display board. Or, Windows users can just "triple click" on it and the entire line will be highlighted so you can copy and past it into your chess app.
___________
So that about wraps it up for this week. Chess thread tips, suggestions, bribes, rumors, threats, and insults may be sent to my yahoo address: OregonMuse little-a-in-a-circle yahoo dott com.


posted by OregonMuse at
05:15 PM
|
Access Comments