« Father Russia (Open Thread) [KT]
|
Main
|
Ace of Spades Pet Thread »
June 03, 2017
Saturday Gardening Thread: That rose you see everywhere [KT]
I would be willing to bet that a lot of people saw this rose in a cemetery on Memorial Day. There are many places where it would be in bloom then, though its season is not long.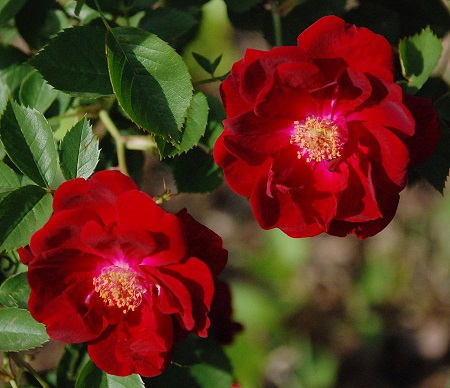 Check out Don's original
But as noted in the comments last week, the appearance of this rose may be an oopsie. Rose expert CN wrote: "Few things in gardening are sadder than the reaction of someone who believes their hybrid tea is putting out long healthy canes in order later to find that it's the root reverting to type and they end up with a rather foetid smelling homely rose plant (but at least the black spot is truly gone)."

Don writes about his photo above:
The hybrid wichuriana "Dr. Huey" is the most commonly-used rootstock for propagation of roses by bud grafting. When gardeners are careless about removing suckers, the understock will take over. The result is a brilliant but brief display of bright red blossoms at the beginning of the rose season. This example was blooming in a Wichita garden in mid-May, but you can find them everywhere grafted roses are grown.
Those long, healthy canes are from a rambler.
There are some other rose rootstocks used regionally, especially in Florida and Oregon. The older rootstock which has come up on our friend's rose bush is Ragged Robin, which has an interesting history. It was once the standard root stock rose for California.
It is not to be confused with the other Ragged Robin
Last Week's Mystery Plant
This was the Mystery Plant sent in by California Girl:
Don and Anabolic State correctly identified it as Erodium cicutarium. This plant has several common names, like Coastal Heron's Bill, Crane's Bill or Common Stork's Bill. "The authorities" in the USA seem to like to used Stork's Bill for Erodium. Not sure why. A bird by any other name . . . Maybe we should just call it Filaree.
This genus of plants is related to true geraniums and to the plants we generally call geraniums (pelargoniums. They share the characteristic of seed pods that look like bird's beaks.
Common Stork's Bill is edible. Nice for an invasive weed to be edible. Here is one reputed benefit:
. . . for those who give disproportionate attention to trivial events and small problems. It is said to help them gain a wider and truer perspective on issues which to so many of us are routine events. It helps such people to spend less time worrying about things which they have blown up out of all proportion.
Know anybody like that? There are some nice photos at the link above if you wish to recommend some for their salads.
This plant is a pest in farms and gardens mostly because it comes up early. January 29 in Colorado, for example. It has a different growth pattern in the South. There is some going to seed in our yard right now.
There are fancier relatives of this plant, too. This large genus was once favord by Rich White Men, and specialists still grow picky Alpine types. But you can get a double Erodium for your Fairy Garden. And some rather tough ground cover type Erodiums.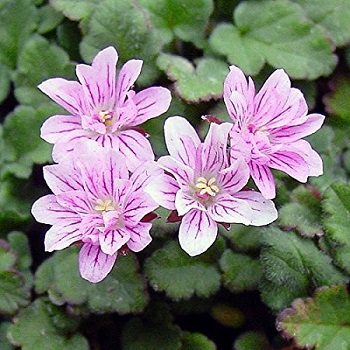 Available through the AoSHQ Amazon Store
Gardens of The Horde
It's been a wild week at Casa Bar-the-Door. There is some nice stuff from The Horde waiting in the wings, but I was not able to get to it today. Thanks for your patience.
We've been doing Goathead (Torito) control here. Yuck. Hope you have had some nicer things going on in your garden. Hope you have a great weekend.
If you would like to send information and/or photos for the Saturday Gardening Thread, the address is:
ktinthegarden
at g mail dot com
Include your nic unless you want to be a lurker.


posted by Open Blogger at
12:50 PM
|
Access Comments