« Early Morning Headline-less Thread
|
Main
|
Saturday Gardening Thread: That rose you see everywhere [KT] »
June 03, 2017
Father Russia (Open Thread) [KT]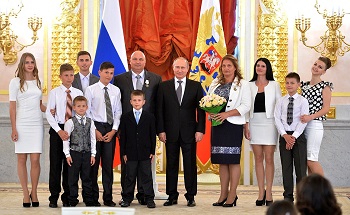 Here's a contrast for you: This week while American cultural development has been enhanced by Kathy Griffin and her dramatic image of death, Vladimir Putin has been presenting awards to The Order of Parental Glory.
The Order of Parental Glory is awarded to parents (including adoptive parents), who have raised seven or more children and pay great care to the next generation's health, education, and physical, spiritual and moral development.
Putin may be a snake, but he understands that children are the future of his country. As Ace has noted, from the point of view of a rational government, children are future taxpayer units.
There is a short video from the awards ceremony here. In Russian. "Dont' cry". Can't imagine Merkel in Putin's role there, can you? Recalling her youth in Portugal, Sarah Hoyt recently noted that the self-loathing preached in the West via Marxist internationalism, by three generations of intellectuals, has really been a way to promote Russian nationalism in disguise. This becomes more evident with the downfall of the USSR.
The Order of Parental Glory thing is not new. Back in March, The Telegraph ran a rather dramatic story about Putin payimg women to have more children, inside Russia's super families.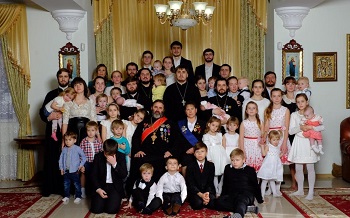 18 kids
Take a look through the piece if you are interested in Soviet history. Plummeting birthrates were a problem during the Soviet era, too. There were efforts made to encourage childbirth then, too. But today many of the "super families" seem to be Orthodox. Orthodox families were persecuted during the Soviet years. The following seems to be the attitude of many Orthodox families toward Putin:


'This man is like a father, like my father; he takes care of every person in the country. He takes care of big families.' The admiration is mutual: Putin is banking on big families to secure Russia's future.
O.K. But "a miracle of God?"
There is some interesting stuff in the Telegraph piece about families adopting children from parents who just couldn't hack it in the culture. And on military training of the young.
Putin pays attention to kids in other settings, too. Remember Putin's Geography Lesson at a geography awards ceremony for kids: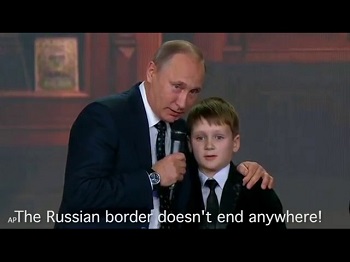 Just a joke. Like he says.
Below, a famous Russian Mother in a Balanchine performance, 1993. Have a great weekend.

posted by Open Blogger at
11:17 AM
|
Access Comments