« The Pacific Northwest Beclowns Itself
|
Main
|
Flashback: In 2004, Al Franken, Who Would Later Be Elected Senator With No Media Outrage, Body-Slammed (For Real) a Protester at a Howard Dean Rally »
May 30, 2017
Thank God for College: Feminist Researcher Proposes Bold New Science Mixing Quantum Mechanics and "Intersectional Feminism"
Anyone want to bet that the only thing this idiot even knows about quantum mechanics is that it involves probabilities along a spectrum and duality?
A feminist academic affiliated with the University of Arizona has invented a new theory of "intersectional quantum physics," and told the world about it in a journal published by Duke University Press.

Whitney Stark argues in support of 'combining intersectionality and quantum physicS" to better understand "marginalized people" and to create "safer spaces" for them, in the latest issue of The Minnesota Review.

Because traditional quantum physics theory has influenced humanity's understanding of the world, it has also helped lend credence to the ongoing regime of racism, sexism and classism that hurts minorities, Stark writes in "Assembled Bodies: Reconfiguring Quantum Identities."
Scientists believe this paper is composed entirely of the Stupid Quark.
Here's a bit of it:
Assembled Bodies Reconfiguring Quantum Identities

Whitney Stark
Abstract

In this semimanifesto, I approach how understandings of quantum physics and cyborgian [???] bodies can (or always already do) ally with feminist anti-oppression practices long in use. The idea of the body (whether biological, social, or of work) is not stagnant, and new materialist feminisms help to recognize how multiple phenomena work together to behave in what can become legible at any given moment as a body. By utilizing the materiality of conceptions about connectivity often thought to be merely theoretical, by taking a critical look at the noncentralized and multiple movements of quantum physics, and by dehierarchizing the necessity of linear bodies through time, it becomes possible to reconfigure structures of value, longevity, and subjectivity in ways explicitly aligned with anti-oppression practices and identity politics. Combining intersectionality and quantum physics can provide for differing perspectives on organizing practices long used by marginalized people, for enabling apparatuses that allow for new possibilities of safer spaces, and for practices of accountability.
Over the weekend, a male conservative Twitter personality bought a ticket for the women-only screening of Wonder Woman at the Alamo Drafthouse in NYC. Actually, the screening was for people who "identify" as women.
There was a lot of, get this, hysterical emotional overreaction.
Oh, and "Charging Bull," a statue originally designed to stand by itself on Wall Street, is now opposed by, and negatively recast, by the parasitic sculpture "Fearless Girl." That statue now changes the meaning of his original work -- making the bull, which originally stood for daring and vigor, now stand for Penis-Based Oppression.
Another male artist is annoyed by this Cultural Appropriation.
So he's now erected (but of course he is, what an oppressor) a statue called "Pissing Pug" right next to Fearless Girl, urinating on her.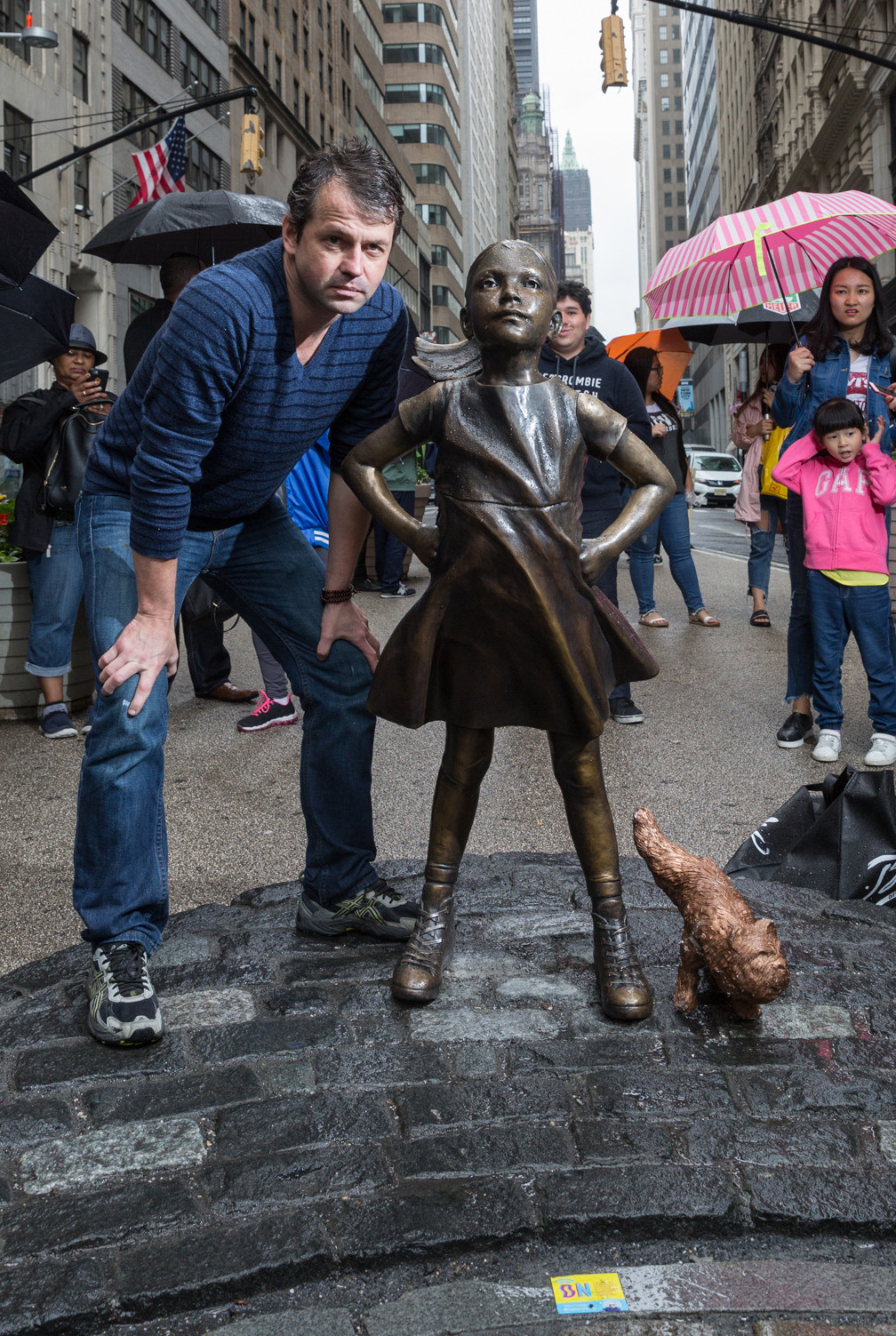 He says he deliberately made the new statue crappy because the new Fearless Girl statue is crappy too.
Correction: I was confused, thinking the new artist of this new "Pug" statue was the original artist of Charging Bull. He isn't, MWR tells me. I've rewritten the mistake out of the post.
Prank Warning: Commenters think the "cyborgian" paper on Quantum Intersectionality might be another prank paper.

posted by Ace at
01:01 PM
|
Access Comments