« Saturday Afternoon Chess/Open Thread 05-20-2017
|
Main
|
Overnight Open Thread (20 May 2017) »
May 20, 2017
Saturday Evening Movie Thread 05-20-2017 [Hosted By: TheJamesMadison]
Forgotten, but Still Loved
We all have them, those movies that we adore but no one else seems to have even heard of. These are the movies that we marvel at every time we watch them, and marvel even more at the people who have forgotten their existence.
You recommend it to everyone no matter what, and the fact that you can't seem to actually find anyone who's seen the movie before is just flummoxing. "How?" you wonder.
Well, here's a forum for bringing some of them to light. We'll start with a few of mine.

Chimes at Midnight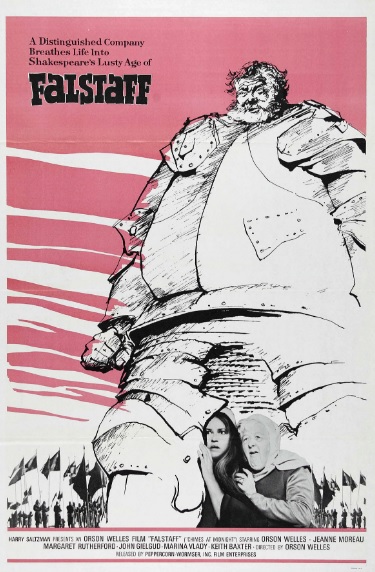 The first time I heard of this movie was in relation to Gangs of New York. Martin Scorsese had built the opening battle scene in the same way (framings and cuts that reflected the chaos of battle) that Orson Welles had built the Battle of Shrewsbury in Chimes at Midnight as an homage.
(Content Warning for Violence below)
Like every movie Welles made after Citizen Kane, this was mangled on its way to release. Like most of his movies, he made it over time and with almost no money. He had even tried to bring it to the stage a couple of times before turning it into a film. He lied to financiers about using the sets to make two movies (the other would have been Treasure Island) while having no intention of making anything other than his tale of Falstaff.
Welles took the plays Richard II, Henry IV Parts 1 and 2, Henry V, and The Merry Wives of Windsor, cut them apart and reassembled them as a single 2-hour film centering around the comic hero Fallstaff. Welles saw good John Fallstaff as the manifestation of "Olde England", that mystical vision of England that was always just out of grasp in the past. He called Fallstaff a purely good character. And the movie he made about good John Fallstaff is remarkable. Citizen Kane is the more important movie, but I think Chimes at Midnight is his best.

Ender's Game

This one is much more recent, but criminally under looked. It did not do well at theaters, killing the idea of making any sequels and getting Lionsgate a new
Hunger Games
-esque franchise, but I kind of love
Ender's Game
.
It endeavors to be a faithful adaptation of Orson Scott Card's book, and I think that it succeeds. It manages to wring a surprisingly strong performance from a normally bored Harrison Ford while providing some excellent sequences in the Battle Room and in Ender's later training. It looks great, it moves well, and it carries emotional weight.
The movie was probably hurt by Card's politics and the left's attempt at a boycott, but the movie didn't deserve to be harmed. It's very good and I actually just wish that it was longer (another hour of Battle Room stuff, please!).

The Twelve Chairs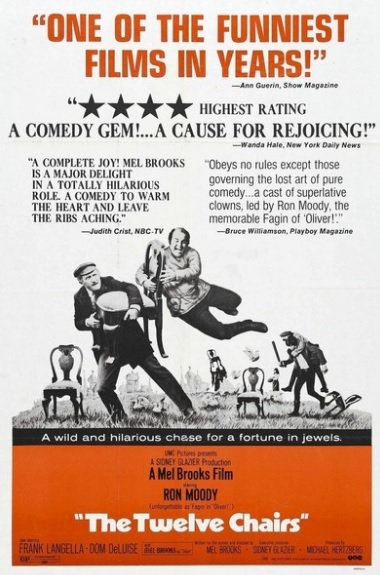 This movie by Mel Brooks is largely forgotten by, well, everyone. I had no idea this movie even existed until I bought the collection of Mel Brooks movies on Blu-Ray which included it. "What is this?" I asked myself before immediately putting into the player and watching it. I think it's safe to say that Brooks hasn't made a movie like
The Twelve Chairs
.
It's based on a Russian story about a man in the Soviet Union who's looking for a bunch of money that's been hidden in one of twelve chairs lost during the Revolution. It's funny in much the same way that The Producers is funny, but it's also, ultimately, very sad.
It's touching in its sadness in ways that Brooks never even ever tried again in his career. It's overshadowed by Blazing Saddles and Young Frankenstein, which he made a few years later, but The Twelve Chairs is really something special.

So….
Have you seen any of these?
What are those movies that feel like you're the only one who knows of its existence?

Movies of Today
Opening in Theaters:
Alien: Covenant
Diary of a Wimpy Kid: The Long Haul
Everything, Everything
Next in my Netflix Queue:
The Jewel of the Nile

Movies I Saw This Week:
La La Land (Netflix Rating 3/5 | Quality Rating 2.5/4) Poster Blurb: "A sweet confection, but little more."
Fiend Without a Face (Netflix Rating 3/5 | Quality Rating 2/4) "Typical 50s scifi horror. Thin characters, nothing plot, but some very fun effects at the end."
Apt Pupil (Netflix Rating 3/5 | Quality Rating 2/4) "Can't decide if it's a serious exploration of the appeal of Naziism or a monster movie and suffers for the struggle."
It Happened One Night [Rewatch] (Netflix Rating 4/5 | Quality Rating 3/4) "A fun and diverting old school romantic comedy."
Bell Book and Candle (Netflix Rating 3/5 | Quality Rating 2/4) "Passable entertainment."
Super Troopers (Netflix Rating 3/5 | Quality Rating 2.5/4) "Some very funny sequences spread through an otherwise so-so movie."
John Carter [rewatch] (Netflix Rating 5/5 | Quality Rating 3.5/4) "Old school fun. Criminally underappreciated."

Contact
Email any suggestions or questions to thejamesmadison.aos at symbol gmail dot com.

posted by OregonMuse at
07:13 PM
|
Access Comments