« Sexual Abuse Surviver Emmanuel Macron Projected As Winner Of French Presidential Election
|
Main
|
Cutting The Cord: It's Easier Than You Think. I Think. I have No Idea. That's What This Post Is For »
May 07, 2017
Food Thread: The "Frork"...It Is Un-American And Clearly A Sign Of The End Times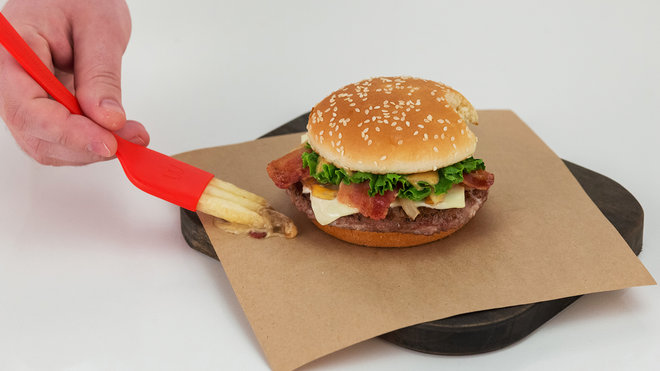 McDonald's Is Debuting a French Fry Utensil Called a "Frork" -- Yes, Really
It's an all-too-familiar scenario. A bit of ketchup drips from your hamburger onto your placemat, and you're left with only one choice: to use your fingers and a few French fries to sop up the mess.

McDonald's is here to change that with their new "uselessly useful" invention--a "frork." Basically, it's a fork. But instead of metal prongs, it sports three French fries.
Isn't part of the pleasure of the fast-food dining experience the joy of greasy, salty, ketchup-covered fingers that you stealthily wipe on your pants, or even better, wipe on the carpet on the passenger side of the car?
Who are these people?
******
What is a Beer Bar, and Why Are So Many Popping Up at Country Weddings?
I don't know the answer to the question, but in general, bars at weddings are very good things. Whether they are serving beer or cocktails or oysters, it is a fine place to meet that 2nd cousin by marriage and finally find out what the hell is up with his wife's teeth. Or if you are really lucky, the bride's hot, single, lonely friend who just broke up with her long-time beau and is desperate to forget him, especially because he is a groomsman and his "plus one" is the bathing suit model he dumped her for.
******
Avenue 'Cue: America's 11 top BBQ joints, from Memphis to Hawaii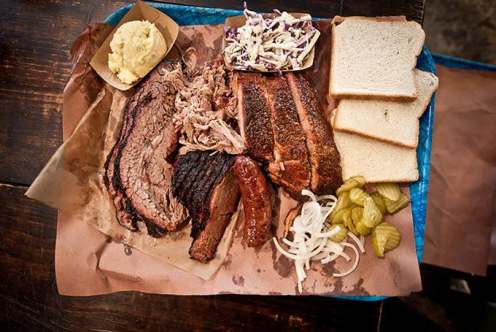 Franklin Barbecue
Austin, TX

What can we say? Sometimes the king deserves to wear the crown. Franklin BBQ is an obvious choice, sure, but any meathead would be hard-pressed to find anything that stands up to its slow-smoked brisket. Not to mention the Texas sausage: links of pure heaven. And the turkey! Not a dry bite on it. The slaw, the beans, the potatoes -- these guys all check out, but it's really all about the protein here. Nobody starts lining up at 6 a.m. for cole slaw. No, we're here for the meat, and the Franklin abides.
I love that style of sausage, but it is surprisingly difficult to find anywhere outside of Texas. There is a solid BBQ place in NYC called "Hill Country" that makes a passable version, but I have never had anything that approaches the best of Texas. I am often tempted to make them for myself, but don't let the cooking shows fool you; making sausage is a skill not easily acquired. I have done it, and the end product, while tasting okay, was reminiscent of some 1950s horror movie props.
******
From "artisanal'ette," who sends me great stuff, but sometimes I'm not sure whether she is trolling me. I suspect this one just hooked a Dildo.
Treat Your Mom with Foodie Favorites for Mother's Day
has some cute stuff, but some of the suggestions are just a bit on the "what the fvck?" side.
******
Here's another one from artisanal'ette, but this one is not a troll....I think.
Moms Share Their Favorite Menus
.
Oh man! Chicken And Dumplings!
******
From commenter "Bluebell," Hanson fan and dessert maker (and consumer) extraordinaire.
Brownie Pudding
(From Better Homes and Gardens New Cookbook)
1 cup flour
½ cup sugar
2 T. unsweetened cocoa powder
2 tsps. baking powder
½ tsp. salt
½ cup milk
2 T. cooking oil
1 tsp. vanilla
½ cup chopped walnuts, opt.
¾ cup sugar
¼ cup unsweetened cocoa powder
Preheat oven to 350.
In a large mixing bowl stir together flour, ½ cup sugar, the 2 T. cocoa powder, baking powder, and salt. Add milk, oil, and vanilla, stir until smooth. Stir in nuts, if using.
Turn into an ungreased 8 x 8 x 2-inch baking pan.
Combine ¾ cup sugar and ¼ cup cocoa powder; gradually stir in 1 ½ cups boiling water. Pour liquid mixture evenly over batter in pan.
Bake at 350 about 30 minutes or until cake tests done. Best served hot or warm with vanilla ice cream. Allegedly makes 8 servings.

******
Food tips, extra Pappy van Winkle bourbon and other goodies:
cbd dot aoshq at gmail dot com
******
&topic=world_news">

posted by CBD at
04:00 PM
|
Access Comments