« The Mask Is Coming Off, And They Don't Care.
|
Main
|
After Cilantro Chicken Marinade, What's Next? »
April 30, 2017
Food Thread: Everything In Moderation, Including Moderation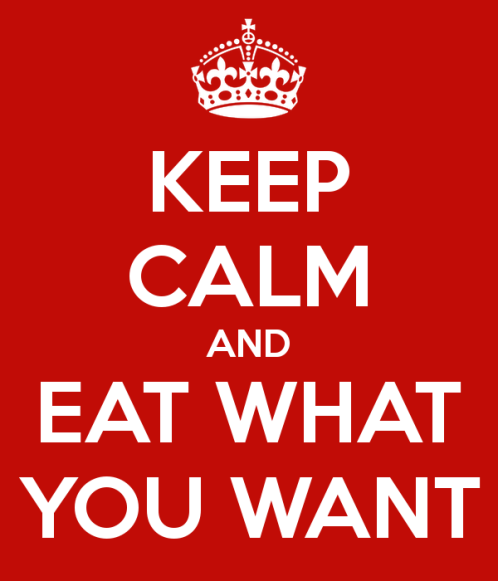 The cacophony of food advice bombarding us from every direction is maddening, because most of it is utter and complete drivel. Some bored grad student designs a lousy experiment with too few subjects and too many variables and then announces to the world that "BROCCOLI WILL KILL YOU!" Or the EPA, in its infinite wisdom and incoherent statistical analysis, will strike fear in the hearts of every mother in the country by proclaiming that if you are pregnant and walk past a fish store selling tuna, your child will be gravely injured.
The fact is that fear is a powerful tool with which to manipulate people, and who are the usual suspects when it comes to controlling us and our behavior?
Government. That's who. Specifically, Big Government. And even more specifically, Leftist Big Government. They love to make us fearful of some great unknown danger that only they can detect and solve. Nobody can look at that head of broccoli or tuna steak or apple or carton of milk and discern the relative danger inherent in its consumption, so we must trust...someone....to generate and interpret the data about contamination of our food supply and communicate that risk to the public.
But there is a huge conflict of interest in this arrangement. If there were no significant threats to our food supply and to our health, the justification for tens of thousands of bureaucrats' and functionaries' continued employment would be in jeopardy. And we can't have that!
So risks that in a sane world would be seen as trivial are elevated to ridiculous heights. Pesticide residues on our food are miniscule, except in a vanishingly small number of farming accidents that are quickly detected. And the risk of those pesticides compared with everyday risks such as slips and falls and automobile accidents and not being active is tiny. Ridiculously tiny. Almost immeasurably tiny.
Unfortunately, it isn't just Big Government that wants us to cower in fear of our food (and everything else)...it is their fellow travelers in the NGOs and the think tanks and the small pressure groups (or idiot actresses named Streep) that can have an outsized impact on the American psyche. Don't Fear Pesticides on Fruits and Vegetables is a worthwhile article to read for its skewering of the climate of fear. Although (you knew that was coming)...the authors accept as fact the premise that we should, in fact, eat more fruits and vegetables. Maybe, probably, almost certainly; but it's not a fact, and I bristle when told to do something because it is good for me. I will interpret the data for myself, thank you very much.
Speaking of data, here is some interesting stuff about the difference between organic food regulation and conventional food regulation.
While some groups, such as the EWG, promote organic produce over conventional produce, there are a far greater number of regulatory safeguards in place for use of conventional pesticides. As noted above, the EPA requires an extensive amount of scientific research to support an application for a new conventional pesticide. Organic pesticides are managed by the USDA National Organic Program (NOP). The NOP does not specifically list each allowable natural substance that can be used for organic farming. Rather, it sets the criteria for determining if a substance is natural. The reality is that data on pesticide use in organic farming are limited. Importantly, the NOP is managed by the 15 members of the National Organic Standards Board, of whom only one is listed as a scientist.
Which will you choose?

******
Today is the fifth edition of:
"Liquor Cabinets: A Study By And Of Morons."
Mr. Bingley's Hootch Cache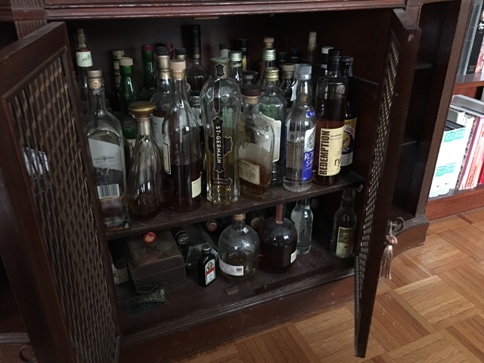 The Jaegermeister has me a bit concerned, but Mr. Bingley swears up and down that it isn't for his own consumption. And he certainly redeems himself with the Redemption Rye and the Whistle Pig! The see-through doors are great...they send a clear signal that drinks are never too far away.
MANNY! MANNY! MANNY!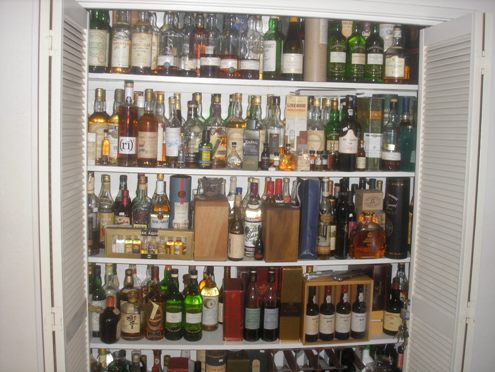 It was once a linen closet, but we got our priorities straight. After all, man does not live on linen alone (at all). Now it houses my collection of over 25 years.

Some top shelf malts on the top shelf. Most of the Adelphi bottling are older Springbanks. A few more got cut off on the bottom shelf/floor.

The two unmarked wooden boxes in the middle of the middle shelf contain bottles of Pyrat 'Cask 23' rum.

Hopefully you'll consider it for inclusion, although I'm more of a lurker than a moron.

Aloha,
-Manny
I am in awe of this collection. The combination of volume, quality, and the clear moral superiority of re-purposing something silly like a linen closet for God's work is going to make it very difficult to beat.

******
Ew....
Look for THIS to Spot a Dirty Beer Glass
Chances are you've been served beer in a dirty glass, and I'm not talking about something as obvious as a hair or dirt floating around the rim. We're talking oils and gunk, invisible to the untrained eye, smudged around the inside of your glass. Stuff that a simple dip in the sink won't get rid of. Stuff that will break down when it comes in contact with beer, and you will end up drinking.
******
Now that the hot weather is arriving (too soon for my taste), it's time to heat up the kitchen and bake bread (I never claimed to be smart)!
This is a fun recipe from King Arthur Flour
for Pane Pugliese; the bread is good, and the technique is a bit different than the usual.
******
Emulsions
An emulsion is mixture of two or more substances that are not soluble in each other.
Everybody knows what oil and water look like when mixed: two liquids with a clear boundary and no mixing between them. No amount of blending will force them to dissolve in each other. Try it. Put oil and water in a blender and let it run on high speed for a few minutes. The resulting mixture will be frothy and bubbly and temporarily mixed, but will quickly return to its normal state of two liquids with a clear boundary. That's because of the hydrophobic properties of the oil, and probably some other chemistry stuff going on that I don't remember.
Add something called an emulsifier however, and the forces that push the two liquids apart are overwhelmed by the emulsifier's ability to mix with both of the liquids. So add an egg to that blender, and the egg will blend nicely with both the oil and the water (use vinegar for taste), and you get mayonnaise.
It's a bit more complicated than that because of some technique problems with dumping everything in at once. But you get the idea.
So what's the advantage for cooks? Well, smear some oil and vinegar and raw egg on a sandwich and get back to me. Mixing those flavors and textures into a coherent whole is a fantastic way to improve flavor. it also keeps everything together, so marinating foods in emulsions can work quite well.
And that, kids, is the point of this long and boring exposition.

******
Cilantro Chicken Marinade
• Cilantro
• Dijon mustard
• Kosher salt
• Black pepper
• Garlic
• Balsamic vinegar
• Onion
• Jalapeno
• Brown Sugar
• Ancho chile powder
• Olive oil
Blend until smooth everything together except the olive oil. Then drizzle olive oil in slowly while blending to emulsify the mixture so that it is nice and thick and sticks to the chicken.
I marinated chicken pieces in this mixture for 24 hours, then grilled it on medium-low indirect heat, turning it a few times for even grill marks. Then high heat for some browning and it was done.
Notice I didn't list exact quantities in the recipe, but rather relative amounts. Just go by your personal preference, and expect to use about the same volume of olive oil as the rest of the blended ingredients.

******
Food tips, extra Pappy van Winkle bourbon and other goodies:
cbd dot aoshq at gmail dot com

posted by CBD at
04:00 PM
|
Access Comments