« Early Sunday Night Open Thread
|
Main
|
The Morning Report 4/24/17 »
April 23, 2017
Sunday Overnight Open Thread (4/23/17)
A WISH TO LIVE FOREVER
I met a fairy who said she would grant me one wish.
Immediately I said, "I want to live forever."
"Sorry," said the fairy, "I'm not allowed to grant eternal life."
"OK," I said, "Then, I want to die after Congress gets some work done. "

"You crafty bastard," said the fairy.

Quotes of The Day
"Let me tell you about endangered species, all right? Saving endangered species is just one more arrogant attempt by humans to control nature. It's arrogant meddling. It's what got us in trouble in the first place. Doesn't anybody understand that? Interfering with nature. Over 90%, way over 90% of all the species that have ever lived on this planet, ever lived, are gone. They're extinct. We didn't kill them all. They just disappeared. That's what nature does.

"We're so self-important. So self-important. Everybody's going to save something now. "Save the trees, save the bees, save the whales, save those snails." And the greatest arrogance of all: save the planet. What? Are these fucking people kidding me? Save the planet, we don't even know how to take care of ourselves yet. We haven't learned how to care for one another, we're gonna save the fucking planet?George Carlin
*****
The Media. We discuss "Fake News" and "Bias". What is the greatest form of Media Bias? Deciding what is and isn't reported to the public.

....It appears likely that Green was abusing other boys over a period of at least twelve years in at least two different school districts, and Green's crime is not the half of it.

I learned about this crime for one reason. In January, I became editor of a new, nonprofit, online publication -- Sentinelksmo.org -- designed to counter the disinformation spread by the overwhelmingly liberal media in Missouri and Kansas. Over the years, people have approached me with stories about regional abuses, and I had an easier time placing those stories nationally than locally. In these two deeply red states, there was no media outlet of consequence halfway friendly to conservative causes. Now there is, the Sentinel.
No one has ever accused the Media of being Rocket Scientists.

You might want to sit down for this news. Australia's Telegraph newspaper has uncovered startling images that are available on this newfangled "Internet" that seems to be all the rage. They're images of (wait for it) pornography.

In what the Telegraph hails as an EXCLUSIVE, the newspaper reveals that its "special investigation" has "uncovered the dark side of social media." Apparently it's easy to find this kind of pornographic material under the hashtag #NSFW. Oh dear!
A recent poll indicates most voters back legalization of marijuana.

The Trump administration has hinted at cracking down on states that have legalized recreational marijuana use, but according to a new Morning Consult poll, a majority of registered voters think it should be legal across the country.
The ONT's opinion? Let the people decide. Then regulate the hell out of it like booze and tobacco. After all the Nanny State has to Nanny.
Thinking about sending your son to an All-Male College? Cross off Deep Springs College of CA off your list.

There are over 4,000 colleges and universities in the United States. There are only four that are all male. But that is at least one too many, apparently. A California Appeals Court ruled last week that Deep Springs College, a school with only twenty-six students, may start admitting women.

Founded a century ago by industrialist L. L. Nunn, Deep Springs has long had an odd-ball education plan. Students get a rigorous liberal arts education while they are running a farm. They go to school for free and they are also part of the school's management, helping to govern both its day-to-day operation and its finances. Deep Springs is a two-year college but its students are typically admitted as transfers to the best colleges in the country.
The failure to plan, has its consequences. Somali pirates learn the hard way.

Obama, Holder than Lynch all hated Cops, or so it seemed. Donald Trump campaigned on a Law & Order theme. How President Trump can help out the Cops.


The most immediate goal of the Trump administration should be to change the elite-driven narrative about the criminal-justice system. That narrative, which holds that policing is lethally racist, has dominated public discourse since the fatal shooting of Michael Brown in Ferguson, Missouri, in August 2014. In response, officers are backing off of proactive policing, and violent crime is rising fast: 2015 saw the largest one-year spike in homicides nationwide in nearly 50 years. That violent-crime increase has continued unabated through 2016 and into the early months of 2017. A Trump administration official—perhaps Attorney General Sessions, or the president himself—should publicly address the question of what we expect from police officers: Do we want them to be proactive and to try to stop crime before it happens? Or do we want them to be purely reactive, responding to crime only after someone has been victimized? The administration should explain that data-driven, proactive policing made possible the country's 20-year, 50 percent violent-crime decline that began in the mid-1990s.
To forgive and forget. Nurture or nature?

Forgive and forget is advice easier for some people to follow than others. But a newly published neuroscience study has given those who hold onto grudges a good excuse: It seems the ability to forgive is linked to the size of a specific area in the brain.

Love him or hate him, Bill Maher is usually spot on when it comes to the 1st Amendment. Bill Maher correctly defines what UC-Berkeley is.
The ONT Musical Interlude
April 23, 1978, Sex Pistols bassist Sid Vicious filmed his version of 'My Way' for the Sex Pistols film 'The Great Rock n Roll Swindle.' via thisdayinmusic.com
*****

Music & History.

William Shakespeare celebrates a birthday.
*****

Women treated poorly, Manteruption.
*****

A Holocaust survivor and her quest to find out what happened to her family.

So it's no surprise that 81-year-old Holocaust survivor Miriam Shapiro spent most of her years attempting to learn the fate of her family. That's when she stumbled across one photograph that changed her entire life…

Happy Days actress, Joanie RIP
Filed under the category of "You just had one job to do!!" Google screws up on pizza joint location.

Thanks to an error on Google Maps, a home in Darwin, Australia was labeled as a pizza joint, and sure enough, the people came out.

The expression "Piss on you", yeah, just an expression. Unless you're our Genius Award Winner.

For every action, reaction, yadda, yadda, yadda. Tonight's Feel Good Story of The Day.

Tonight's ONT has been brought to you by Deep Thoughts.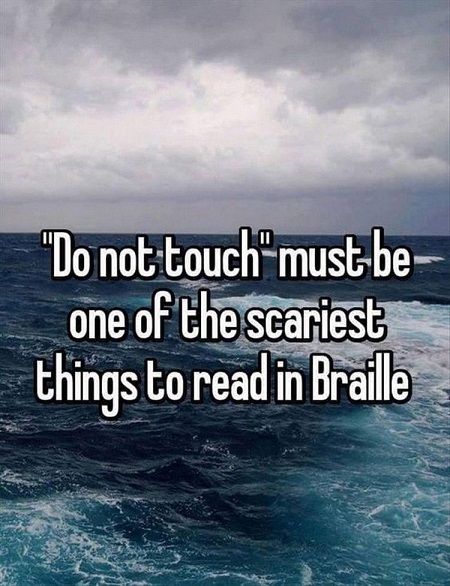 Notice: Posted with permission by AceCorp, LLC. Restrooms are for customers only.


posted by Misanthropic Humanitarian at
10:01 PM
|
Access Comments