« Thread below the Gardening Thread: South of the Border [KT]
|
Main
|
Ace of Spades Pet Thread »
March 18, 2017
Saturday Gardening Thread: Inside Out [KT]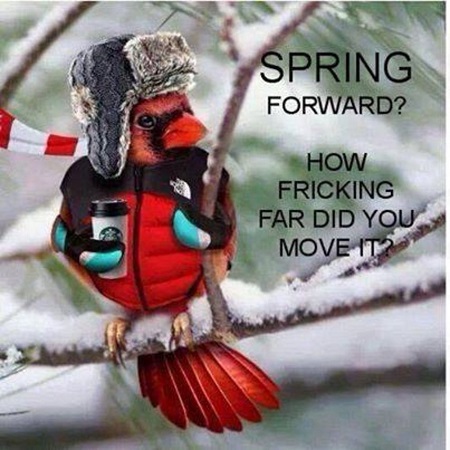 Weather: It's all relative.
Hello, Horde. Is it gardening weather yet where you are? We've had a couple of days with temperatures in the mid to high 80s this week, but also fog some mornings. I think winter is over here in the San Joaquin Valley. On the other hand, there was Winter Storm "Stella", mentioned here at AoSHQ more than once this week.
Who has plants indoors waiting to go outside? Some plants adapt to indoor/outdoor culture quite nicely. Some outdoor plants can stay indoors in winter, but may not like it too much.

Kalanchoe
Birds and Blooms magazine, a favorite of some members of The Horde, also has a blog. Here's a piece on growing Kalanchoe indoors and out. It includes some nice photos and directions for getting plants to re-bloom. The most familiar species, K. blossfeldiana, is often kept outside from spring to fall. People enjoy its blooms indoors in winter and early spring. It is a short-day bloomer.
It will grow outdoors all year in San Francisco, coastal Southern California, Hawaii, Southern Florida and similar climates. Here in the Valley, Walmart was selling blooming plants for outdoor bedding yesterday. The plants can be forced into bloom at any time and the blooms last for a long time, but when they fade, you can cut them off to appreciate the succulent foliage.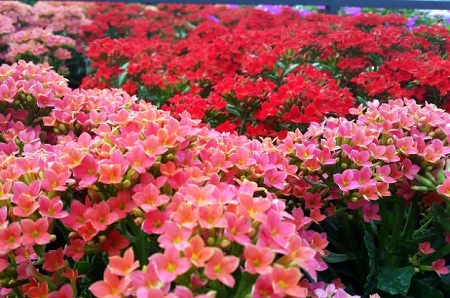 Kalanchoe flowers can be toxic to pets. If you have a pet that eats flowers. This genus of plants includes several other species you may have seen as houseplants, or in the garden outdoors (in mild winter climates).
Last fall, I picked up some assorted close-out succulents at Walmart. They were in sad shape. One died, but the rest look better now after a winter on the porch. They are still small. One is Kalanchoe hildebrandtii. It is very drought-tolerant. Not sure about its hardiness. We only had a few light frosts this winter. Mine has not bloomed. I think it has a simple, restful look.
K. hildebrandtii and Kalanchoe bracteata are similar looking and sometimes mistaken for each others. They are distinguished by their flowers. K. hildebrandtii has white flowers that are not as attractive as the red ones of K. bracteata.
They are both called "Silver Teaspoons". Here is a photo of the latter in a garden, getting ready to bloom.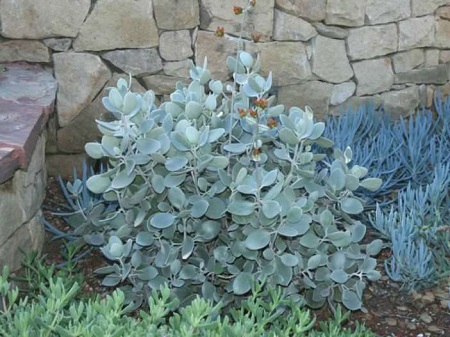 Kalanchoe beharensis is known as the "Felt Plant" or "Velvet Elephant Ear". It starts out compact, eventually forming a tall, narrow plant. In the West, it can be grown outdoors all year in the mildest parts of Southern California and in Hawaii. In the low desert, it needs a partly shady spot. It apparently does well in full sun in Southern Florida. Here it is grown into tree form. It is valued for its "sculptural" form.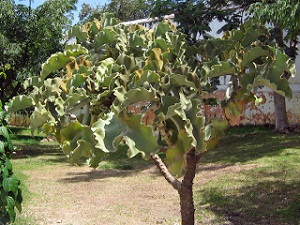 Kalanchoe beharensis, tree form
There is a curious cultivar called 'Fang' that has scalloped edges on its leaves (sometimes with brown hairs on them). It develops fang-like protrusions on the undersides of the leaves. Here's an easy way to remember the species name. Below, K. beharensis x 'Fang' and Joy Behar.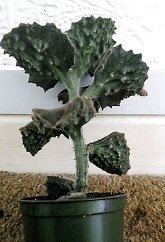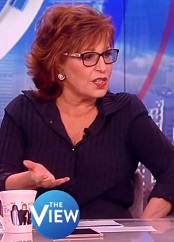 The species came from Behara in Madagascar, a place where life is hard for people. A search for the origin of the species name led me to Cooch Behar, which was annexed to India after India became independent. There is something of a separatist movement there now. I don't get the impression that they have a real clear plan. Here is a palace from its glory days, fronted by some nice Cannas.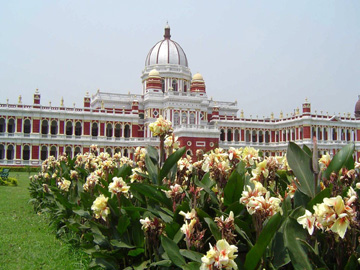 Canna rhizomes can be overwintered outdoors in USDA Hardiness Zones 7 and above where drainage is good. They can be wintered indoors in Zones 6 or below, or where soil is wet in winter. Or, treat them as annuals. They grow pretty fast if they get a nice start indoors.
Over-wintered Outdoor Plants
My cousin's 30 pots of geraniums have spent the winter near west-facing windows in the basement of her Utah home. They will look better when they get outside. Not time yet. Here are a few of her plants, waiting for frost-free weather.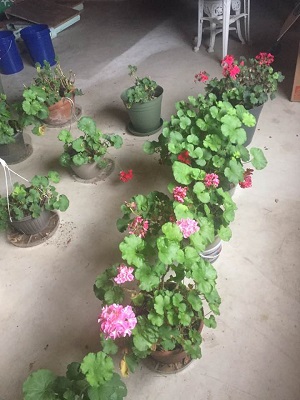 Have you been keeping some outdoor plants alive indoors this winter? How do they look?
Gardens and Photos of The Horde
The wildflowers Kindletot seeks out generally spend their winters outdoors.
One of the signs of Spring, according to Mom was the Trillium, or "Wake Robin" as the old timers called it, Trillim ovatum. It is amazing to find one in the woods, but it is even more amazing to find a lot of them all together.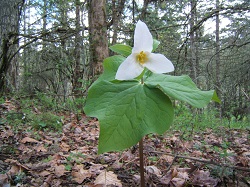 Bright white flower dusted with golden pollen and enormous leaves, peeking through the underbrush. My books say it is spread by ants taking the oily seeds. I am told it is a delicate plant, and if you pick the flower it kills the plant.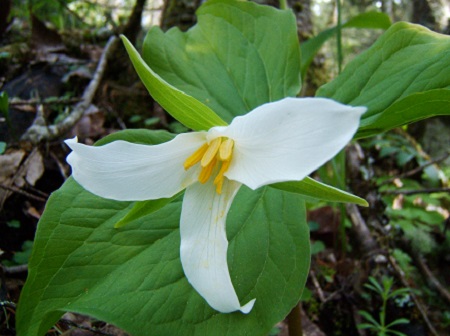 When the flower ages it turns pink.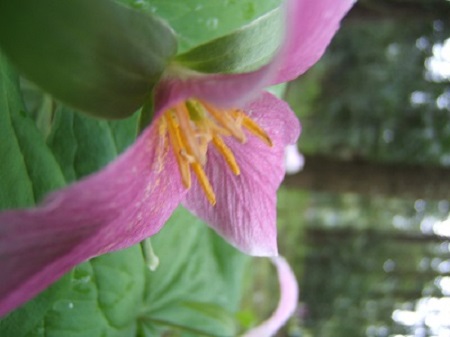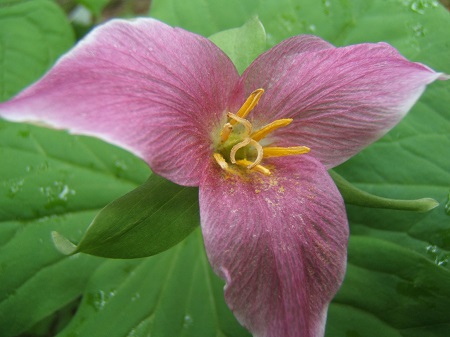 Beautiful. Thanks, Kindltot!
I have acquired some more tomato plants, still all hybrids, and potted up some of them to give to friends. Can't plant a six-pack of each kind. I've also distributed some cuke and squash seeds to Cub Scouts. They were surprisingly receptive.
Anything going on in your garden?
Have a great week.
Note: You can send garden photos, stories, etc. to
ktinthegarden
at g mail dot com


posted by Open Blogger at
12:17 PM
|
Access Comments