« Ace of Spades Pet Thread
|
Main
|
A Little Of This, And Even Less Of That... »
March 04, 2017
Saturday Afternoon Chess/Open Thread 03-04-2017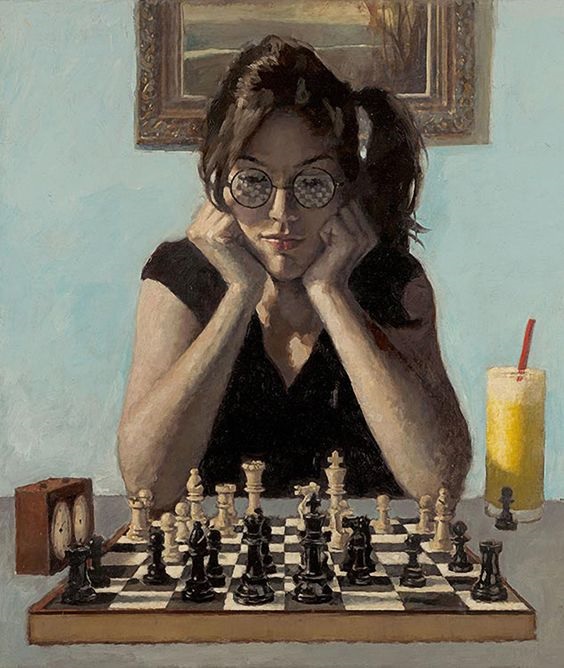 A Day In The Life
Michael Fitzpatrick

Good afternoon morons and moronettes, and welcome to the Saturday Afternoon Chess/Open Thread, the only AoSHQ thread with content specifically for all of us chess nerds who pay homage in the temple of Caïssa, goddess of the chessboard. And, for those of you who aren't nerdly enough for chess, you can use this thread to talk about checkers, or other games, or politics, or whatever you wish, only please try to keep it civil. Nobody wants to get in the middle of a tactical tomato melee. Unless you're cooking spaghetti and could use the extra sauce.
"Chess is mental torture"
--Garry Kasparov
Note
I just found out just when I was about to post this thread that there was a chess-themed Simpsons episode a couple of weeks ago. I'll have a look at it and see what's what. Maybe I'll post a couple of screen grabs.

Problem 1 - White To Play (415)
Hint: White mates in 3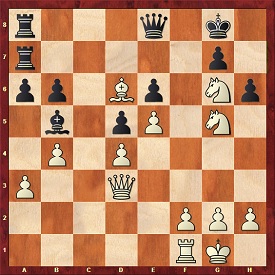 r3q1k1/r5p1/pp1Bp1Np/1b1pP1N1/1P1P4/P2Q4/5PPP/5RK1 w - - 0 1


Problem 2 - Black To Play (425)
Hint: Black mates in 2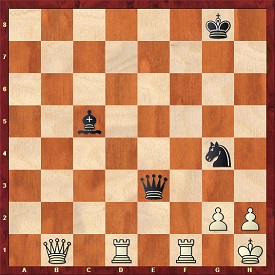 6k1/8/8/2b5/6n1/4q3/6PP/1Q1R1R1K b - - 0 1



Women's World Championship
Tan Zhongyi (rating 2502) is the fifth Chinese to become women's world champion, keeping the title in China after world No.1 and now ex-world champion, Hou Yifan (2649), dropped out of world championship cycle in protest to FIDE's approach. Similar to their close encounter in the classical games, the rapid games were all about white pieces. Being as it was only a mini-match of two games, the players had to maintain a high level of focus and show a lot of resilience to keep themselves in the match.
Zhongyi defeated Anna Muzychuk (2569) in the 2-game tie-break.
In this interview, Hou Yifan explains why she dropped out of the WWCh cycle.

Problem 3 - White To Play (419)
Hint: White mates in 5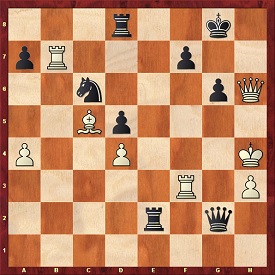 3r2k1/pR3p2/2n3pQ/2Bp4/P2P3K/5R1P/4r1q1/8 w - - 0 1



Problem 4 - Black To Play (420)
Hint: Black wins material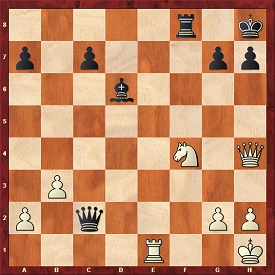 5r1k/p1p3pp/3b4/8/5N1Q/1P6/P1q3PP/4R2K b - - 0 33



Trump Chess
Here's an amusing zerohedge piece about Trump's methods as evaluated in terms of chess strategy. The author had the good fortune to be coached for a while by a Russian master who used to coach Garry Kasparov. This is what he was told:
It took my new coach all of about 30 seconds to figure out my level of chess competence which was not very high and I will paraphrase what he said next: "You are not very good and there is not enough time to teach you the correct way. But, I can teach you simple rules that will enable you to defeat anyone that doesn't study chess full time." He called his method "active chess" whereas a weak player like myself could use a simple formula to play the most aggressive game possible and win against stronger players. He believed that strategy flowed from tactics and his method allowed for a very fluid game of strategy.
Huh. I always thought that it was the other way around, i.e. that tactics flowed from strategy. I wish the author had had more time to explain this. But that wasn't the point of the article.
Now, I won't bore you with the particulars but it boiled down to throwing punches each and every turn without exception. In other words, if my opponent must always waste his turn responding to what I am doing then he never gets an opportunity to come at me in the millions of possibilities that reside in the game. Again, if I throw the punch – even one that can be easily blocked, then I only have to worry about one combination and not millions.
Which is exactly the way Trump operates. Tha is, he throws a flurry of punches and never lets his enemies (the Democrats, the, MSM, and significant sections of the GOP) catch their breath. Whether this is a consciously-adopted strategy or that's just the way he does things is hard to say. But, for the moment, it seems to be working.
I have played such hyper-aggressive opponents before. Their constant attack, attack, attack is quite irritating, and I think part of the strategy is to get you mad so you'll make some dumb move and then you get crushed.
But what I've tried to do when faced by one of these type players is absorb the blows and try to build up my position. Because the weakness in constant attacking is that it the attacker will start to sacrifice his own position in order to keep the initiative going, and if your own position is sound enough, you'll be able to hold on until he runs out of punches to throw or pieces to sacrifice. And then you can counterattack, and he won't be able to defend because his position is crap.
That's the theory, anyway. And sometimes I've gotten it to work, and sometimes I haven't. But even with my losses, I'd say my track record is way better than the MSM's vs. Trump.
(h/t to redc1c4 for this)

Endgame of the Week (424)
It's White's move. Is his position good enough to win, or can Black fight back and force a draw?
Hint: Bottle up the king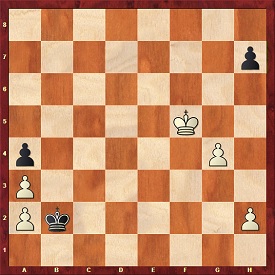 8/7p/8/5K2/p5P1/P7/Pk5P/8 w - - 0 1



___________
Solutions Update
Problem 1 - White To Play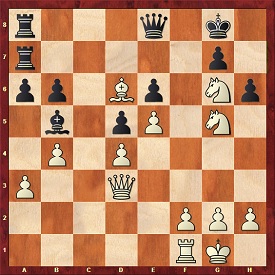 r3q1k1/r5p1/pp1Bp1Np/1b1pP1N1/1P1P4/P2Q4/5PPP/5RK1 w - - 0 1


1.Ne7+
There are several routes to mate, depending on how Black responds, but the longest he can hold out is 3 moves.
1...Rxe7
Of course not 1...Kh8 2.Qh7#
2.Qh7+ Kf8
3.Qh8#
or:
1...Kf8
2.Nxe6+ Kf7
3.Qf5#

Problem 2 - Black To Play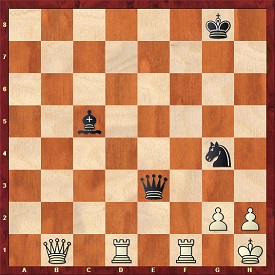 6k1/8/8/2b5/6n1/4q3/6PP/1Q1R1R1K b - - 0 1


1...Qg1+!
The start of what should be by now a familiar sequence.
2.Rxg1 Nf2#
It's our old pal, the smothered mate. How many of you recognized the pattern?

Problem 3 - White To Play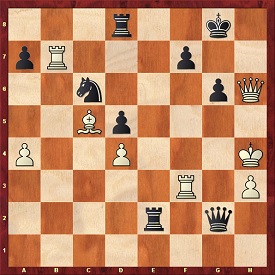 3r2k1/pR3p2/2n3pQ/2Bp4/P2P3K/5R1P/4r1q1/8 w - - 0 1


1.Qg7+ Kxg7
2.Rfxf7+ Kg8
If 2...Kh8 then 3.Rh7+ Kg8 4.Rbg7#
3.Rg7+ Kh8
4.Rh7+ Kg8
5.Rbg7#
Problem 4 - Black To Play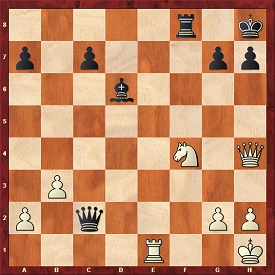 5r1k/p1p3pp/3b4/8/5N1Q/1P6/P1q3PP/4R2K b - - 0 33


First, let's look at some inferior alternatives:
33...Bxf4 won't work because of 34.Qxf4 Rxf4 35.Re8+ and mate to follow.
Also bad for Black is 33...Qd2? because it allows White to launch a mating attack: 34.Ng6+ Kg8 35.Qc4+ Rf7 36.Re8+ Bf8 37.Rxf8#
So, here's the good move:
33...g5!
And now if White starts an attack with 34.Ng6+, 34...Qxg6 makes short work of it.
34.Qxg5
Pretty much required. And now
34...Bxf4 wins the piece.

Endgame of the Week
It's White's move. Is his position good enough to win, or can Black fight back and force a draw?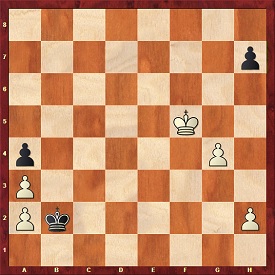 8/7p/8/5K2/p5P1/P7/Pk5P/8 w - - 0 1


Short answer: White can win. He sees he has a kingside pawn majority that will be unstoppable if only he can keep Black's king away. He also sees his 'a' pawns are lost, so he needs to get over there and stop Black from unobstructing his pawn on a4.
1.Ke4 Kxa3
2.Kd3 Kxa2
3.Kc2 Ka3
Now that the Black king is bottled up, White can commence his kingside operations.
4.h4 Kb4
5.g5 Kc5
6.h5 Kd6
7.g6 hxg6
This is where White has to be careful. Feeling his cheeks flush with victory, White may unthinkingly recapture with 8. hxg6? only to see the win slip through his fingers as play will proceed
8...Ke6 9. g7 Kf7. White will go home from the tournament and weep bitter tears for the one that got away, and if he's really unlucky, he might finish a half a point out of the prize money. Pro tip: pay attention to the board at all times, as "won" games are often the hardest to win.
8.h6 a3
9.h7 a2
10.Kb2 g5
11. h8=Q and wins
Hope to see you all next week!

___________
Note: that cryptic line of letters and numbers you see underneath each board diagram is a representation of the position in what is known as "Forsyth-Edwards Notation", or F.E.N. It's actually readable by humans. Most computer applications nowadays can read FEN, so those of you who may want to study the position, you can copy the line of FEN and paste into your chess app and it should automatically recreate the position on its display board. Or, Windows users can just "triple click" on it and the entire line will be highlighted so you can copy and past it into your chess app.
___________
So that about wraps it up for this week. Chess thread tips, suggestions, bribes, rumors, threats, and insults may be sent to my yahoo address: OregonMuse little-a-in-a-circle yahoo dott com.

posted by OregonMuse at
05:05 PM
|
Access Comments