« Bill Paxton, RIP at Age 61 Due to Complications During Surgery
|
Main
|
Livecam of Expectant Giraffe, Awaiting Birth of Baby Giraffe
»
February 26, 2017
Food Thread: [Insert Clever Title]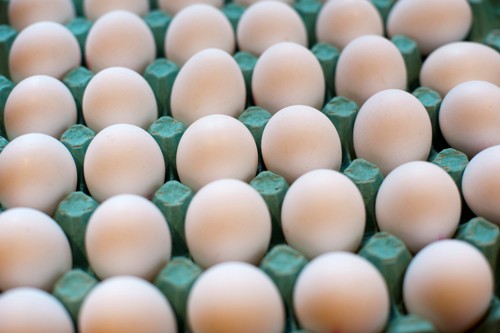 Eggs have been in the forefront of The Horde's consciousness for a few days. Perhaps it is the unseasonably warm weather that has us thinking of spring and new life and deviled eggs. Or something.
As snacks go, deviled eggs are pretty damned good, especially since they are infinitely tweakable. But there is one problem, and no matter what your favorite chef says, it is impossible to cook eggs so that they are easily peeled. Oh, sure, sometimes, maybe often, your special technique works. But the failure rate is significant, and don't you deny it. There are a few variables such as the age and condition of the egg that are a challenge to manage. But....even a failure is not a catastrophe. Maybe you folks are too hoity-toity to chomp up a bit of shell, but at Chez Dildo that happens on occasion.
One commenter (sorry, I can't find the comment) made the point that eggs shouldn't be subjected to high heat, and I couldn't agree more. I used to fry eggs in fat that was just at the smoke point, but I have recently moved away from that technique and have found that gentle heat, whether I am cooking in fat or scrambling with cheese, makes a better, more tender egg. There is a French egg dish that my mom called Des Oeufs Brouilles (I think that just means "scrambled eggs") that is fantastic, and is simply scrambled eggs cooked at very low temperature with copious quantities of fat (butter and sour cream). With constant stirring, the eggs don't form curds, but become incredibly creamy. It's a huge PITA, but it is an incredible dish.
******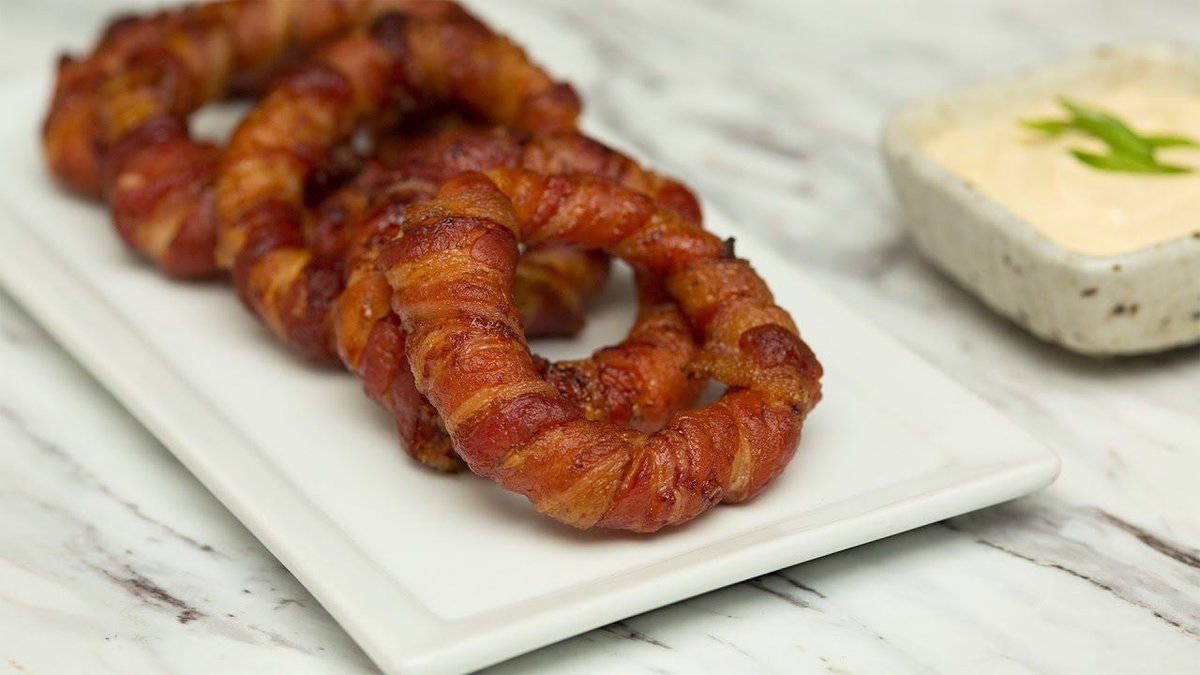 Yes, those are bacon wrapped onion rings, and I am furious that nobody told me! I'm not sure about the flavors of the marinade, but the concept is brilliant. And low carb, for GAINNZZ!
******
Oscars 2017: How Wolfgang Puck Serves Hollywood A-Listers at the After-Party
I look at this article and all I can think is, "what a fvcking waste of food!" I am by no means critical of America's less than efficient use of our agricultural bounty; the problem of starvation and under-nourishment in the world is not a function of supply...it is a political issue. So while we should probably stop being so wasteful, it isn't a crisis.
However, celebrity potlatches like this disgusting exhibition make me want to retch. They pontificate endlessly about energy use and animal rights and the need to "eat local" and hundreds of other pompous phrases and buzzwords that these leeches trot out to mask their own conspicuous consumption, which is on disgusting display whenever more than two of them gather to fellate each other in public.
I wonder how much food and fuel is going to be wasted tonight...pissed away on the altar of celebrity worship and self-aggrandizement....and paid for by you and me?

******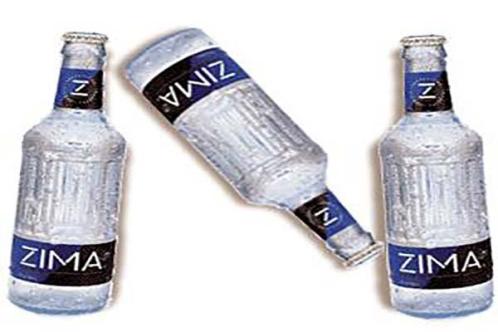 '90s Beverages: Where Are They Now? Hopefully dead, along with Grunge.
Coming back to a store near you! MillerCoors has announced the return of Zima for 2017 and apparently warehouses are already stocked with the stuff and ready for distribution. Or "zistribution." I'm not sure about anything anymore. According to the Slate article, in 1994 70 percent of regular drinkers had tried Zima at least once. Maybe it's worth another shot.
Yeah, I'll pass on Zima. I don't recall ever trying it. For some reason I had the impression that it was sweet. Anyone remember?

******
How to Pick the Juiciest Rotisserie Chicken at the Grocery Store
Yeah...whatever. I didn't link to this article because it was anything more than a fluff piece. I linked to it because I am in a pissy mood and am sick and tired of bullshit, fact-free statements leaking into everything I read.
Check Out International Stores

Whole Foods is fine and all, but Rick's find of the century was the roasted birds from a small Latin restaurant in Spanish Harlem. "Unlike major grocery chains, your little, local ethnic food store is more likely to use better spices and herbs to flavor their chickens," he says. If it has a line out the door, that's a good sign.
Really? I call bullshit. Or give me two data points that show anything other than a wild-assed guess and a preconceived notion that corporate = evil, and mom-and-pop = wonderful and Gaia loving.
Here's my version:
Never buy rotisserie chicken from a small corner store, because their margins are miniscule, and they always cut corners, including with the freshness of their chickens and the cleanliness of their spices. Corporate stores like Whole Foods and Costco have rigorous protocols and strict recipes for their prepared foods, and are a much better bet than some bodega that buys its chickens off the back of a stolen truck.
******
And speaking of chickens.... I wrote this a long time ago, and haven't made it in a few years, but it's a good recipe to bridge the gap between winter and spring. Play around with the root vegetables, since they all cook at roughly the same rate, you can mix and match your favorite ones. For instance, when I make this again I will probably eliminate the turnips, because I like them less and less. Oh, and toss in some mushrooms if you feel like it. That is rarely a mistake.
Chicken with Root Vegetables


1 3-to-4 lb. chicken cut into pieces, rinsed and dried

4 Yukon Gold potatoes, peeled and cut into large chunks

2 turnips, peeled and cut into large chunks

2 parsnips, peeled and cut into large chunks

1 lb. bag of baby carrots (or peeled-and-cut equivalent)

1 lb. pearl onions (frozen)

4 cloves of garlic cut in half

1 quart of chicken stock (low sodium or homemade)

Corn oil

Vinegar (malt, cider or red wine will be fine)

Kosher salt

Fresh black pepper
Preheat oven to 300° F.
Salt and pepper the chicken pieces. On the stove, heat a six-quart Dutch Oven on medium-high. Add a few tablespoons of Canola oil, and when the oil is shimmering, brown the chicken pieces on all sides until golden brown. It will be easier to do it in two batches. Yes, it is messy, and I have no clever way of avoiding the splatter. Put the chicken in a bowl and cover with foil.
Increase the heat under the Dutch Oven to high. Add the potatoes, turnips, carrots, parsnips, and garlic and brown for a few minutes, stirring to ensure that they do not stick. Lightly salt the vegetables. Brown for a few more minutes and then add the chicken stock and stir for a few seconds to deglaze the bottom and sides of the Dutch Oven.
Return the chicken to the Dutch Oven, placing the pieces on top of the vegetables. Pour whatever juices remain in the bowl into the Dutch Oven. Lightly salt the chicken, cover and place in the oven for 25 minutes. Sprinkle a few ounces of vinegar over the chicken and vegetables and return to the oven for another 25 minutes.
Remove the chicken from the Dutch Oven and place on a plate, covering with foil to keep warm. Add the onions to the vegetables. Increase the temperature to 425° F, give the Dutch Oven a shake to loosen and mix the vegetables, and return it to the oven, uncovered, until the stock is completely reduced. If this seems to be taking too long, put the Dutch Oven on the stove and reduce over high heat. Don't be too concerned if the bottom browns a bit; that is the best part. Just don't let it burn.
Return the chicken to the Dutch Oven and serve, or cover and allow to cool, then refrigerate. It's a great dish to make a day ahead of time, because it just gets better and better each time it is heated up (the vegetables continue to caramelize).

posted by CBD at
04:00 PM
|
Access Comments