« Mid-Morning Open Thread
|
Main
|
Lena DumDum: I Lost Weight Because Trump Judges Women's Bodies or Something »
February 08, 2017
The MSM Then And Now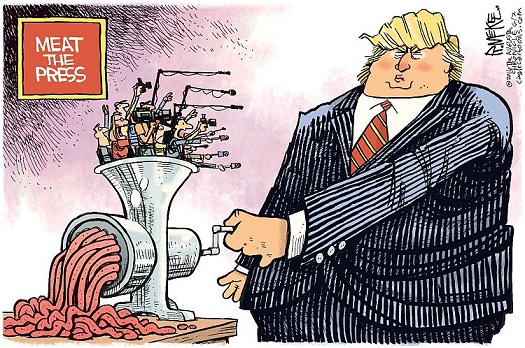 Rush mentioned this article the other day by a semi-reasonable liberal that was published in the magazine that sold for $1 in 2010.
The article, Why The Media Keeps Losing To Donald Trump, by Hollywood Reporter columnist Michael Wolff, a mild rebuke to the media to stop losing its sh* over Trump every day, starts out like this:
Donald Trump is obsessed with the media. And the media is obsessed with Trump. Let's take it as a given that this obsession is unhealthy. The last time there was such a level of neurotic fixation and overwhelming distrust between a president and the press was during the Nixon administration. The current White House would be well aware that the press won that war—and that the stakes now can be mortal.
I rate this paragraph: partially true.
It's true that the level of publicly expressed mutual contempt between a sitting president and the MSM is up to Nixonian levels, and in fact, I think it's probably a bit higher. And if it's not, it soon will be. That's because Trump, like Nixon, clearly sees the vipers' nest that is the MSM and furthermore, is not afraid to treat it as such. Trump is just giving back to the MSM what he's been getting, and what's ridiculous about this is how this seems to greatly offend them.
But as for Wolff's caution to Trump that the media won the "war" against Nixon, I say this is meaningless. Wolff is forgetting that the MSM in Nixon's day benefitted from conditions that are no longer in place:
1. Back then, the MSM had a virtual lip lock on the national conversation. It was the 3 nets (NBC, CBS, ABC), and the NYT and the WaPo newspapers that determined what was being talked about, and the way it should be talked about. And that was about it. Yes, there was the National Review and Human Events, and that was about it. No talk radio, no Rush Limbaugh, really nothing at the national level. Not until the FCC under Reagan threw out the antiquated Fairness Doctrine did a thousand conservative flowers bloom. How many of you remember that when Rush first went national in 1989, a number of restaurants throughout the country set aside "Rush rooms" where diners come in and listen to his show while they ate? Because back then conservatives were all like, "happy day, there are people out there who think the same way I do. I'm not the only one."
Of course, now that has changed. There are a crap ton of conservative voices that aren't going away, and I think a lot of progressive tantrum throwing is a result of that. They can't win so much any more, not like they used to. I used to laugh when liberals complained about all the "incivility" in politics and how it wasn't like that in the old days. Well yeah, that's because liberals back then pretty much were able to dictate how things were talked about, and no backtalk was allowed. And conservatives, for the most part, were content to go along with this. It wasn't until when Reagan was elected that conservatives got uppity.
2. Back then, the media was held in much greater esteem by the general public than it is now. So when uncle Walter Cronkhite told his TV news audience that the war in Vietnam was lost, he was believed. After all he was speaking from his prestigious anchor's chair at CBS News, so why wouldn't his ex cathedra proclamation be believed? Of course, later on, it was diiscovered he was pretty much lying his ass off, but never mind that. The point is, his opinion carried a lot of weight. Not so much these days, though. These days, the polling data indicates that most people hold NYC 3-card monte dealers, e-mail from Nigerian royalty and toe fungus in higher esteem than they do journalists.
So, contra Wolff's admonition, I think Donald Trump is winning the war on the MSM. Whatever people think of Trump, they think even less of them. They none of them have figured out how to deal with him. But having said this, this is a war that shouldn't have to be fought. If the MSM were actually doing its job, which is to fairly and accurately report the news, none of this would have been necessary.

posted by OregonMuse at
12:05 PM
|
Access Comments