« Ace of Spades Pet Thread
|
Main
|
Them Dem Kickers »
January 28, 2017
Saturday Afternoon Chess/Open Thread 01-28-2017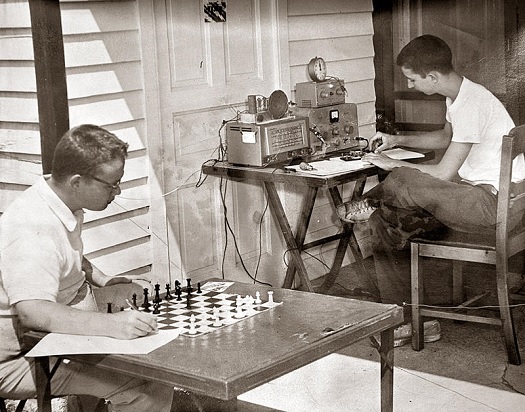 Warning: Extreme Nerds
(OK now, be honest: how many of you could have been in this photo?)

Good afternoon morons and moronettes, and welcome to the Saturday Afternoon Chess/Open Thread, the only AoSHQ thread with content specifically for all of us chess nerds who pay homage in the temple of Caïssa, goddess of the chessboard. And, for those of you who aren't nerdly enough for chess, you can use this thread to talk about checkers, or other games, or politics, or whatever you wish, only please try to keep it civil. Nobody wants to get into a pie fight on a Saturday afternoon. Unless you've been on a diet.
"The chessboard is the world, the pieces are the phenomena of the Universe, the rules of the game are what we call the laws of Nature and the player on the other side is hidden from us"
--Thomas Huxley

Problem 1 - White To Play (385)
Can White do anything about Black's two connected pawns that are on the verge of queening?
Hint: Limit Black's moves to force a mate in 2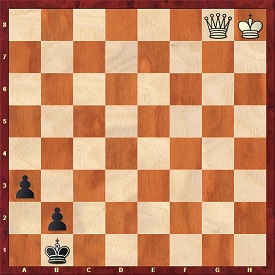 6QK/8/8/8/8/p7/1p6/1k6 w - - 0 1


Problem 2 - Black To Play (387)
Hint: Mate in 3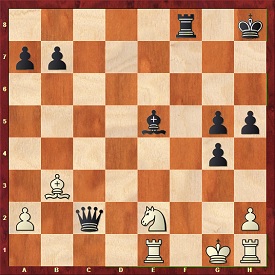 5r1k/pp6/8/4b1pp/6p1/1B6/P1q1N2P/4R1KR b - - 0 1



Pic Notes
I stole today's pic of nerds in their natural habitat from W1XT's qrz.com page. For you ham radio nerds, he's got great pics of his vintage radios, including a sweet, sweet 'S' Line, fully operational, and looking like it's in mint condition.
I think what he's using in the photo is a Heathkit AT-1 transmitter and some sort of Hallicrafters receiver.
Me, I used to play chess a lot over ham radio, back in the day, so yeah, I could've been in the photo. In fact, I played what I considered to be my first "serious" game over the radio. In 1972. Not using cw, though, we were on 40m ssb. It lasted over 2 hours. I won in 61 moves, but I was very lucky. Multiple mistakes were made by both of us, but he made the last one.
There was an big-time, multi-player chess match that was conducted entirely over the radio. I'm referring, of course, to the 1945 U.S vs. U.S.S.R. Wireless match, that paired the 10 top U.S. players against U.S.S.R's ten best (excepting Paul Keres). Due to Cold War travel restrictions, the moves for each game were relayed back and forth by radio. Each pair of masters played 2 games, and, not to put too fine a point on it, we got our asses handed to us. The final score was 15.5-4.5, but if you look at the results closely, it was actually worse. Our two top boards, Arnold Denker and Sammy Reshevsky, were shut out, 2-0. And on third board, Reuben Fine only managed half a point. The American team only actually won 2 games, the rest of the points coming from draws.
Prior to this point, the USA had won four straight Chess Olympiads from 1931 to 1937 (the USSR did not participate), and was considered a chess powerhouse. In the 1930s, our top grandmasters Denker, Fine, and Reshevsky could go toe-to-toe with the world's best and it was thought that the next world champion might be one of the Americans. But then World War II intervened and brought everything to a screeching, grinding halt. But the Soviets had been quietly building their chess program and this wireless match marked the start of their half-century of world domination. Meanwhile, chess in the USA pretty much went into a marked decline, accelerated by Reuben Fine's decision to give up chess at the height of his career because he couldn't make a living at it.
And speaking of antique radios, a friend of mine likes to collect them. Here is one of them, an Atwater Kent Model 10C from the 1920s.

Problem 3 - White To Play (3)
Hint: White can win a big material advantage.

Anash Giri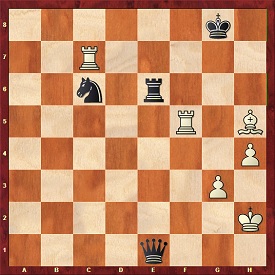 6k1/2R5/2n1r3/5R1B/7P/6P1/7K/4q3 w - - 0 56
Magnus Carlsen
After 55...Kg8

Here is a game played by the world champion at a recent tournament. Carlsen played 56.Bf7+ and the game was eventually drawn -- after 123(!) moves. But there is clearly a better move here. See if you can best the world champion by finding the line he missed.

Ornate Chess Set
Thanks to AlexTheChick for sending a link to a page of ornate chess sets. Here's one, made by the East India Company in India c. 1830: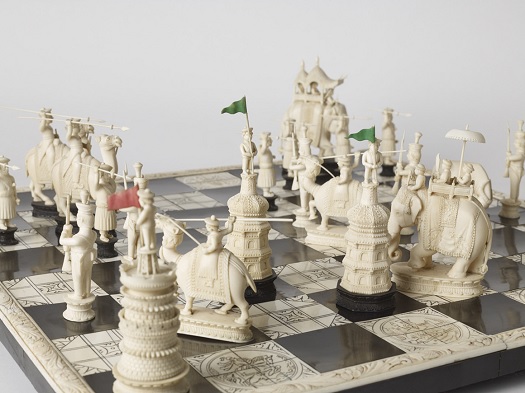 (click to embiggen)


This is one of those sets you just set up on a table in the corner and look at. I can't imagine actually playing a game with it. Looks like those pieces (ivory?) might chip or shatter on impact, if you dropped one. I think I like the board better than the pieces.

Endgame of the Week (Endgame 512)
Can White win? Show your work.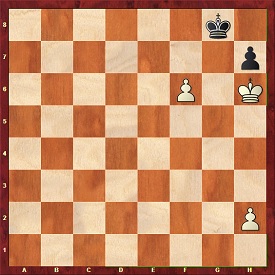 6k1/7p/5P1K/8/8/8/7P/8 w - - 0 1



___________
Solutions Update
Problem 1 - White To Play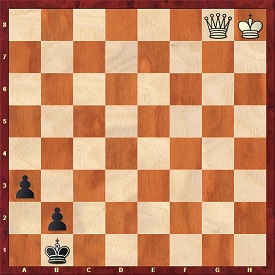 6QK/8/8/8/8/p7/1p6/1k6 w - - 0 1



When there's advanced pawns and your king is far away, you can often win by making strategic attacks on the enemy king and bringing your own king up when he is forced to block the advanced pawn. Moron rickl's explanation of the technique is so good that I can just copy and paste it:
The first move is Qb3, and if Black moves Ka1 or Kc1, White can pick off the a-pawn and force Black's king back to b1. Then White moves his king. Black moves, the White queen checks, and forces him back to b1. The White king then moves another square closer. Eventually the White king will be close enough for the queen to take the pawn on b2 with mate.

Posted by: rickl at January 28, 2017 05:46 PM(sdi6R)
1. Qb3 Kc1
Not 1...a2 because 2.Qd1#
2.Qxa3 Kc2
3.Qa4+ Kc1
4.Qc4+ Kd1
5.Qb3+ Kc1
6.Qc3+ Kb1
This is the position White was trying to get. With the pawn blocked, he can bring his king one square closer, and repeat the process:

7.Kg7 Ka2
8.Qc2 Ka1
9.Qa4+ Kb1
10.Kf6
Slowly he turns...
10...Kc1
11.Qc4+ Kd2
12.Qb3 Kc1
13.Qc3+ Kb1
14.Ke5
Step by step...
14...Ka2
15.Qc2 Ka1
16.Qa4+ Kb1
17.Kd4
Inch by inch...
17...Kc1
18.Qa3 Kc2
19.Qc3+ Kb1
20.Qc4 Ka1
Bang! Pow! Zap!

21.Qa4+ Kb1
22.Kc3 Kc1
23.Qc2#

Problem 3 - White To Play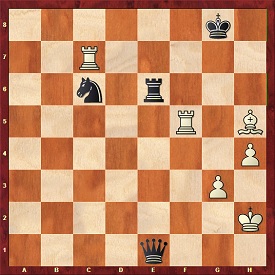 6k1/2R5/2n1r3/5R1B/7P/6P1/7K/4q3 w - - 0 56
After 55...Kg8

So instead of 56.Bf7+, Carlsen should have gone with
56. Rc8+! Re8
This is the only reply that avoids checkmate. If 56...Kg7 then 57.Rf7+ Kh6 58.Rh8#. Or 56...Kh7 is met with 57.Rf7+ Kh6 58.Rh8#
57.Rxe8+ Qxe8
58.Bxe8 and White's material advantage should be enough to win.
You can view the entire, grueling 123 move game here.

Problem 2 - Black To Play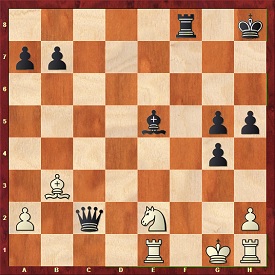 5r1k/pp6/8/4b1pp/6p1/1B6/P1q1N2P/4R1KR b - - 0 1


1...Bd4+!
2.Kg2
2.Nxd4 loses to 2...Qf2#
2...Qe4+
3.Kg3 Qf3#
Also possible is 2...Rf2+, but it will take longer than 3 moves:
2...Rf2+
3.Kg1 Rg2+ (3.Kg3 Qd3#)
4.Kxg2 Qe4+
5.Kf1 Qf3# (or 5.Kg3 Qf3#)

Endgame of the Week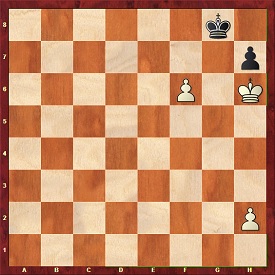 6k1/7p/5P1K/8/8/8/7P/8 w - - 0 1


1.Kg5!
Apparently 1.Kh5 fails because of 1...Kf7 2.Kg5 Ke6 3.h3 Kf7 4.Kf5 Kg8 5.Ke4 Kf7 6.Ke5 Ke8 7.Kf5 Kf7 and White can make no progress.
1...Kf7 (or 1...Kf8 is also possible: 2.Kf5 Kf7 3.Ke5 h5 4.h4 Kf8 5.Kf5 Kf7 6.Kg5 Ke6 7.Kg6 wins)
2.Kf5 Kf8 (2...Ke8 3. Ke6 Kf8 4. f7 h5 (4... h6 5. h3 h5 6. h4) 5. h4)
3.Ke6 Ke8
4.f7+ Kf8
5.Kf6! (5.h4? h5 and now there's no good move for White) (5.h3 h6 and again, the timing is wrong and Black can force a draw)
5...h5 (5...h6 6.h4 h5 7.Kg6 wins)
6. h3 h4
7. Kg6 #winning
Hope to see you all next week!

___________
Note: that cryptic line of letters and numbers you see underneath each board diagram is a representation of the position in what is known as "Forsyth-Edwards Notation", or F.E.N. It's actually readable by humans. Most computer applications nowadays can read FEN, so those of you who may want to study the position, you can copy the line of FEN and paste into your chess app and it should automatically recreate the position on its display board. Or, Windows users can just "triple click" on it and the entire line will be highlighted so you can copy and past it into your chess app.
___________
So that about wraps it up for this week. Chess thread tips, suggestions, bribes, rumors, threats, and insults may be sent to my yahoo address: OregonMuse little-a-in-a-circle yahoo dott com.


posted by OregonMuse at
05:01 PM
|
Access Comments