« Election Night Replay Thread Four:
BEHOLD LORD NIGHTMARE,
PRINCE OF SORROWS,
GOD OF ALL TERRORS
|
Main
|
Inauguration Eve Overnight Open Thread (1/19/17) »
January 19, 2017
Election Night Replay, Final Thread: DONALD TRUMP DECLARED PRESIDENT ELECT OF THE UNITED STATES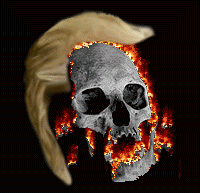 I'll post that noon tomorrow too, of course -- but it's so good I don't want to just post it the one time. Thanks so much to the Mega-Independent for that.
Here now the Victory Montage: Projections that Trump has won, and some reactions.
Here's CNN announcing that Trump will win Wisconsin.
Wolf Blitzer is once again badgering John King about the outstanding Hillary Clinton vote when Dana Whatever announces that Hillary Clinton has conceded to Trump.
Here's CNN's more formal declaration.
This is from earlier in the night: When MSNBC announces Trump has won North Carolina, Chris Matthews mutters "well that's a bitch" under his breath. He later said "Jesus" when Trump appeared to be winning Wisconsin.
People seem to like laughing at these nobodies The Young Turks, so here they are crying like fat babies as it becomes more clear Trump will win.
Here's Fox News, after calling Pennsylvania for Trump, and therefore declaring Trump president-elect.
Morning Joe and Mika enjoyed the results the next morning.
John Ekdahl had a point I think I'm allowed to repeat. He and I were watching these videos a couple of weeks ago, and he observed to me tonight that on election night itself, liberals were so shocked by the result that they could mostly only respond with the easiest sort of reaction: Honesty.
Here's Chris Matthews, for example, noting that Trump won because he not only took the popular side of a bunch of issues, but he was in fact the only major politician even talking about them.
However, sometime over the course of the 9th and the 10th, the left's "thought leaders" recovered enough to get back to a practiced style of response -- lying and postulating conspiracy theories.
In the first hours after the earthquake, liberals were somewhat honest about Hillary's poor campaign and the unpopularity of the Democrats' (and Obama's) issue arsenal.
But after the shock wore off, and they could engage their cognitive functions, they used their higher cognitive functions to begin making up lies, conspiracy theories, and blame-shifting excuses.
Interesting, I think.
ONT will be up in a bit, ONT-waiters.
I'd wanted to do this replay for a while. I wish I'd gotten on the ball earlier and gotten all the time-codes just right so that we could all be nicely synced on the various videos.
But, sloppy as it was, I hope you enjoyed it. Thank you for reliving the best recent political night with me.