« Open Thread for Politics
|
Main
|
»
January 22, 2017
Sunday Morning Book Thread 01-22-2017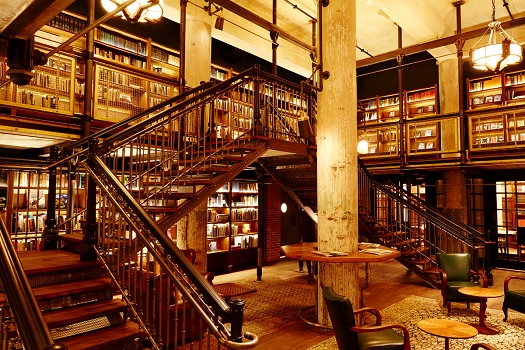 Hotel Emma Library, San Antonio, TX
(Note: please take all political discussions to the open thread below this one. Thank you)
Good morning to all you 'rons, 'ettes, lurkers, and lurkettes. Welcome once again to the stately, prestigious, internationally acclaimed and high-class Sunday Morning Book Thread, where men are men, all the 'ettes are hotties, safe spaces are underneath your house and are used as protection against actual dangers, like natural disasters, triggering Trump tweets, Russians hacking, and special snowflakes do not get respect, but instead, belly laughs. And unlike other AoSHQ comment threads, the Sunday Morning Book Thread is so hoity-toity, pants are required. Even if it's these pants, which give the noble sport of golf a bad name.
"You can never get a cup of tea large enough or a book long enough to suit me."
--C. S. Lewis

Pic Note
Last weekend, I discovered a beautiful library in the Hotel Emma in San Antonio. The hotel is built in the old Pearl Brewery and the two-story library and reading room is part of that structure. The library's almost 4000 books were donated by Sherry Kafka Wagner, a San Antonio author and book enthusiast/collector.

Posted by: LASue at January 08, 2017 11:22 AM (CLKfs)

Impulse Buy
I generally don't buy books right away. When I see a book I think I might like, I tend to over-think the purchase. I mull it over in my mind for awhile, weighing the pros and cons, reading the reviews (esp. the 1-star reviews), and then maybe, just maybe, I'll buy it. Even if it's a $1.99 Kindle deal. Yes, I am that cheap. I just hate spending money. Compared to me, Vic throws money away like a drunken sailor or a Democratic congressmen.
But then occasionally I will find a book that I'll look at, read a bit of the blurb, and then bam, buy it. One such book is A Stranger In My Own Hometown: A Brendan O'Brian Legal Thriller by J.W. Kerwin. This is how the Amazon blurb starts out:
The Council for Islamic Religious Respect (CIRR) has filed suit against a crusading newspaper reporter for defaming Islam and linking the group to terrorists.

CIRR has seemingly unlimited funds and a wily attorney who thinks nothing of lying to the judge. But the reporter has Brendan O'Brian, America's most politically incorrect defense attorney.
The blurb goes on, but at that point, my head had filled up with "I WANT!" like an inflated tire. So I stopped reading and plunked down my $2.99. I mean, who knows, it may turn out to be a crappy book, but for $3, it's a good risk.
Also, I had to laugh at the novel's bad guys, the "Council for Islamic Religious Respect (CIRR)". Gee, I wonder who that's supposed to be?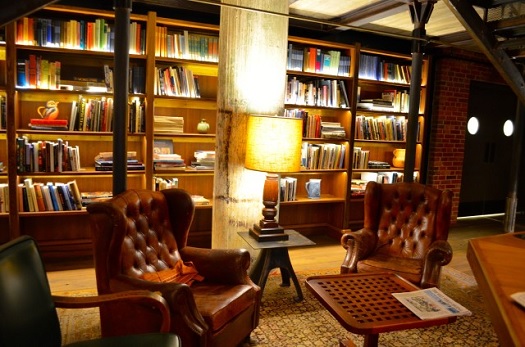 Another View of the Hotel Emma Library

And then it turns out that this novel is actually a sequel to an earlier novel, Slow Death in the Fast Lane, which blurb starts out:
If you hate the IRS, you'll love this book!
I stopped reading right there and bought it. 99 cents.
Here's more of the blurb:
Years of creative accounting have landed Harvey Berkowitz in court, charged with criminal tax fraud. The government has a mountain of incriminating evidence and what appears to be an airtight case. But Harvey has Brendan O'Brian, an unconventional defense attorney with a reputation for winning seemingly unwinnable cases.

O'Brian turns the tables on the government, putting the Tax Code and predatory IRS practices on trial with strategies that create a circus-like atmosphere in the normally staid federal court.
I found this book because I had discovered the BadBlue news aggregator site and I keep it open in a browser tab pretty much all of the time. It linked to this piece on the anti-jihad site BareNakedIslam, which is a video compilation of German politicians denying any problem with mass immigration from Muslim countries.
I swear if you shoved Angela Merkel's face into a pile of dung, she'd claim she couldn't smell anything.

Correcting the Record
Earlier this week, ace noted the 19th anniversary of the reporting of a story that Newsweek had known about, but spiked. The reporter, of course, was Matt Drudge, the story was about President Bill Clinton's surreptitious sexual relationship with a young intern named Monica Lewinsky, and the breaking of that story was the first crack in the edifice of control that the MSM had exerted over news coverage. The Newsweek editors did not want to report a story that might potentially harm a president they favored, so they did what they usually do. They spiked it. They thought it would go away. It didn't. Instead, thanks to the efforts of one Matt Drudge, it sparked a journalistic war that is still being fought.
I even had my own story to tell about Matt Dudge.
But I was wrong about one thing.
For some undoubtedly stupid reason, I thought he was the co-author with Andrew Breitbart of the book Hollywood, Interrupted: Insanity Chic in Babylon -- The Case Against Celebrity, but that's not the case. Breitbart's co-author was investigative journalist Mark Ebner. H,I is
...a sometimes frightening, occasionally sad, and frequently hysterical odyssey into the darkest realms of showbiz pathology, the endless stream of meltdowns and flameouts, and the inexplicable behavior on the part of show business personalities.
I'm not sure the behavior is all that "inexplicable." Take an average American, give her everything she wants, surround her with sycophants and courtiers, never let her ever hear a word of rebuke or criticism of even the mildest sort, constantly tell her how great she is (even when she isn't), praise her every time she combs her hair or puts her shoes on, and how could this not be a sure-fire recipe for the production of manifold psychological problems? It would take a person with the strongest possible set of values, deeply internalized and self-consciously followed, to resist the temptation to vanity, megalomania and madness. The real question is, why aren't there a lot more Hollywood flameouts?
Of course, Matt Drudge did write his own book, Drudge Manifesto, wherein he
reveal[ed] how he discovered and broke the stories that threatened the Clinton presidency, how his bombshells sparked one of the most intense media frenzies in history, and how he envisions the future of journalism.
I guess it's kind of ironic that there is no Kindle edition of Drudge's book.

Moron Recommendations
Received an e-mail from a moron who liked Conclave by Robert Harris. He wrote a pretty good blurb for it:
This is a fictional account of the selection of a new Pope by the College of Cardinals. There is an interesting "inside baseball" story of the process of selection, and a view of the ambitions of several of the Cardinals themselves. The protagonist is a fictional Dean of the Cardinals, whose job is to guide the College thru the process of determination.

The several 'papabile' can be seen maneuvering to gain the consensus and there is some maneuvering to eliminate potential rivals. The author does lead the reader to the ultimate selectee, but there awaits a stunning conclusion. Even if you are not a fellow Catholic, the story is interesting in its intrigue.
Harris is also the author of the 'Ancient Rome' Trilogy, Imperium, Conspirata, and Dictator (not sure what order they're in).

Books By Morons
Over on votormom's Goodreads group, 'ette Mona informed the Horde that her
...debut novel is now available on Kindle. If you like Jane Austen, I think you will like this. If you like Jane Austen but don't like Fanny Price, be reassured that I have given her a bit of a tweak in this book. I also like to think there's a dash of Flashman in the character of the cad, Henry Crawford.
Her book is titled A Contrary Wind: a variation on Mansfield Park:
Fanny Price, niece to Sir Thomas Bertram of Mansfield Park, is an intelligent but timid girl from a poor family, who is grateful for the advantages of education and breeding conferred upon her as result of growing up with her wealthier cousins.

But the cruelty of her Aunt Norris, coupled with the pain of knowing that the man she secretly loves is infatuated with the vivacious but cold-hearted Mary Crawford, compel Fanny to run away from Mansfield Park and find employment as a governess...This variation of Jane Austen's novel includes all the familiar characters from Jane Austen's novel, as well as some new acquaintances. There are some mature scenes.
Not a bad price at $4.99.

___________
Moronette 'votermom' is putting together a list of moron authors over on the Goodreads site which is intended to be accessible to non-members. Here is the list she has compiled so far. Let her know if there's an author she's missing.
http://www.bookhorde.org/p/aoshq-authors.html
___________
Don't forget the AoSHQ reading group on Goodreads. It's meant to support horde writers and to talk about the great books that come up on the book thread. It's called AoSHQ Moron Horde and the link to it is here: https://www.goodreads.com/group/show/175335-aoshq-moron-horde.
___________
So that's all for this week. As always, book thread tips, suggestions, bribes, rumors, threats, and insults may be sent to OregonMuse, Proprietor, AoSHQ Book Thread, at the book thread e-mail address: aoshqbookthread, followed by the 'at' sign, and then 'G' mail, and then dot cee oh emm.
What have you all been reading this week? Hopefully something good, because, as you all know, life is too short to be reading lousy books.

posted by OregonMuse at
09:00 AM
|
Access Comments