« Talking Points Memo Editor Josh Marshall Tweets Out Link to Lesbian Porn
|
Main
|
New Year's Evening Open Thread »
January 01, 2017
Food Thread: New Year's Resolutions
This is mine: Learn to cook pork belly.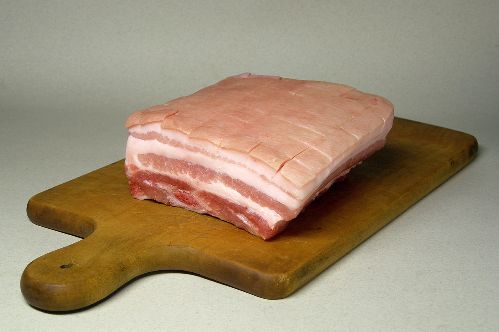 I have made it a few times, and there are dozens of wonderful things to do with it, including making your own bacon. But there are hundreds of fantastic bacon purveyors all over the country, so I doubt I can make anything better. It's the other dishes that interest me....braised pork belly and grilled and roasted and cured into jerky and.....
So; any food-based resolutions for The Horde? I have a few more, but mostly they are just dreams within dreams; like finally creating a great sourdough starter on my own. I have a good one, but I had to borrow it from a friend. My homemade starters are boring and generic and, frankly, embarrassing.

******
This is an interesting video from The University of Nebraska-Lincoln Institute of Agriculture and Natural Resources. They have a great website dedicated to
Bovine Myology
, and in this video they are trimming out a boneless strip-loin. Yes, I am a geek, but this guy knows what he is doing!
Serious business, and a far cry from majoring in 16th Century Low Country Lesbian Poetry.

******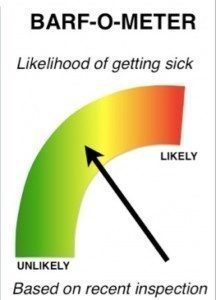 From
From barfblog
, my favorite food safety site (and one that seems to be going on hiatus), is a marvelous little tidbit that shows just how filthy restaurants are. They are quoting the WHO...
The World Health Organization estimates that up to 30% of individuals in developed countries become ill from food or water each year. Up to 70% of these illnesses are estimated to be linked to food prepared at foodservice establishments.
So 30% of us become ill from food or water. Okay. But 70% of those events are attributed to restaurants, even though most people eat the vast majority of the meals at home, which means that the odds of getting sick from restaurant food are much, much higher than from your own food.
While I cannot document this, my hunch is that one of the reasons is the ridiculous growth of universal precautions...wearing gloves during all facets of food preparation. It provides a false sense of security, that the food is protected because the prep cook is wearing latex gloves! And that is just nuts. He can scratch his butt and pick his nose and tie his shoes wearing gloves...why would that be the least bit of protection?
All of us have seen the guy behind the counter prepare food wearing gloves, then handle money at the cash register...wearing the same gloves. I do not understand the purpose of gloves over washing hands in hot soapy water. That's what I do, and it seems to work. I have been cooking for many years, and neither I nor my family or guests have never become ill from my food. At least from microorganisms.

******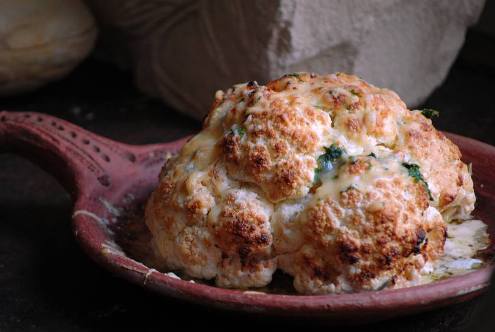 Whole roasted cauliflower with yogurt and herbs
Yeah...I am going to reserve judgement until I try this. But yogurt and cauliflower seems just....wrong. And I love cauliflower. In fact I will be making a roasted cauliflower and pasta dish this evening. It has 12 ounces of Fontina in it. And olive oil. And I am going to sneak some butter in, just on general principles.
******
I have no idea where I got this recipe, but it's a good, solid cookie. I am still looking for that ethereal one, so if anyone has the recipe....
Peanut Butter Cookies


1/2 cup shortening (I used butter)

1 cup brown sugar

1 cup sugar

1 cup peanut butter

1 teaspoon vanilla

1/2 teaspoon salt

2 eggs (unbeaten)

1 1/2 cup flour

1 teaspoon baking soda
Combine first 7 ingredients and beat until smooth.
Whisk flour and baking soda together; add to mixture and blend.
Shape dough into balls 1 inch in diameter.
Place on greased baking sheets and press each ball with fork.
Bake at 325 degrees for 15-20 minutes.
Makes 5 dozen.


posted by CBD at
04:00 PM
|
Access Comments