« EMT: Christmas, 2016.
|
Main
|
USAF Band With An Impromptu Performance »
December 25, 2016
Sunday Morning Book Thread 12-25-2016: A Cloud of Witnesses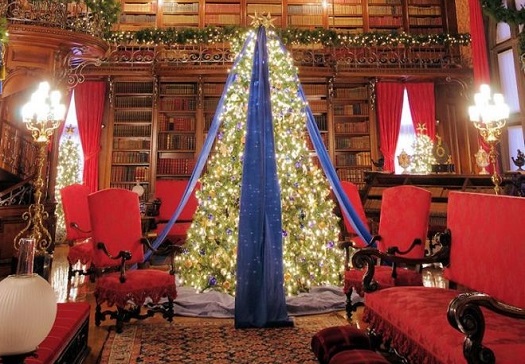 Merry Christmas
(the library has a very nicely painted ceiling which you can see if you click on the pic. I have no idea what library this is, though)
It's another beautiful day at AoSHQ's stately, prestigious, internationally acclaimed and high-class Sunday Morning Book Thread and continual soiree, where men are men, all the 'ettes are impossibly attractive, safe spaces are underneath your house and are used as protection against actual dangers, like tornados, hurricanes, politically motivated social media attacks, nude photos of Lena Dunham, and special snowflakes do not get respect, but instead, belly laughs. And unlike other AoSHQ comment threads, the Sunday Morning Book Thread is so hoity-toity, pants are required. Even if it's these pants, which nobody should be caught dead wearing, but you can't deny they're festive.

Inventing Jesus
From a comment last week:
225 I mentioned a couple of weeks ago about the book Creating Christ which proposed that the Christians appropriated the idea of a born again savior from Emperor Domitian who was purported to be the reincarnation of Vespasian or somebody. Now I see a documentary (on PBS so you know it's right) purporting that the Christians appropriated the idea of a savior from Emperor Augustus who saved Rome from a century of turmoil and civil war by instituting the Pax Romana and creating prosperity. So I guess Jesus was a pretend third rate emperor is now a thing.

Posted by: Anonosaurus Wrecks, This Is the Dawning of the Age of the Trumpius! at December 18, 2016 05:06 PM (Nwg0u)
I guess Creating Christ is a new thing. At least, this is the first time I've heard it seriously argued that Christianity was an invention of the 1st-century Roman Empire. To me, this seems absurd on the face of it. If such is the case, the one has to wonder why 11 out of the 12 original apostles of Jesus suffered martyrs' deaths for something they would have had to have known was a lie. Something about that just doesn't compute.
But the other item mentioned by Mr. Wrecks, that Christianity "borrowed" some messianic rhetoric from pagan Rome, I think there's a bit of truth there. Augustus was a "divine" emperor who was lauded in terms that can only be described as messianic:
Caesar Augustus is proclaimed to be divine, Savior, God manifest, and the beginning of the Good News (Evangelion). These are all titles the Gospel writers apply to Jesus Christ. The Romans had laid claim to these titles for their Emperor first; the Christian Gospel writers take these claims and apply them to Jesus. Thus there is a theological war taking place with opposing claims being made. Which is true? Who is Lord, Jesus or Caesar?
While it is true that Christian faith is (or should be) above politics, the New Testament writers were very much aware of politics. In Acts, St. Peter said:
"Rulers of the people and elders...let it be known to all of you and to all the people of Israel that by the name of Jesus Christ of Nazareth, whom you crucified, whom God raised from the dead...is the stone that was rejected by you, the builders, which has become the cornerstone. And there is salvation in no one else, for there is no other name under heaven given among men by which we must be saved."
(Act 4:8-12)
Considering all of the messianic claims made about the "divine" Augustus, which survives in the archeological record, how he was ushering in a new age of peace and happiness for the entire world, that he was in fact the savior of the world. I think Peter's words are a direct rebuke of the cult of emperor worship. Peter was in effect saying "Not Caesar, but Christ."
Much of this is discussed in great detail in Christ and the Caesars by Ethelbert Stauffer. It's an older book, but still a worthwhile read. Also worthwhile is N.T. Wright, who has written voluminously on various aspects of Christian faith. The Day the Revolution Began: Reconsidering the Meaning of Jesus's Crucifixion. Also Jesus And The Victory of God, which is Vol. 2 of his 'New Testament and the People of God' series.
And by the way, this is what got the early Christians into trouble, not because they worshipped Jesus (Rome didn't care who you worshipped), but because they refused to acknowledge the divinity of the emperor. They refused to offer incense to Caesar as required by law. They said, "Not Caesar, but Christ." Many Christians paid for this with their lives.
And while we're on the subject, here is a book I found while looking for Wright's stuff, which I thought looked interesting: Hostile Witnesses: Historic Evidence of Jesus From Non-Christian Sources by Curtis Grant Parker.
[R]egardless of your personal feelings about Jesus of Nazareth, little doubt remains that he was a real person who once walked this earth. A wealth of historical accounts exist to assure us of this—with many of the most compelling coming from nonbelievers themselves.

Hostile Witnesses is an examination of the best historical evidence for Christ's existence, particularly the evidence provided to us by the most unexpected of sources. From the pagans of ancient Rome, to Jewish and Muslim writings, these accounts create a solid fact-based history of Jesus's life on earth…one that believers and nonbelievers will find equally compelling.
As I'm typing this, the Kindle version is only $3.49.

Most Expensive
Used book site AbeBooks.com publishes an annual list of its most expensive sales. Here is the one for 2016 (warning: there's an NSFW jacket cover down a bit on the page)
AbeBooks celebrated 20 years of business in 2016, and not many people thought that used and rare books would be one the first success stories of internet retailing when our founders started out in 1996. Many things have happened since 1996 but people still love books and beautiful things.
Well, like what, for example? Like this:
Eugene Field's copy of Great Expectations

The first edition in book form published 1861 by Chapman and Hall in original cloth with an autograph letter tipped in (pasted in). Three volumes. This copy belonged to author Eugene Field, famous for his children's poetry, and each volume contains his bookplate. Great Expectations first appeared in Dickens' magazine, All the Year Round. Tipped-in to volume I is a two-page letter signed by Reverend Chauncy Hare Townshend (1798-1868 ) to whom Dickens dedicated this book.
It sold for $25,000.
Also on the list is a signed, first edition of Atlas Shrugged, an original drawing by "Dr. Suess" and a letter from a young Winston Churchill which is a response after his marriage proposal was rejected.
(h/t Hank Curmudgeon)

A Disease We're Prone To
From last week's thread:
223 "Tsundoku" (n.) is the condition of acquiring reading materials but letting them pile up in one's home without reading them. (from Japanese slang)

Posted by: Little Mrs Spellcheck at December 18, 2016 03:54 PM (UfqKz)
I, myself, have an embarrassingly yuuuge unread stack, and I'm old enough now that I will probably never get to them in my lifetime. But tsundoku is a great word. It appears in this list, 10 Words Book-Lovers Should Know, along with others such as "colophon" (a publisher's emblem or imprint) and "librocubicultarist" (a person who reads in bed).
And on a final note, I assume that Little Mrs Spellcheck is the 'ette who used to comment under her old nic, Little Miss Spellcheck, which I do believe means that congratulations are in order. So to LMrs.S I say: have a happy, glorious, and life-long marriage, and I hope your husband enjoys books as much as you do.

Moron Recommendations
Warnings Unheeded: Twin Tragedies at Fairchild Air Force Base by Andy Brown. Recommended by a lurker who describes it as:
Extremely interesting read about preventable tragedies at Fairchild AFB. I've been stationed at Fairchild for quite a while and have read about these incidents, but this is on a whole new level. I know it's cliché, but I really can't put this book down. Highly recommend[ed].
The two tragedies were: an active shooter incident and then, 4 days later, the crash of a B-52 bomber with four airmen on board while practicing maneuvers for an upcoming air show.
Warnings Unheeded is authored by Andy Brown, the man who ended the hospital killing spree, and is a result of more than seven years of writing and research. Brown "masterfully weaves" the two stories and intersperses them with chapters revealing the preparations he made that enabled him to end a pistol-versus-rifle gunfight with a 70 yard shot from his handgun. Brown also writes of his experience with the aftermath of the shooting and encourages others to learn from his mistakes when it comes to dealing with the effects of trauma.
Kindle $9.99.
___________

Books By Morons
Another 'ette author heard from: Lurkette Jenni has written a short YA novel called Cupid's Kiss. It's a romance novel, but Jenni tells me
I hate calling it a romance, because it's not a romance novel in the harlequin sense. It's a romance in the way that a romantic comedy film is a romance. Still, the audience is teen girls and women.
Cupid is alive and well
...and his descendants still walk the earth. Their magical matchmaking abilities don't come from arrows though, but from their spit. Sixteen year old Amanda Amoretto is one of those descendants and she doesn't believe in love. After all, if her spit can make people fall in love, it's just a silly chemical reaction right? It isn't real. Until she meets a boy she just can't get off of her mind. But if she kisses him, he'll fall under her Cupid love spell, which makes it impossible to have a genuine relationship. Her life is turned upside down as the girl who always overthinks everything finds herself a slave to her feelings. Can Amanda resist her feelings? Does she want to?
Kindle version is $2.99

___________
A lurking moron requested I mention his wife's book Heal Your Child from the Inside Out: The 5-Element Way to Nurturing Healthy, Happy Kids. He tells me:
The book came about, in part, because she sees lots of kids in her acupuncture practice that aren't sick but they aren't well, either, and Western medicine isn't always set up to address this "unwellness gap." She's definitely not anti-Western medicine, though. She likes to blend Western and Eastern medicine to make sure kids are healthy and happy.
So for those of you who don't mind a little bit from the east and a little bit from the west, here is what this book has to offer:
Drawing from the ancient wisdom of the Five Elements of Traditional Chinese Medicine, Heal Your Child from the Inside Out offers simple solutions for creating a natural healing program that is as unique as your child. Questionnaires and quizzes help you gain an understanding of your child's 5-Element type—whether it's Wood, Fire, Earth, Metal or Water—to allow you to diagnose imbalances within the body that create health issues. Once you've gained a solid understanding of the 5 Elements and how health conditions are affected by elemental imbalances, nutrition, and lifestyle, you'll learn simple techniques—such as acupressure, massage, and meditation—that will help your child achieve vibrant health. Ultimately, empowered with this knowledge and a new, holistic perspective on health, you'll be able to augment Western treatments with time-tested natural solutions to help your child, and your whole family, heal naturally.

___________
Don't forget the AoSHQ reading group on Goodreads. It's meant to support horde writers and to talk about the great books that come up on the book thread. It's called AoSHQ Moron Horde and the link to it is here: https://www.goodreads.com/group/show/175335-aoshq-moron-horde.
___________
So that's all for this week. As always, book thread tips, suggestions, bribes, rumors, threats, and insults may be sent to OregonMuse, Proprietor, AoSHQ Book Thread, at the book thread e-mail address: aoshqbookthread, followed by the 'at' sign, and then 'G' mail, and then dot cee oh emm.
What have you all been reading this week? Hopefully something good, because, as you all know, life is too short to be reading lousy books.


posted by OregonMuse at
09:09 AM
|
Access Comments