« Ace of Spades Pet Thread Christmas Eve Edition
|
Main
|
Open Thread/Merry Christmas/Happy First Night of Hannukah »
December 24, 2016
Saturday Afternoon Chess/Open Thread 12-24-2016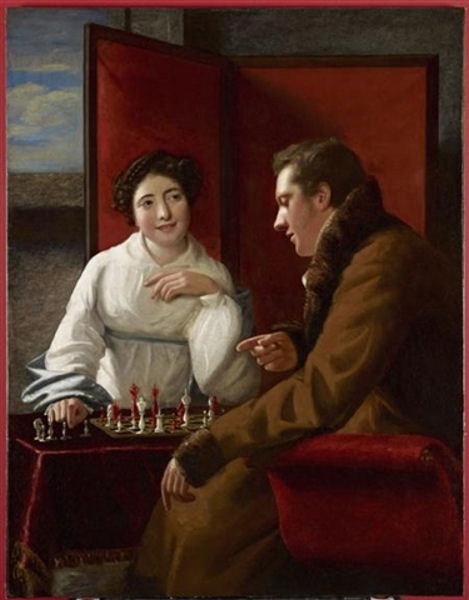 "The game is mine, she cries with joy, you can't prevent checkmate!"
George Watson (1767-1837)

Good afternoon morons and moronettes, and welcome to the Saturday Afternoon Chess/Open Thread, the only AoSHQ thread with content specifically for all of us chess nerds who pay homage in the temple of Caïssa, goddess of the chessboard. And, for those of you who aren't nerdly enough for chess, you can use this thread to talk about checkers, or other games, or politics, or whatever you wish, only please try to keep it civil. Nobody wants to get into a pie fight on a Saturday afternoon. Unless you're hungry.

Problem 1 - White To Play (BWTC 6)
Hint: White mates in 2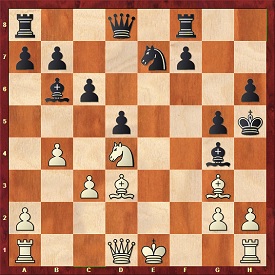 r2q1r2/pp2np2/1bp4p/3p2pk/1P1N2b1/2PB2B1/P5PP/R2QK2R w KQ - 0 1


Problem 2 - Black To Play ()
What can you do with Black's position?
Hint: Black Wins Material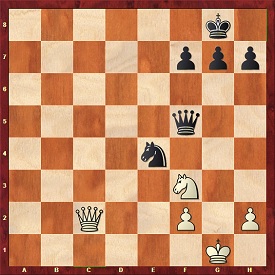 6k1/5ppp/8/5q2/4n3/5N2/2Q2P1P/6K1 b - - 0 1


I would rate this problem: somewhat devious.

Checkmate, By Crom!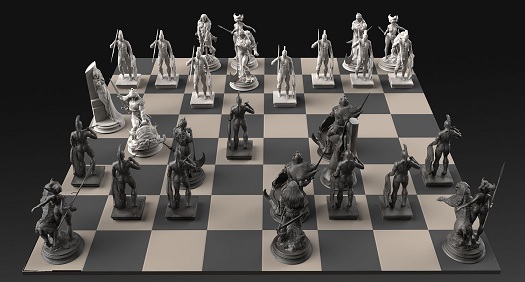 Some guy designed a chess set based on the fantasy artwork of Frank Frazetta. Unfortunately, these pieces don't actually exist anywhere in the real world. They're just just digital artwork. What you're looking at is very skilled art/design work done with 3D rendering tools.
The rest of the digital images, including close-up shots of the individual pieces, can be seen here. I think they look quite impressive.
Yes, I know the board is set up wrong. Grrrr! I hate it when they blow easy details like that.
While such a chess set might look great as a table decoration, I can't imagine playing an actual game with it. There's no way I could keep track of what the actual pieces are supposed to be. Also, I'm bound to be distracted by the pieces that look like women in skimpy attire.

Problem 3 - White To Play (125)
In how few moves can you demonstrate that this is a won position for White?
Hint: Simplify!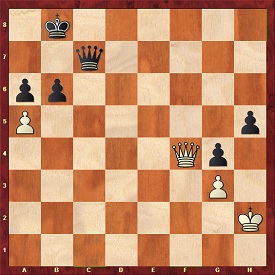 1k6/2q5/pp6/P6p/5Qp1/6P1/7K/8 w - - 0 1



Problem 4 - White To Play (133)
Hint: White mates in 5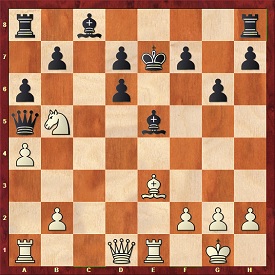 r1b4r/1p1pkp1p/p2p2p1/qN2b3/P7/4B3/1P3PPP/R2QR1K1 w - - 0 1



The Chess Thread Gets Results
Here is an e-mail sent in by a lurker:
I generally read your chess thread Monday at work. Monday evenings I go play chess with the old duffers in the local library. This time, late in a game I said to myself "hey wait a minute, the board is actually pretty close to the second puzzle from the chess thread..."

Worked like a charm.
This is very gratifying. Pattern recognition is such an important part of chess, I hope that others are able to apply insights gained from working the chess problems. It also prompts me to make sure the puzzles are from actual games, or at least look like they could've come from actual games.

A Problem For Zombie
When I gather together the weekly chess problems, it bothers me that because I'm only a weak player, I can't put up any challenging problems for the really good strong players (like zombie), and if I did, I certainly wouldn't be able to converse intelligently about what I posted. This is an unsatisfactory situation, but thanks to my own limitations, there's not much I can do about it.
So I have something I want to try.
I recently found a short piece that discussed chess problems that masters use to challenge other masters, and it gave some examples and analysis. So the following is one of those problems. And let me warn all of you at the outset, most of you aren't going to get it. I certainly didn't get it. I barely understand the analysis. But, hopefully zombie is here and will be able to sink his teeth into it. It's White to play and win: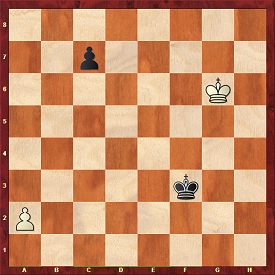 8/2p5/6K1/8/8/5k2/P7/8 w - - 0 1


At first glance, this looks like an easy win for White: 1.Kf5 Ke3 2.Ke5 Kd3 3.Kd5 Kc3
4.Kc5 Kb2 5.a4 and White's pawn can't be caught.
However...
Black has the defense 2...c6! that puts the kabosh on this line, so that 3.Kd6 Kd4 4.Kxc6 Kc4 5.a4 Kb4 catches the a-pawn. Observe how by pushing the 'c' pawn, Black forces the White king to the 6th rank, which allows him to move his own king to the 5th rank and thus catch the 'a' pawn.
So how does White win this game?
I'll give you a clue in the form of an anecdote: Grandmaster X allegedly showed this position to Grandmaster Y, and after studying it for about 20 minutes, GM Y looked up and said "Queen g2". That was when GM X knew that GM Y had figured it out. Qg2 is an important move in the key variation. So if you get to the point in your calculations where you see that Qg2 is a good move, you know you're on the right track.
Again, this is a tough, tough problem. Hardly any of you will get it. Don't weep and wail and gnash your teeth if you don't, because, hey, if it takes a grandmaster 20 minutes to come up with the solution, you know this is no ordinary puzzle.

___________
Solutions Update

Problem 1 - White To Play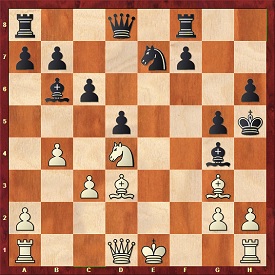 r2q1r2/pp2np2/1bp4p/3p2pk/1P1N2b1/2PB2B1/P5PP/R2QK2R w KQ - 0 1


1.Qxg4+ Kxg4
2.Be2#
The bishop pair kick serious butt.

Problem 2 - Black To Play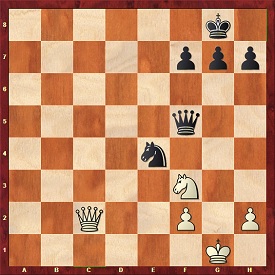 6k1/5ppp/8/5q2/4n3/5N2/2Q2P1P/6K1 b - - 0 1


1...Qg6+!
This move forces White to throw away a piece to avoid loss of the queen, since Black will respond to 2.Kh1 or 2.Kf1 with 2...Ng3+, a devastating discovered attack. Play might continue:
2.Ng5 Qxg5+
3.Kf1 Qf5
4.Qe2 g6 etc.
The point is, Black has got himself a free knight.

Problem 3 - White To Play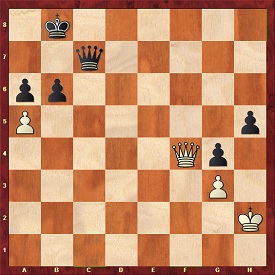 1k6/2q5/pp6/P6p/5Qp1/6P1/7K/8 w - - 0 1


1.axb6! Qxf4
Forced.
Not 1.Qxc7+? Kxc7 2.axb6+ Kxb6 and White is in a world of hurt.
2.gxf4
And this is really all you need to show that White has a winning position. He's got 2 passed pawns, sufficiently spread out from each other such that Black's king can't get them both.
One possible line is:
2...g3+
Note that Black will not win the pawn race, e.g. 2...a5 3.f5 a4 4.f6 a3 5.f7 a2 6.f8=Q+ Kb7 7.Qa3 and White wins
3.Kxg3 a5
4.f5 Kc8
5.f6 Kd7
6.f7 Ke7
7.b7 and wins

Problem 4 - White To Play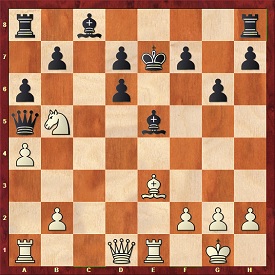 r1b4r/1p1pkp1p/p2p2p1/qN2b3/P7/4B3/1P3PPP/R2QR1K1 w - - 0 1


Your best move is 1. Qxd6+! (1.Bg5+ will also work, but it will take longer)
Black can either take the queen, or run for his life. If he runs, he'll only die tired. He can run this way:
1...Kd8
2.Bg5+ f6
3.Qxf6+ Ke8
4.Nd6#
Or that way:
1...Ke8
2.Qxe5+ Kf8
3.Qxh8+ Ke7
4.Bd2#
Either way, he's dead in 4.
So taking the queen is best, but only by one more move:
1...Bxd6
2.Bg5+ Kf8
3.Bh6+ Kg8
4.Re8+ Bf8
5.Rxf8# 1-0

A Problem For Zombie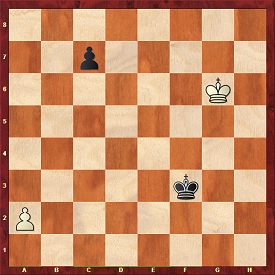 8/2p5/6K1/8/8/5k2/P7/8 w - - 0 1


1.Kf5 Ke3
2.Ke5 c6!
As per the previous discussion, c6 forces the White king out of position.
3.a4 Kd3
And now it's time for a pawn race. White is in the lead, but is it enough to win?
4.a5 c5
5.a6 c4
6.a7 c3
7.a8=Q c2
Here is a critical point for White. Black can draw after 8.Qa1 Kd2 or 8.Qe4+ Kd2.
So instead, the correct move for White is
8. Qd5+!
And now Black has several choices:
8...Kc3
9.Qd4+ Kb3
10.Qa1 wins
-or-
8...Ke2
9.Qa2 Kd1
10.Kd4 c1=Q
11.Kd3 also wins
Black's best defense is:
8...Ke3!
But White seals the win with
9.Qg2!
And this is the move that Grandmaster Y saw after looking at the position for 20 minutes. It's amazing to me that he could see this, 9 moves out.
9...c1=Q
10.Qg5+ (skewer!) followed by 11.Qxc1 for the win.
None of this analysis is mine, so if you have any questions about it, chances are I won't be able to answer. Here is my only contribution: I didn't much like 9...c1=Q. Wasn't there another option? I thought maybe Black could protect the pawn with 9...Kd3.
Yeah, no:
10.Qg5 Kc3
11.Qc1
And now all White needs to do is force Black's king away from the pawn
11...Kd3
12.Kf4 Kc3
13.Ke3 Kb3
14.Kd3 and wins.
Incidentally, my chess app was all but useless here. This is what it thought was the best line:
1.Kf5 c5
2.Ke5 c4
wut
3.Kd4 c3
4.Kxc3 Kf4
This is one of those times where I would like to know how its algorithm evaluated the position. Did it just see all of the previous analysis and reject it because it was a certain loser, and replaced it with a line that it thought was a lesser certain loser, or did it just misfire?
By the way, Grandmaster X was Igor Bondarevsky and Grandmaster Y was Boris Spassky. Afterwards, Spassky showed the position to Bobby Fischer, and it completely stumped him. But the next day, Fischer telephoned Spassky. He said "Queen g2", then hung up.

___________
Note: that cryptic line of letters and numbers you see underneath each board diagram is a representation of the position in what is known as "Forsyth-Edwards Notation", or F.E.N. It's actually readable by humans. Most computer applications nowadays can read FEN, so those of you who may want to study the position, you can copy the line of FEN and paste into your chess app and it should automatically recreate the position on its display board. Or, Windows users can just "triple click" on it and the entire line will be highlighted so you can copy and past it into your chess app.
___________
So that about wraps it up for this week. Chess thread tips, suggestions, bribes, rumors, threats, and insults may be sent to my yahoo address: OregonMuse little-a-in-a-circle yahoo dott com.

posted by OregonMuse at
05:18 PM
|
Access Comments