« Good Songs Gone Bad.....
|
Main
|
Baby It's Cold Outside Open Thread »
December 18, 2016
Food Thread: Christmas Feasts: Home Cooked Or Restaurant?
A pub in East Sheen (a suburb of London) that is open for Christmas Day.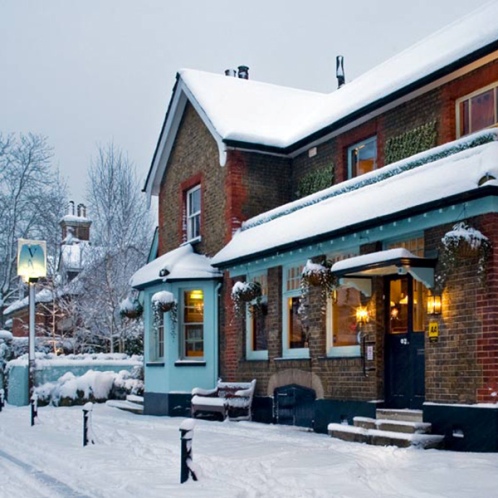 It seems that most Americans eat at home for Christmas, but it seems that the Brits are tempted by restaurant dining, if this article is indicative of a trend. Some of the places on this list of 10 of the best restaurants open on Christmas Day are impressive. And impressively expensive!
I remember a spectacularly bad Christmas dinner at a fine restaurant in NYC. For whatever reason, the place was packed and the staff was overwhelmed. There were about 10 of us at the table, and they resorted to family style service. Except they didn't provide utensils to serve from the large bowls and platters. When we asked for, at the very least, a large spoon for the mashed potatoes, a busboy finally arrived with a small spoon that he tossed into the bowl, and of course it disappeared into the depths of the potatoes.
It became a farce, and the manager finally just comped the meal. The sad thing was that the food was quite good.
My experience with holiday dining is that it is best done at home. Restaurants seem to lose their collective minds, and plan meals outside their kitchens' comfort zones, and cobble together staffs that have sub-optimal skill sets.
But I am sure that it can be done well, so let's hear about successful Christmas or other holiday meals! Although if you have a good catastrophe story, don't hold out!
******
Here's a handy guide from Lucky Peach. Well, not really handy, because of the 15 cookbooks they describe, only half are of interest to anyone who isn't a bit of a hipster douchebag.
Fifteen Cookbooks We Loved This Year
might be a good list of stuff not to buy. It's not that the food isn't interesting, it's that most of these books are so aggressively smug about the particular style or region or neighborhood they describe.
******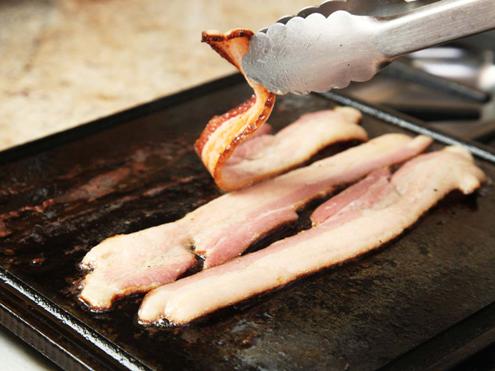 From commenter "ibguy" (of SW Ohio Moron Meet-up fame), comes an interesting recipe for the food geeks among us. Overnight Sous Vide Bacon Recipe might seem a huge waste of effort, because bacon is axiomatically good in all of its many preparations, but if you have a Sous Vide machine, it might be worth a try. I have been toying with the idea of getting one and cooking a Thanksgiving turkey with it.

******
I tried something new last night, and it was a qualified success. One of my favorite side dishes is yellow potatoes, cubed, soaked in water for a bit, then rinsed, dried, and tossed in fat at high temperature to get them nice and crispy. My fat of choice, as many of you should be able to guess, is duck! But Chez Dildo was devoid of this ambrosia (I feel so..inadequate!), so I decided to try something different and cook the potatoes on extremely low heat, mostly because I had no idea what was going to happen, and I had the time. I used olive oil and butter instead of duck fat, because I am not a fool. Fat is flavor!
Anyway, at low temperature the potatoes gave up a huge amount of liquid, so i turned up the heat to boil it off, and then dropped it back down to the lowest setting. Just before I served them I turned up the heat to crisp and brown, which was quick because so much of the surface liquids had been driven off.
I discovered that the long, slow cook had converted some of the carbohydrates to simple sugars, and they had a very pleasing sweetness. Odd, and good.

******
The main course next to those sweet little nuggets was a roasted boneless leg of lamb (thank you Costco!). I took it out of the netting that keeps it roast-shaped and smeared a thin paste of parsley, garlic, Rosemary, Thyme, Oregano, olive oil, salt and pepper all over it, then made a huge mess of my kitchen by replacing the mesh. It's elastic, and not designed to be replaced. Yes, there is a lovely green splatter on the ceiling.
Anyway, I slow roasted it at 275° for about 2.5 hours, until it reached an internal temperature of 130°. Then I let it rest while I heated the oven to 500° and then browned it for 15 minutes before serving.
One issue was the startling carry-over, even at 275°. I didn't expect much at all, but the final internal temperature was about 138°. Next time I will pull it at 125°.

******
Here are a few Benedictine-based cocktails. The first and most famous one really is a damned fine drink. The others are not quite as good, but certainly worth a try.
I am fairly certain that I have posted at least one of these before, but they are festive drinks, so what the hell...
[And...I went through my recipes and nothing jumped out at me]
Vieux Carre
• 3/4 oz Brandy
• 3/4 oz rye whiskey
• 3/4 oz sweet vermouth
• 1/4 oz Benedictine
• dash Peychaud's Bitters
• dash Angostura Bitters
• stir with ice
• strain into glass
• garnish: lemon twist
• glass: old fashioned
Monte Carlo
• 2 oz rye whiskey
• 1/2 oz Benedictine
• 2 dashes Angostura Aromatic Bitters
• stir with ice
• strain into a cocktail glass
Derby
• 2 oz Maker's Mark Bourbon
• 1/4 oz Benedictine
• dash Angostura Aromatic Bitters
• stir with ice
• strain into a cocktail glass
• garnish with lemon twist
La Louisiane
• 3/4 oz rye whiskey
• 3/4 oz sweet vermouth
• 3/4 oz Benedictine
• dash Peychaud's Bitters
• dash Absinthe or Herbsainte
• stir with ice
• strain into glass
• garnish: cherry
• glass: antique or martini
Have an extra antelope steak? Contact me at: cbd dot aoshq at gmail dot com

posted by CBD at
04:00 PM
|
Access Comments