« Fake News and "Fake News"
|
Main
|
The Morning Report 12/7/16 »
December 06, 2016
Tuesday Overnight Open Thread (12/6/16)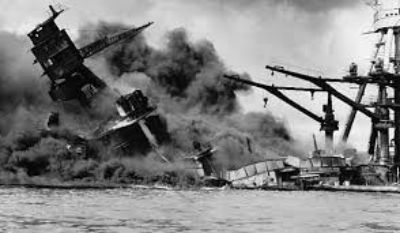 "A date that will live in infamy"-President Franklin D. Roosevelt describing the attack on Pearl Harbor 75 years ago tomorrow, December 7th, 1941. His speech of December 8th, 1941.

In everyone's life a little rain snow must fall. Check out the recent snow in Hawaii.
Quotes of The Day
Quote I

Now, it was not an attack on Christians or white people or conservatives. We didn't scapegoat and stereotype them because there's more of us. But that's what's so upsetting about Mr. Trump's scapegoating Muslims or immigrants or refugees when we have homegrown terrorists who are not Muslims as well, like this animal in South Carolina who is alleged — I guess he's accused, he hasn't been tried yet, but this young man in South Carolina.
Paul Begala.
Jane Mr. Begala you ignorant slut talking forehead. May I remind you that the entire nation was worked into a lather about the Confederate Flag. Ebay removed the Confederate Flag. WalMart, huge retailer located in the South even took a position on the Confederate Flag and ISIS. ISIS=Good, Confederate=Bad.
Quote II

Anyway, no drug, not even alcohol, causes the fundamental ills of society. If we're looking for the source of our troubles, we shouldn't test people for drugs, we should test them for stupidity, ignorance, greed and love of power.
P.J. O'Rourke

Quote III

'I love you my son. I know they kill you for no reason.'
Mother of Abdul Razak Ali Artan, OSU terrorist. How are we to coexist with someone like this?
Quote IV

"Allah is our objective; the Qur'an is the Constitution; the Prophet is our leader; jihad is our way; death for the sake of Allah is our wish."
Egyptian scholar Hassan al-Banna, Founder of Hammas
Donald Trump has been accused of various things during the primaries all the way through the general election. Now, if you mention his name Muslims go all stabbey or something. No wonder why CNN is taken lightly. It's hard to believe that this guy served in the Obama administration.
Didn't get enough quotes? Want to have more sayings? Odd sayings (illustrated) from around the world.

Man's best friend has been the inspiration for our safety.
The secret's in the sniff: Researchers at the National Institute of Standards and Technology developed a device that can detect explosives, narcotics, or human scents 16 times better than trained dogs.

Bomb-sniffing dogs have been the TSA's preferred professionals for years when it comes to hounding out a potentially dangerous scents. But by modifying existing technology after a dog's nose, these researchers were able to drastically improve performance.
Deer hunting seasons recently ended in the Great Lake States. From the accounts of canoe accidents here at the AOS, at one time there were a fair number of hunters here. If you were a hunter and passed on a harvest what were your reasons?

The LGBT crowd wants heterosexuals to accept and approve of their life style. But approval and acceptance is a 2-way street. Transgender San Diego cop in uniform not allowed to march in LGBT parade. Did we mention that she helped organize the event?
San Diego's first transgender police officer was kept out of an event at the San Diego LGBT Community Center in Hillcrest last week because she was wearing her uniform.

The Transgender Day of Remembrance, an annual event to honor those who lost their lives to anti-transgender violence, was held Nov. 17 at the facility on Centre Street.

Officer Christine Garcia, who publicly transitioned last year, helped plan the event and was part of the police department security detail that watched over a commemorative march down University Avenue.

There has been some Moron commentary lately about being lonely and having not been in the saddle lately. This guy has had that problem solved. Although I don't think you want to go as far as he did. The 6 Million Dollar Man has nothing on him. Technology is nice. But you may want to be careful with it when you're trying to date. Or buy drugs, allegedly.

20 weird friendships through history. No, you won't see Ace and Amy Schumer swapping spit or anything close to that.
What kind of shopper are you? Are you creative and never stumped with the perfect gift? Are you the type of person who doesn't know what the recipient likes or would want or would like but wouldn't buy themselves? Down with gift cards? Or down with gift cards!!! Benjamin's are cool, right?
The traditional idea behind giving gifts is that the giver spends time and thought coming up with just the right present for a particular person. They take into consideration the recipient's likes, dislikes, and hobbies, search what's out there, and then choose (or make) a gift they believe best intersects with the person's interests and tastes. A gift's thoughtfulness is in proportion to the sacrifice in energy the giver seemingly made in deciding on it (as well as the sacrifice the giver had been making all along in the relationship, in paying dedicated attention to the recipient's expressed desires).

In giving a gift card, however, the giver takes the time, energy, and thought required by this process, and outsources it to the recipient. It's now their job to think about what they'd like, comb through what's out there, weigh different options, and make the purchase.

Tonight's Musical Interlude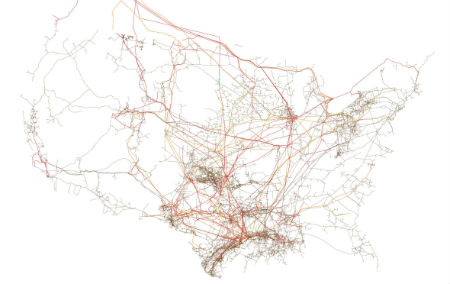 From Sea to Shining Sea, the infrastructure of the U.S.A is mapped out. It appears that there are quite a few pipelines. Where will the Native Americans protest next?
There are more than 3,300 power utilities and about 7,700 power plants that produce and distribute electricity to homes, businesses and other consumers. That electricity travels through more than 160,000 miles of high-voltage electric transmission lines that reach into every nook and cranny of the country.

Experts describe the nation's electrical grid as a patchwork of utilities, with transmission and distribution facilities — some dating to the 1800s — that will ultimately break down unless hundreds of billions of dollars are invested.

College students don't let the door hit in you in the ass when you run back to Mommy & Daddy.
The president of Montgomery College claims that the presidential election created "profound insecurity" for students, which demands a renewed commitment to "inclusion" from academia.

"Radical inclusion is an approach to higher education that I have promoted for years at my college," Dr. DeRionne Pollard begins a recent op-ed for The Washington Blade, asserting that "Diversity is one of the pillars of our identity at Montgomery College."
This woman wouldn't know diversity if it hit her along side the head with a frigging 2"x4".

A short post-election poem

The election is over, the talking is done
Your party lost, my party won
So let us be friends, let arguments pass
I'll hug my elephant, you kiss your ass.
If you have a schadenboner that lasts more than 4 weeks, get medical help right away.

Is this a premature April Fool's Joke? Paste eating Uncle Joe Joe Biden says he may run for president in 2020. Bring it on Joe!! What is the average age of the Democrat leaders these days? 117?

These kids are really into diversity, hell it's The Group.

News tips, spare change and parking validation tickets can go here.

You buy them books, send them to school and they still eat the teacher they become the Genius Award Winner.

What could have been a tragedy turned out to be The Feel Good Story of The Day

Tonight's ONT has been brought to you by Relationships.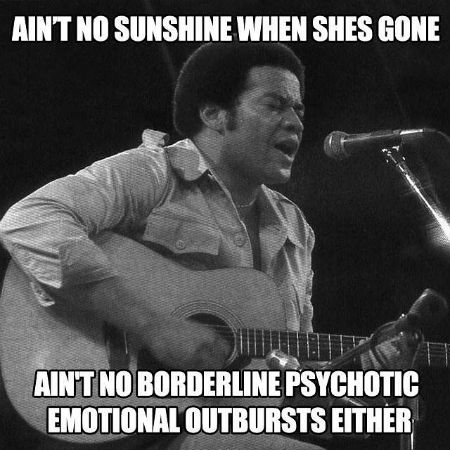 Posted with permission by AceCorp, LLC. Use of alcohol, prescription or non-prescription drugs may impair user's ability to properly enjoy or safely operate the ONT.

posted by Misanthropic Humanitarian at
10:04 PM
|
Access Comments