« Ace of Spades Pet Thread
|
Main
|
Ode(s) To A Dead Guy »
November 26, 2016
Saturday Afternoon Chess/Open Thread 11-26-2016

Good afternoon morons and moronettes, and welcome to the Saturday Afternoon Chess/Open Thread, the only AoSHQ thread with content specifically for all of us chess nerds who pay homage in the temple of Caïssa, goddess of the chessboard. And, for those of you who aren't nerdly enough for chess, you can use this thread to talk about checkers, or other games, or politics, or whatever you wish, only please try to keep it civil. Nobody wants to get into a hockey brawl on a Saturday afternoon. Except maybe Rangers fans.
(And I think I'm going to have to call BS on this pic. If these were actual kittehs, one of them would be busy licking itself, and another would be rolling all over the board. Or two of them would be play-fighting. Which, come to think of it is kind of what the artist is showing them doing already)

Problem 1 - White To Play (BWTC 3)
Black has made a real muck of the opening. How does White take advantage?
Hint: White mates in 2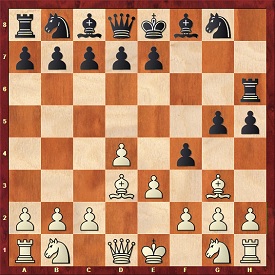 rnbqkbn1/ppppp3/7r/6pp/3P1p2/3BP1B1/PPP2PPP/RN1QK1NR w KQ - 0 1


Problem 2 - White To Play (337)
Hint: White mates in 3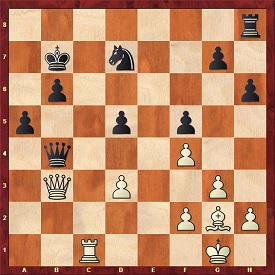 7r/1k1n2p1/1p5p/p2p1p2/1q3P2/1Q1P2P1/5PBP/2R3K1 w - - 0 1



Start 'Em Out Early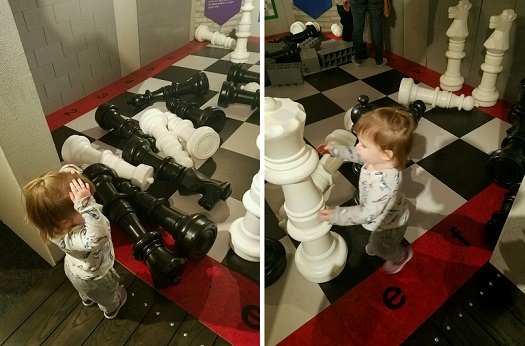 This little cutie is moron tsrblke's daughter. These photos were taken at the Chess exhibit put on by the Chess club and Children's museum at some location he neglected to disclose.

Problem 3 - White To Play (220)
Hint: White wins material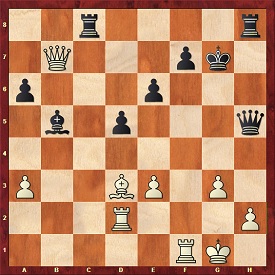 2r4r/1Q3pk1/p3p3/1b1p3q/8/P2BP1P1/3R3P/5RK1 w - - 0 28



W-Ch. Thus Far
After 7 straight draws, challenger Sergey Karjakin took the lead over Magnus Carlsen. This was 5 days ago. After almost losing Game 9, Carlsen bounced back in Game 10 to win in 75 moves.
The match is still tied.

Problem 4 - Black To Play (54)
Hint: Black can mate in 7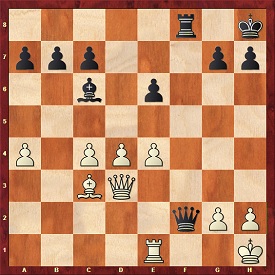 5r1k/ppp3pp/2b1p3/8/P1PPP3/2BQ4/5qPP/4R2K b - - 0 1



Fidel es el biggo cadavero meurto
And we're all grateful for that. But he was a chessplayer, and supposedly a pretty good one. On short notice, I was only able to find one of his games and it seems kind of amateurish - for both players. Fidel won on a horrible blunder and when I saw it, I thought, how could his opponent make such a stupid move, but you have to wonder what would've happened to the guy if he had actually beaten el Maximo.

___________
Solutions Update
Problem 1 - To Play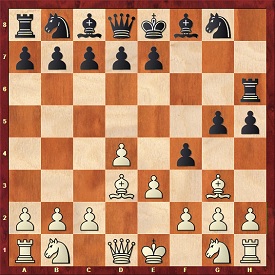 rnbqkbn1/ppppp3/7r/6pp/3P1p2/3BP1B1/PPP2PPP/RN1QK1NR w KQ - 0 1



Black has foolishly weakened his position along the h5-f7 diagonal. The only thing standing in the way of a White checkmate is the rook on h6.
1.Qxh5+! Rxh5
2.Bg6#
The only reason for the queen sacrifice is to kick the rook off the 6th rank so White can move his bishop there. I've mentioned this tactic before. It's called "displacing the defender" and you should have it in your toolbox.
Problem 2 - White To Play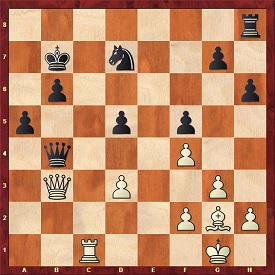 7r/1k1n2p1/1p5p/p2p1p2/1q3P2/1Q1P2P1/5PBP/2R3K1 w - - 0 1



1. Qxd5+ Ka6
If either 1...Kb8 or 1...Ka7, then 2.Qb7#
2.Qb7+ Kb5
3.Bc6#

Problem 3 - To Play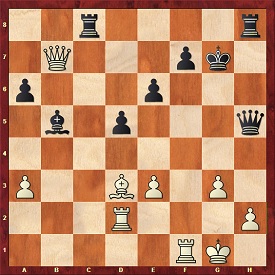 2r4r/1Q3pk1/p3p3/1b1p3q/8/P2BP1P1/3R3P/5RK1 w - - 0 28



This problem might be a tad tricky. The key is noticing that White would be able to play the devastating Qxf7+ were it not for the Black queen on h5. So:
28.g4! Qxg4+
Black has nothing better. If 28...Qg5 then 29.Qxf7+ Kh6 30.Rf6+ Qxf6 31.Qxf6#
29.Rg2 Qxg2+
30.Kxg2 Rcf8
31.Bxb5 axb5
32.Qxb5
White has won the exchange, has a passed a-paw, and should win.

Problem 4 - Black To Play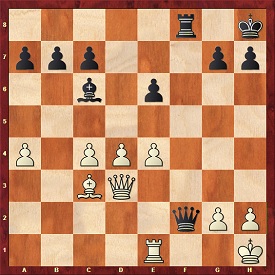 5r1k/ppp3pp/2b1p3/8/P1PPP3/2BQ4/5qPP/4R2K b - - 0 1



1...Bxe4!
That's the killer move. There are 3 ways White can respond. The first is to take the bishop with the rook. But as Chico Marx would say, "At-sa no good":
2.Rxe4 Qf1+
3.Qxf1 Rxf1#
Moving the rook leaves the crucial f1 square inadequately defended. Which is what also happens if you take with the queen:
2.Qxe4 Qf1+
3.Rxf1 Rxf1#
White's best defense is to abandon the queen and hunker down
2.Rg1 Bxd3
3.h3 Rf3
At this point, 4.gxf3 will not avail, because of
4...Be2!
There is no defense against Bxf3+
5.Be1 Bxf3+
6.Rg2 Qxg2#
So 4.gxf3 is no good. But the only other move only delays the inevitable by one more move:
4.Kh2 Qg3+
5.Kh1 Be4!
White should hang it up at this point. There's no defense against Black's next move.
6.Be1 Qxh3+
7.gxh3 Rxh3#
Hope to see you all next week.
___________
Note: that cryptic line of letters and numbers you see underneath each board diagram is a representation of the position in what is known as "Forsyth-Edwards Notation", or F.E.N. It's actually readable by humans. Most computer applications nowadays can read FEN, so those of you who may want to study the position, you can copy the line of FEN and paste into your chess app and it should automatically recreate the position on its display board. Or, Windows users can just "triple click" on it and the entire line will be highlighted so you can copy and past it into your chess app.
___________
So that about wraps it up for this week. Chess thread tips, suggestions, bribes, rumors, threats, and insults may be sent to my yahoo address: OregonMuse little-a-in-a-circle yahoo dott com.

posted by OregonMuse at
05:02 PM
|
Access Comments