« Financial Regulation As A Template For Journalistic Transparency
|
Main
|
Thursday Night ONT - One Day Until the Weekend! »
November 17, 2016
The Devil Exists: The Horrifying and Heartbreaking Tale of Rosemary Kennedy [Warden]
When I was a younger man, I would have confidently told you that Satan is simply a necessary personification of the concept of evil, used in the Bible to make a somewhat nebulous idea more concrete in order to help readers better grasp the importance of God's law and love.
I viewed evil as the absence of God, something passive rather than an engaging force that wills its twisted desire upon humanity.
I don't believe that anymore. I believe that Satan is real and that he actively works toward the destruction of men's souls.
There are many reasons that I believe this, one among them the tale of Rosemary Kennedy. It's a story long hidden from the American people. Even now, most don't know the awful details of what the Kennedy family did to their own flesh and blood. I'm going to tell that story because it's one that every American should know. Before continuing, I will give you this above-the-fold warning, her story will leave you angry, sickened, and filled with grief.
Rosemary Kennedy was the third child of Joe and Rose Kennedy. She was born in 1918. Rose's delivery doctor was late in arriving to the birth, so the nurse instructed Rose to keep her legs pushed together until he arrived. It has been speculated that this act deprived the newborn of oxygen, leading to her mental disabilities after birth.
The Kennedy's have long described Rosemary as "mentally retarded," however there is evidence that she may have simply been learning disabled or, perhaps, slightly below average IQ.
Rosemary twice failed kindergarten and was given an IQ test that put her IQ between 65-70. By 13 years old, she was shipped of to a private school to be educated by nuns. By 15, she was reading at a 4th grade level. No one outside immediate family suspected that there was anything at all wrong with her.
Rosemary loved shopping, tea parties, social functions and dances. By accounts, her brothers adored her. She was a beautiful and vivacious young woman, as evidenced by the picture below.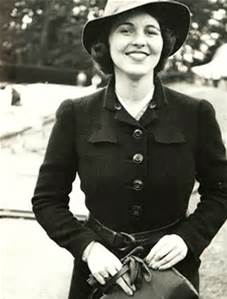 As Rosemary grew older, she became increasingly hostile to the idea that she couldn't to things that the other children could. She began to rebel, sneaking out at night from the convent they'd sent her to and occasionally meeting up with men.
Joe Kennedy was worried that she might cause the family embarrassment and hurt their political prospects. When Rosemary was 23 years old, Joe decided to put an end to his worries by having Rosemary lobotomized. This procedure was new to medicine, having been performed only about 80 times in the U.S. when he made his decision.
Joe didn't tell anyone in his family what he was going to do. Instead, he had the operation conducted in secret at George Washington University Hospital. The following describes the horrific, satanic procedure that followed.
"We went through the top of the head, I think she was awake. She had a mild tranquilizer. I made a surgical incision in the brain through the skull. It was near the front. It was on both sides. We just made a small incision, no more than an inch."

The instrument Dr. Watts used looked like a butter knife. He swung it up and down to cut brain tissue. "We put an instrument inside", he said. As Dr. Watts cut, Dr. Freeman put questions to Rosemary. For example, he asked her to recite the Lord's Prayer or sing "God Bless America" or count backwards..... "We made an estimate on how far to cut based on how she responded." ..... When she began to become incoherent, they stopped.
The operation left the beautiful young woman you saw in the picture above palsied, incontinent, unable to speak and with the IQ of a 2 year old child.
Joe Kennedy then hid his crime by shipping Rosemary off to a mental institution, where she was not allowed to leave the grounds as other patients were. At some time during her stay, she was sexually abused. Joe then sent her to St. Coletta School for Exceptional Children to be cared for by nuns. For 20 years, no one from her family visited and none apparently cared enough to press the family patriarch for details about what had happened to her.
Shortly after Joe Kennedy's death, Rosemary's mother, Rose Kennedy, decided to reunite with her. Here is a description from the Daily Mail about what happened next.
Rose decided to visit and Rosie waited for her arrival with two nuns at the airport in Milwaukee. When Rosie sighted her mother deboarding the plane, she ran to her. Rose opened her arms to greet her daughter and Rosie raised her arms and beat her mother on the chest shrieking.

'Rosemary knew her mother had not been with her when she needed her most.' She was very angry.
Other Kennedy members began to visit Rosemary somewhat regularly, including brother Ted and sisters Jean, Pat and Eunice. Bobby and Jack never did.
Eunice eventually went on to form the Special Olympics, a noble cause and yet another in countless examples of God turning acts of evil into works of good.
Yet even today, the Special Olympics website whitewashes the true story of Rosemary, stating only that one of the Kennedy's own suffered from mental retardation.
Left unsaid is that Rosemary was a perfectly healthy, full functional young woman until her father decided that wealth and power were more important than his little girl.

posted by Open Blogger at
08:23 PM
|
Access Comments