« Ace of Spades Pet Thread [Mis. Hum.]
|
Main
|
Saturday Night Provisional ONT [Weirddave] »
November 12, 2016
Saturday Afternoon Chess/Open Thread 11-12-2016 [OregonMuse]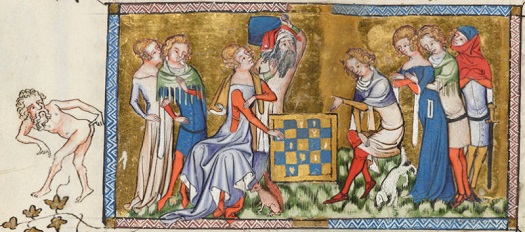 Good afternoon morons and moronettes, and welcome to the Saturday Afternoon Chess/Open Thread, the only AoSHQ thread with content specifically for all of us chess nerds who pay homage in the temple of Caïssa, goddess of the chessboard. And, for those of you who aren't nerdly enough for chess, you can use this thread to talk about checkers, or other games, or politics, or whatever you wish, only please try to keep it civil. Nobody wants to get into a food fight on a Saturday afternoon, when we could all be drinking liberal tears like a good, strong cup of coffee.

(The chess thread pic was sent to me by a lurking 'ette'. I have no idea what that little naked guy on the left is supposed to be doing. Except maybe he's thumbing his nose (so to speak) at all the hoity-toities and toffs. Come to think of it, that's pretty much the way I've been feeling ever since late Tuesday evening.)

Problem 1 - Black To Play (289)
Hint: Black mates in 2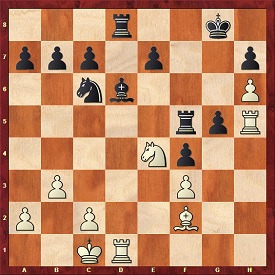 3r2k1/ppp1p2p/2nb3P/5rpR/4Np2/1P3P2/P1P2B2/2KR4 b - - 0 1


Problem 2 - To Play (89)
Hint: White mates in 3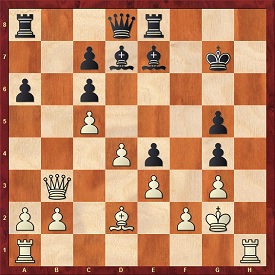 r2qr3/2pbb1k1/p1p5/2P3p1/3Pp1p1/1Q2P1P1/PP1B1PK1/R6R w - - 0 1


Chess Table
JTB sent me this pic (which you can click on for a slightly larger version) from a book of woodworking projects. Wow. That's some master level craftsmanship

Problem 3 - To Play (44)
This one might be a little hard to see.
Hint: White can mate in 4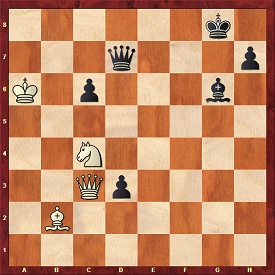 6k1/3q3p/K1p3b1/8/2N5/2Qp4/1B6/8 w - - 0 1



Problem 4 - White To Play (254)
Hint: White wins material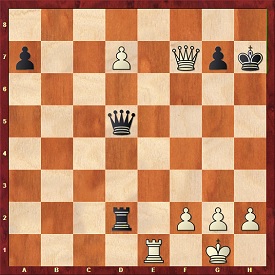 8/p2P1Qpk/8/3q4/8/8/3r1PPP/4R1K1 w - - 0 1



Board Editor
Last week, there was this comment that I didn't get to:
395 I realize that real chessplayers have to be able to analyze without moving the pieces. But, for the sake of us poor fish, would it be possible to create diagrams where we can move the pieces around with our mice?

Posted by: bof at November 05, 2016 08:34 PM (Bu4wL)
There's good news and bad news about this.
The bad news is that, while it would indeed be cool if we could do something like that. Unfortunately the blogging software we're using would probably have a heart attack if we tried implementing all the necessary java scripting.
The good news is that we can accomplish this using other means.
The Chess.com site has it's own analysis board editor where you can enter pieces and move them around. And, the further good news is that you aren't going to have to enter in each position manually.
That is what the FEN string underneath each diagram is for.
Here's how it works.
1.Position your mouse somewhere within the FEN string underneath the diagram you would like to work with.
2. Hit your mouse button rapidly 3 times. In a MS Windows environment, the entire FEN string is now highlighted. If that doesn't work, or if you don't have Windows, swipe the entire string to highlight it.
3. Hit Ctrl-C to copy, or right-click and select the 'Copy' option. The FEN string is now on the system clipboard.
4. Open the analysis board editor.
5. Hit the 'Paste FEN' button. Another window will pop up where you can paste the copied FEN string.
6. Make sure there are no leading or trailing spaces. The pasting function is very picky and it will reject your pasted string if there's even one out-of-place space or other error.
7. Hit the 'OK' button
8. It will ask if you want to erase the current game information. Say yes.
9. The position should now be the one you want to work on.
10. If it rejects the string, make sure you've copied all of it, and there are no extraneous spaces either before or after.
And this should work for you.

Endgame of the Week (219)
It's White to Play.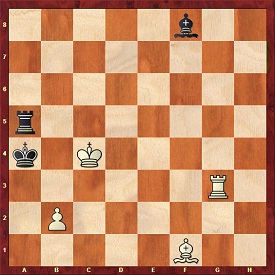 5b2/8/8/r7/k1K5/6R1/1P6/5B2 w - - 0 1

Solutions Update

Problem 1 - Black To Play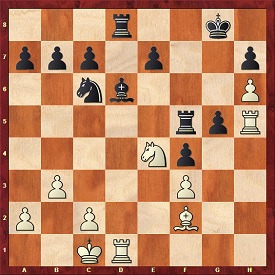 3r2k1/ppp1p2p/2nb3P/5rpR/4Np2/1P3P2/P1P2B2/2KR4 b - - 0 1


The answer to this problem is based on a technique called 'removing the defender'.
1...Ba3+!
White has no choice but to move
2.Kb1
But now look at the board. White's king has been deflected away from defending the rook. Black's rook just sweeps in and takes it. Coincidentally, it's also mate:
2...Rxd1# 0-1

Problem 2 - To Play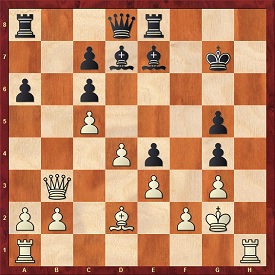 r2qr3/2pbb1k1/p1p5/2P3p1/3Pp1p1/1Q2P1P1/PP1B1PK1/R6R w - - 0 1

This one is pretty straightforward:
1. Rh7+! Kxh7
Best. If either 1...Kf6 or 1...Kg6 then 2.Qf7#.
2.Qf7+ Kh8 (or Kh6)
3. Rh1# 1-0

Problem 3 - To Play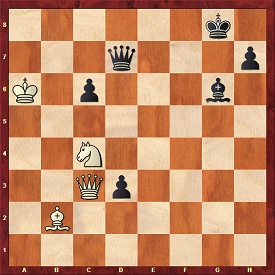 6k1/3q3p/K1p3b1/8/2N5/2Qp4/1B6/8 w - - 0 1


Many of you undoubtedly saw the knight fork in this line:
1.Qh8+ Kf7
2.Ne5+ Ke6
3.Nxd7 d2
4.Qd4 etc.
If you did, great. With that large of a material advantage, White should win. But there's actually a quicker way. Notice that Black's queen is guarding against White's Qg7#.
1.Nd6!
So the new threat here is 2.Qh8#. The knight in its new position is covering Black's escape on f7. And of course it can't be taken because of the aforementioned 2.Qg7#.
So, about the only thing Black can do is:
1...Qc8+
Which impedes White not at all.
2.Nxc8 Kf8
3.Qg7+ Ke8 (or 3.Qf6+ Bf7 4.Nd6 Kg8 5.Qxf7#)
4.Qe7#

Problem 4 - White To Play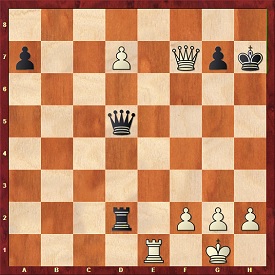 8/p2P1Qpk/8/3q4/8/8/3r1PPP/4R1K1 w - - 0 1


1. d8=Q!
Of course!
1...Qxd8 (not 1...Rd1 2.Qdg8+ Kh6 3.Qfxg7+ Kh5 4.Q8h7#)
2.Qh5+ Kg8
3.Re8+ Qxe8
Forced.
4.Qxe8+ Kh7
5.h3
..and Black can no longer threaten the back-rank mate. White should win.

Endgame of the Week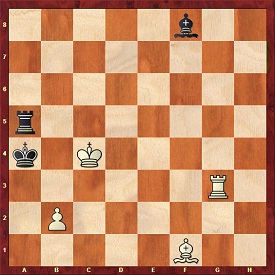 5b2/8/8/r7/k1K5/6R1/1P6/5B2 w - - 0 1

Black's king is in such a *terrible* position that mate is not far off:
1.Ra3+ Bxa3
2.b3#
Hope to see you all next week!
___________
Note: that cryptic line of letters and numbers you see underneath each board diagram is a representation of the position in what is known as "Forsyth-Edwards Notation", or F.E.N. It's actually readable by humans. Most computer applications nowadays can read FEN, so those of you who may want to study the position, you can copy the line of FEN and paste into your chess app and it should automatically recreate the position on its display board. Or, Windows users can just "triple click" on it and the entire line will be highlighted so you can copy and past it into your chess app.
___________
So that about wraps it up for this week. Chess thread tips, suggestions, bribes, rumors, threats, and insults may be sent to my yahoo address: OregonMuse little-a-in-a-circle yahoo dott com.

posted by Open Blogger at
04:45 PM
|
Access Comments