« Open Thread [Mis. Hum.]
|
Main
|
The Morning Report 10/17/16 [J.J. Sefton] »
October 16, 2016
Sunday Night Overnight Open Thread (10/16/16) [Mis. Hum.]
Tomorrow, October 17th is Bosses Day.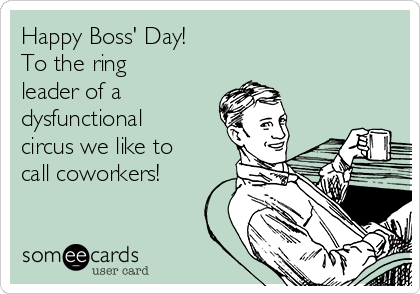 So Horde is this a National Day that you celebrate? What has been your experience with Bosses? Are you a boss? Have you ever been a boss? Do you want to be a boss? Have you ever had a boss that made a lasting impression?

Make that 10. Ace is the bestest boss evah!!!!!
The landscape where I work, in far southwest New Mexico, is one of the most fire-prone areas in America. I look out over a stretch of country with nearly a million acres of roadless wilderness, where an annual upsurge of moisture from the Gulf of Mexico combines with the summertime heat of the Chihuahuan Desert to create tens of thousands of lightning strikes. In an arid land with brief but intense storm activity, wildfire is no aberration.

Ranger Gord.
Today, October 16th is National Liqueur Day.Fancy drinking Morons have been appreciating today. If you aren't a sophisticated Moron maybe you can still land a bottle of some liqueur.

Planned Parenthood is 100 years old today.

As an avid sportsman I can never understand why a fisherman or hunter would vote for a Democrat. From unfriendly judges to land confiscation the Dems are no friend to sportsmen.
"Closing 60 percent of Hawaii's waters to commercial fishing, when science is telling us that it will not lead to more productive local fisheries, makes no sense," Edwin Ebisui Jr., chairman of WPRFMC, said in a statement. "Today is a sad day in the history of Hawaii's fisheries and a negative blow to our local food security."

Hawaii is not the only state to have its authority to govern millions of acres of land usurped by the national government. In a series of moves, the Obama administration seized control of nearly 100 million acres in Alaska over the past year -- an amount of land comparable to the size of New Mexico.

Well we all know about Trigglypuff. The United State's well known Special Snowflake. The U.S.A. is not the only nation with college age Snowflakes.
It appears that there has been a world wide blizzard and Special Snowflakes are everywhere. The latest outrage affecting these thoughtless shit-for-brain idiots, Science.
A student leader said "science as a whole is a product of Western modernity, and the whole thing should be scratched off".

She said "we have to restart science from an African perspective, from our perspective, of how we experienced science".

She went on to describe how people in KwaZulu-Natal believe that black magic can be used to "send lightning" to strike someone. "Can you explain that science?" she asked.

#ScienceMustFall was the top trending topic on Twitter on Friday, with people ridiculing the statements made by the student leader.

"The sane among us need to get off this planet ASAP before gravity is decolonised by the #sciencemustfall zealots," said Twitter user BabaBlackSheep.

Our safe space has been intruded by complete idiots. Heaven forbid you dress up for Halloween. Trick or Treat now a microagression?

In 1940 college age American citizens joined, fought and died in the Royal Air Force. What would these college age students have said to these students of today? h/t via Twitter submission

Speaking of science. Our science lesson today is. Do not vacuum gasoline. Don't. Do. It.

We've heard about the gun violence in America's cities. The typical leftie response goes something like this, "More background checks. Close this loophole, close that loophole."
In cities across the country leaders are using data to address gun violence.
Other communities offer their own examples of how data can provide insights to improve public safety. In Lafayette Parish, Louisiana, an analysis of crime data last year showed that car burglaries were a leading source of reported gun thefts in the city—a trend that cities have been noticing nationwide. To better keep guns out of dangerous hands, a local criminal justice agency responded by designing a public information campaign that encourages car owners to lock their cars to protect guns and other valuables from theft, and it's drawn the attention of both law enforcement and the public to this often-ignored source of guns used in crimes.

An interesting read. Correct data, in the right hands could be a step in the right direction. But as we all know there are countless reasons why there is gun violence in the cities. Until we change the hearts and minds of folks who have a propensity to be criminals not much will change.
When guns are outlawed only outlaws will have guns.

Obviously where there is a will there is a way. If the prisoner is indignant, where are the funds from the State and The Feds? The Horde probably has ideas to make sure the perp remains behinds bars. h/t ibguy

Lead, graphite and Indians explained.

Everything you wanted to know about the pencil but were afraid to ask.

Class, did we pay attention? You never know when a quiz will be in store for you.

Nothing says solidarity with Syria like cooking and eating.
The charity dinner event takes place in London on 31 October in collaboration with Suitcase magazine and NEXTGen London, Unicef UK's young professional movement, and is already sold out. One of the chefs, Ottolenghi, an Israeli-born British chef whose business partner is Palestinian Sami Tamimi, said the food culture of the Middle East was hugely important, and that no one was forgetting the struggles going on inside Syria as people tried to find enough food just to sustain themselves and their families.

"Sami and I – like so many chefs – live to eat," he said. "It bends the mind to think of how many children in Syria are, on the other hand, eating to live. The stakes are so high.

"Somewhere in between these two crazy extremes we are looking forward to an amazing evening of feasting. The night will be spent eating and, in so doing, raising money to help the lives of the next generation in Syria."

Didn't get enough food ideas and recipes today from CBD? Now you can make perfect pancakes. No more trips to Waffle House of IHOP for you.

Black Lives Matter supporter and supporter of charter schools. Or how one can have it's cake and eat it too. Until the inner city schools improve, their lives are not going to improve.

You had one job to do. The Genius Award Winner.

The feel good story of the day.

You can send your news tips, loose change and your sister's phone number here.

You to can be a kid again with these other kids.

Tonight's ONT has been brought to you by playing cards
Distributed by AceCorp, LLC. All rights reserved. Unauthorized use is highly unethical and frowned upon.


posted by Open Blogger at
10:02 PM
|
Access Comments