« EMT 10/16/16 [krakatoa]
|
Main
|
GunThread: Where To Shoot! [CBD] »
October 16, 2016
Sunday Morning Book Thread 10-16-2016: Ride The Decline [OregonMuse]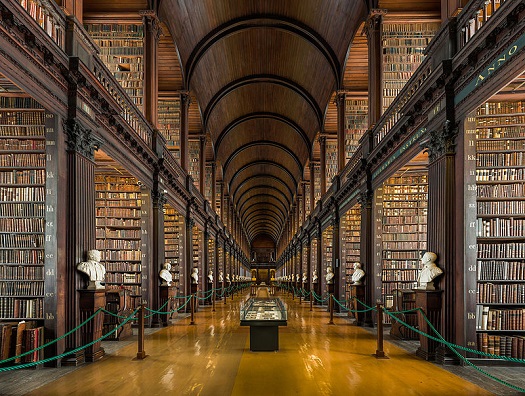 Trinity College Library, Dublin, Ireland
(H/T to 'Alienist' for the pic. Click on it for a huuuge version that is so spectacularly detailed, you can even see the wood grain in the shelves)

Good morning to all of you morons and moronettes and bartenders everywhere and all the ships at sea. Welcome to AoSHQ's stately, prestigious, internationally acclaimed and high-class Sunday Morning Book Thread, where men are men, all the 'ettes are smokin' hot, safe spaces are underneath your house and are used as protection against actual dangers, like tornados, hurricanes, IRS audits, and getting caught in the path between Bill Clinton and a busty blonde, and special snowflakes are held up for ridicule and contempt. And unlike other AoSHQ comment threads, the Sunday Morning Book Thread is so hoity-toity, pants are required. Even if it's these gawdawful things.

Downhill and Loving It
OK, so here's a refreshing take on what we should be doing while our country is careening off of the cliff of economic insolvency and cultural collapse: have fun!
Enjoy the Decline by Aaron Clarey tells you how to do just that, only how seriously this book should be taken is debateable. As one reviewer sums up:
According to Clarey, the bottom line for how to enjoy the decline is to:

1. work as little as possible, if at all
2. sign up for as many government assistance problems as you possibly can
3. abandon your views on work ethic, right and wrong, family and religion.
4. if things get tough, hey, you can always put a bullet in your head.

Who can live like this? I am reminded of Steal This Book, by that smelly hippie Abbie Hoffman, that purportedly shows how to live in America on $0 per day. First published in 1971, it's not so much a serious how-to manual but more of a spasm of "f*ck the system" virtue signalling. Actually, Hoffman wrote a book 4 years earlier titled, appropriately enough, Fuck the System.
So, America's inevitable decline is a little like being groped by Donald Trump raped by Bill Clinton. It's going to happen, anyway, so we might as will sit back and have a good time.
Here are some different suggestions for modern living posted by longtime moron Grump928(C) awhile back:
1 Stop buying stuff
2 Do only what the government directly compels you to do.
3 Pay in cash with a winkwink
4 Cheat the government whenever possible
5 Steal all your entertainment
6 If you know of tax cheating, keep your mouth shut
7 If called to jury, refuse to convict if you think the law unjust
8 Discriminate in all your private dealings, without openly saying so
9 If you see a CoC sticker on a business, go elsewhere
10 Vote against all tax levies, particularly school levies
11 Buy firearms and ammo. It's not simply a just-in-case, it's a good financial investment of small sums when savings are yielding 1/4 of a percent.

So what's driving this? Grump says: "They have laid down the marker, the law means nothing" and "Obeying the law is no longer a matter of ethics or morality but merely a matter of consequences." I liken it to playing a football team where the referees are wearing the uniform of the other team. At some point, you just have to refuse to play.

Flashpoints
This week I was in Seattle attending one of the denominational meetings of my church. There were ministers there from the United States as well as from Poland, Hungary, Bulgaria, and the Ukraine. These are all remarkable men, laboring for the gospel under extreme circumstance, and I am not worthy to scrape the dirt of their shoes. One of the Polish ministers gave a presentation of our denomination's work in Eastern Europe. In order to give us a feel for the territory, he first showed us this map, and then this one, and finally this one. And then he said "Enough of this, I must now be objective...like a CNN reporter." He delivered that line absolutely deadpan and it took a second for the irony to punch me in the face. Being forced to live under communism for decades does tend to make your sense of humor rather dry -- especially when saying the wrong thing and pissing off the authorities can result in fines or jail time (totes not like here).
It was an interesting presentation, and at one point, he recommended this book, Flashpoints: The Emerging Crisis in Europe by George Friedman as a good source of information on what's going on in his part of the world.
Analyzing the most unstable, unexpected, and fascinating borderlands of Europe and Russia—and the fault lines that have existed for centuries and have been ground zero for multiple catastrophic wars—Friedman highlights, in an unprecedentedly personal way, the flashpoints that are smoldering once again.

The modern-day European Union was crafted in large part to minimize built-in geopolitical tensions that historically have torn it apart. As Friedman demonstrates, with a mix of rich history and cultural analysis, that design is failing. Flashpoints narrates a living history of Europe and explains, with great clarity, its most volatile regions: the turbulent and ever-shifting land dividing the West from Russia (a vast area that currently includes Ukraine, Belarus, and Lithuania); the ancient borderland between France and Germany; and the Mediterranean, which gave rise to Judaism and Christianity and became a center of Islamic life.
And we're following closely behind. Our East European brethren know. They can't believe that America is going down the same road that ruined their own countries, and we persist in doing so even with such a clear and evident track record of failure. It's embarrassing for me to have to admit to them, yes, Americans are idiots, yes, we elected a president who actually hates America, yes, nobody seems to care that we're going off a cliff, and yes, the "opposition" party isn't really in opposition to anything except cutbacks of its own perquisites.

Another Moron(ette) Library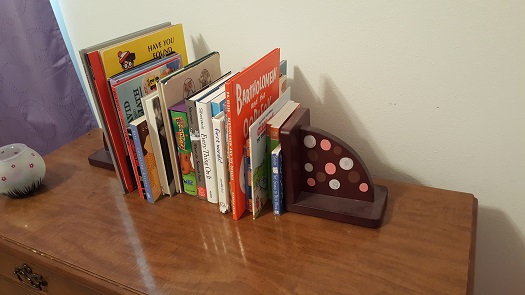 Library of Pookysgirl - Children's Section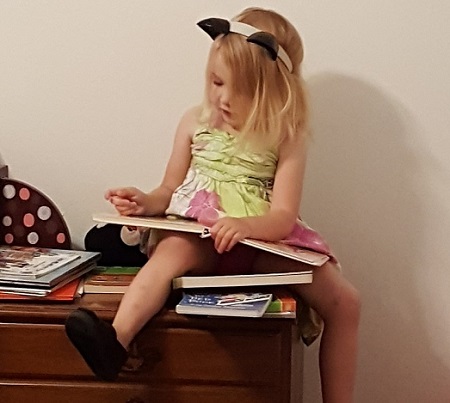 Pookysgirl's Daughter Pookette - Taking Advantage of Above Library

Reshelving
Couple three months ago, I posted a photo of the NYC Public Library's Rose Reading Room, and it certainly does look magnificient. What I didn't know is that it was apparently in the middle of refurb/restore project and it reopened on Oct. 5th. This video shows a time-lapse video showing 52,000 books being reshelved before the big reopening:

Books by Morons
The Kindle version of moron author Daniel Humphreys' post-zombie apocalypse novel A Place Outside The Wild, which was pimped on the book thread a few weeks back, will be on sale for the next few days for $1.99.
___________
Jeb Kinnison, moron author of the "Substrate Wars" series (Vol. 1, Vol. 2, Vol. 3) has written a new book, not a novel, but one that is probably pretty scary. The book is Death by HR: How Affirmative Action Cripples Organizations and Jeb tells me
The book's thesis is that labor regulations (notably affirmative action, but also all the rest of it) has hurt effectiveness at many workplaces, especially those in government or heavily regulated organizations (education, hospitals, banks...) The Eurodisease is coming here, and the HR departments of large companies are the commissars of the regulators, extending political directives into the workplace and losing sight of the goal of excellence and profitable products. Technology is just the latest pressure point.
Can anything be done to fight the fungal rot of progressivism in a corporate setting? Kinnison says yes:
If you're a manager at a tech company, we'll suggest some ways to protect your people from HR and its emphasis on credentials and affirmative action (AA) over the best fit for a position. Corporate leaders need to be sure their HR departments are managed to prevent infiltration by staff more interested in correct politics than winning products. And we'll show why appeasement of diversity activists is a dangerous strategy that may make your organization a target for further extortionate demands.
Maybe we should send a bunch of copies of this book to the NFL front office.

___________
Don't forget the AoSHQ reading group on Goodreads. It's meant to support horde writers and to talk about the great books that come up on the book thread. It's called AoSHQ Moron Horde and the link to it is here: https://www.goodreads.com/group/show/175335-aoshq-moron-horde.
___________
So that's all for this week. As always, book thread tips, suggestions, bribes, rumors, threats, and insults may be sent to OregonMuse, Proprietor, AoSHQ Book Thread, at the book thread e-mail address: aoshqbookthread, followed by the 'at' sign, and then 'G' mail, and then dot cee oh emm.
What have you all been reading this week? Hopefully something good, because, as you all know, life is too short to be reading lousy books.


posted by Open Blogger at
08:59 AM
|
Access Comments