« 35 Things Not To Say In Strictly Regulated Conversation On Campus [CBD]
|
Main
|
Pre-Debate Open Thread [Mis. Hum.] »
October 09, 2016
Food Thread: Smoked Beef Ribs! [CBD]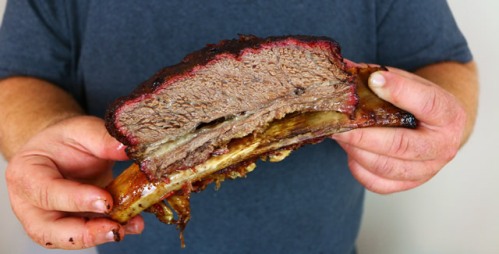 I love smoked beef ribs, but it is difficult to find them, and when I do find them they have very little meat on them. So I have resorted to begging the butcher to cut a few racks on the thick side, especially when prime rib or boneless rib steaks are on sale.
This guy uses short ribs, and they look great! It's not a standard recipe -- he steams the ribs in broth after smoking them -- but Smoked Beef Ribs looks like a good recipe. Everything makes sense, although I would check the ribs about halfway through the steaming process to make sure they are holding up. I think that there is enough fat and moisture in this cut to keep them lovely and juicy and tender.
The tough part will be to find the large, uncut ribs. But that's part of the fun of cooking...searching out interesting ingredients!
******
This is a fun video of
the birth of what looks like a very good burger. And the next video is sort of interesting too, especially if you like oysters.
******
This was too late to include in the book thread this morning, but courtesy of
rdbrewer
, here is a photograph of Ace's library. From what I can see it is a bit heavy with British authors, although there is an interesting Caribbean section.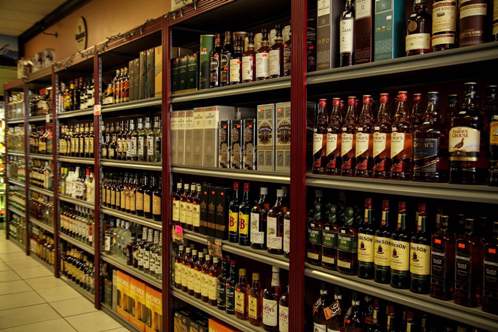 ******
In honor of Brent Cochran
******
Artisanal 'ette sent along a wonderful sounding dish that she has already made, and plans to make again with alterations. That's always satisfying, when you find a recipe that is good enough to repeat, AND you think you can do better (or easier) next time.
Poulet Grand-Mère
is a solid recipe as is, so try it and get back to The Horde with your impressions.
******
Here's an interesting recipe from commenter "Wes," for some fantastic sounding little snacks that would go perfectly with a cold beer. It's an original, so a collective tip of the hat! It reminds me a bit of the conch fritters I used to make, but these will undoubtedly come out much lighter.
Shrimp Beignets

1# Shrimp ( I use the small popcorn shrimp, simply so that I do not have to dice them. Uncooked is best, but precooked is also fine)
6 oz. Kernel Corn – Caramelized ( or, if you wish, you can use canned cream corn)
1 bunch Green Onions – sliced thin (including the white)
1 Tbsp Minced Garlic
½ Tsp Cayenne Pepper
2 ½ oz. Shredded Parmesan
2 c. All Purpose Flour
½ Tbsp. Baking Powder
1 Tsp. Salt
2 Tsp. Sugar
½ C. Water
½ C. Heavy Cream
2 Eggs
2 Tbsp. Unsalted Butter

Besides seeming like a lot of ingredients, this is really a very simple recipe! Very quick and easy to make and loaded with flavor!

To Begin, melt the butter in a saute pan, add in the corn. Cook over medium heat, stirring frequently, until the butter caramelizes with the corn.

Next, combine the water, cream and eggs in a mixing bowl and mix, either with a whip, fork, hand mixer, blender, or whatever. Pour into a large bowl. Add in the shrimp, caramelized corn, minced garlic, cayenne pepper, Parmesan and blend well. In another bowl mix the flour, baking powder, salt & sugar. Using a large spoon, stir the dry mix into the wet shrimp mixture.

To cook, you can use either a hot frying pan with about a cup of hot oil, or a fry-daddy or fry-baby, or whatever you choose. The oil needs to be hot (about 350 degrees Fahrenheit). Using a tablespoon, or the smallest ice cream scoop you can find, scoop the mix into the hot oil. If using a frying pan, let cook about a minute on one side, then flip. If using a deep Fryer, turn the beignets occasionally to ensure even cooking and browning. When the beignets are a uniform deep golden brown, remove from the oil and let drain on a cookie sheet on top of a baking pan, or on paper towels. You can keep them warm in the oven while Frying the remaining mix.

You can also freeze the portioned out beignet batter by using a baking pan coated with Pam, and freezing them individually, and storing in a freezer baggie!
******
And speaking of basil....a few weeks ago, when I was flush with basil, I asked my ex-bartender friend for cocktail ideas.
Basil Gimlet


3 ounces good gin

1 ounce fresh lime juice

1/2 ounce simple syrup

4 leaves fresh basil
Put everything in a shaker with lots of ice and shake the hell out of it (his words). Pour into a martini glass and enjoy.
He also said, "You can use vodka if your vagina is sore."
There is a reason he is an ex-bartender.

******
I love fresh pretzels. What can I say....they are great. My favorite condiment is a good honey-mustard, but cream cheese works well, and in a pinch good old butter is pretty damned good. But they have to be hot!
By the way, while baking soda works well, rumor has it that a weak lye solution is the only way to get that perfect dark crust. I've never tried it....anyone have any experience with it?
Soft Ball Pretzels
(Recipe courtesy Paula Deen)
1 cup warm water (about 98 degrees F)
1 package active dry yeast
2 3/4 cups all-purpose flour, sifted
2 tablespoons butter, softened
1/2 teaspoon salt
1 tablespoon sugar
4 cups water
5 teaspoons baking soda
4 tablespoons butter, melted
Kosher salt
In a large mixing bowl, combine warm water and yeast. When the yeast dissolves, add half of the flour, the butter, salt, and sugar and mix for about 3 minutes. Stir in the remaining flour.
Turn dough out onto a floured surface and knead until the dough is no longer sticky. Let the dough rise in a greased, covered bowl until it doubles in size, about 45 to 50 minutes.
Punch down the dough and divide into 12 pieces. Roll each piece of dough into 18-inch long ropes. On a greased cookie sheet, shape each rope into a pretzel shape. Let rise again until almost doubled, about 30 minutes.
Preheat oven to 500 degrees F.
In a large non-aluminum Dutch oven over high heat, bring 4 cups of water and baking soda to a boil. Using a large spoon, gently lower pretzels into water a few at a time and boil for about 1 minute, or until they float.
Return the pretzels to the cookie sheet and brush with melted butter then sprinkle with kosher salt. Bake until browned, about 12 minutes. Serve hot with mustard.
******

&topic=world_news">

posted by Open Blogger at
04:00 PM
|
Access Comments