« Shock: Hillary Caught Using Child Actress To Ask (Presumably) Scripted Question at Alleged Town Hall
|
Main
|
Wednesday ONT - I Used All The Good Stuff Last Night Edition [Weirddave] »
October 05, 2016
Hurricane Matthew- Wednesday night (tmi3rd)
Back at it, my friends. I'm tmi3rd, and Hurricane Matthew is one bizarre storm to work on. Its steering is truly a mess, but the forecast is beginning to look like it's genuinely going to loop back to the south and west. The last landfalling hurricane I'm aware of that did this- and I haven't looked this up- was Juan in 1986, but I'm sure there have been others.

More below the fold...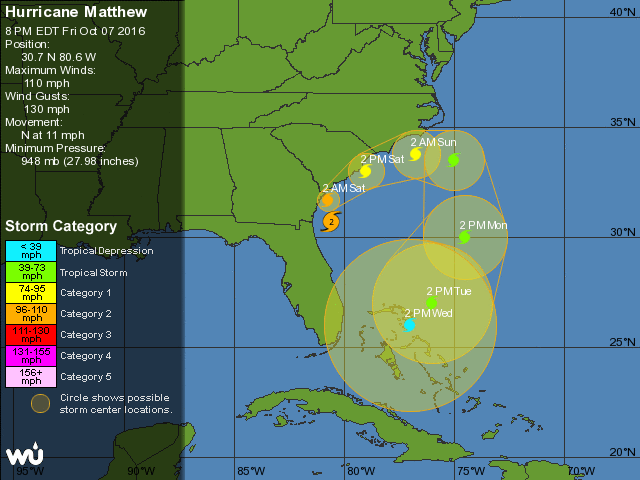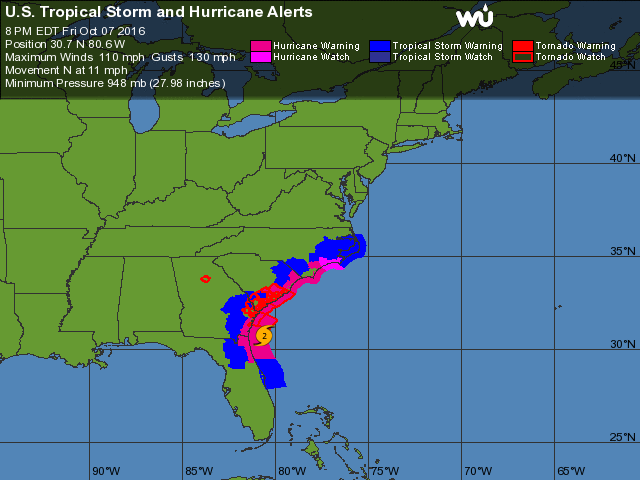 A hurricane warning- meaning hurricane conditions are likely within 24 hours- is in effect from north of Golden Beach, FL to the Flagler/Volusia County line. This includes Lake Okeechobee.

If you are in the warned area, complete your hurricane preparations immediately and evacuate low-lying and coastal areas. I cannot emphasize enough- it is time to leave. Emergency response cannot get to you in hurricane conditions.

A hurricane watch- meaning hurricane conditions are possible within 48 hours- is in effect from the Flagler/Volusia line north to Savannah River.

If you are in the watch area, you have maybe a day left to finish your preparations and evacuate low-lying or vulnerable areas.

If you are in Georgia, South Carolina, or North Carolina, you need to be preparing for hurricane conditions through the end of the week. The thinking right now is that the storm could re-intensify in the next 24 hours, and then it'll begin to break down a bit as it interacts with land.

Beyond the five-day forecast above, guessing what this storm is going to do would be a mistake on my part. This is a very unusual storm in terms of behavior, so just stay informed and if you're advised to evacuate, please do so.

As ever, I'm available on Twitter should you need me. Please stay informed in the affected areas by monitoring official communications from emergency management and the National Weather Service.

Stay safe!


posted by Open Blogger at
10:00 PM
|
Access Comments