« The Morning Report 9/30/16 [J.J. Sefton]
|
Main
|
Alicia Machado Has Lived A, Err, Colorful Life.
Why Is the Media Deliberately Making Its Stories Less Interesting By Refusing to Mention That? »
September 30, 2016
Mid-Morning Open Thread [CBD]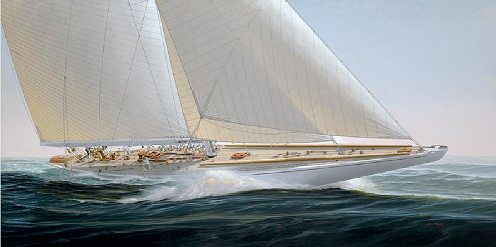 Ranger
John Mecray
This is a painting of the most famous boat of American sailing's most famous class; The J Boat.
Her name was Ranger, and she was 135 feet long. Many of the J boats were manned by Norwegian crews, and were said to be powered by "Norwegian steam." The J boats were built for one reason; to defend the America's Cup against the superb British sailors who were desperate to bring "the auld mug" to England. The Ranger, under the command of Harold Vanderbilt swept the British in the 1937 race.
The link in the image goes to a mock up of a modern J boat. Amazingly, they are building them again to the original rule written in 1903 by Nathanael Herreshoff, America's greatest yacht designer.


posted by Open Blogger at
09:45 AM
|
Access Comments