« Obama Administration In Yet Another Late Friday Document Dump: Oh By The Way, Not That It Matters, But Remember that Night Club Killer We Claimed Was Gay or Something...? Yeah Turns Out He Was a Super-User of ISIS Propaganda
|
Main
|
The Morning Report 9/29/16 [J.J. Sefton] »
September 28, 2016
Wednesday Night Overnight Open Thread (9/28/16) [Mis. Hum.]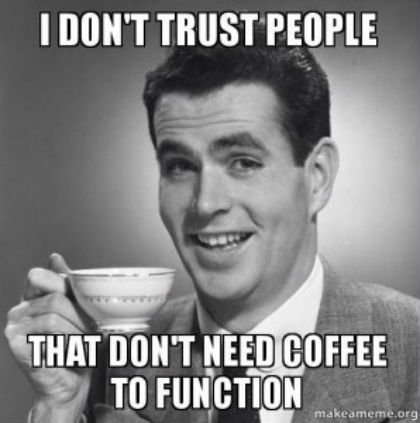 Welcome to the National Coffee Day Eve Overnight Open Thread. Thursday September 29th is National Coffee Day. Now if we can get a National Valu-Rite Day that would be quite the accomplishment.
Are you going to miss the big day? Don't feel bad, International Coffee Day will be celebrated world wide on Saturday, October 1st.
So Horde, how do you plan on celebrating? Your humble Cob will probably drink enough to float a battleship. Saturday will probably be a repeat.
Does your significant other like coffee? You could always replace your coffee with Stiff Bull Coffee.

If you have been following the ONT lately you know we've been covering autonomous autos. There are many among us that scoff at the thought of them taking over the roads. Surprising there aren't the typical nanny state characters attempting to stop these autos.
Uber transparency. Recently Uber introduced self-driving car tests in Pittsburgh. Passengers signed their lives away.
In addition to the legal document asking passengers to free Uber of liability of death or injury caused by its self-driving cars, The Guardian also points to a public interview company executives participated in. In August, Uber CEO Travis Kalanick told Bloomberg Businessweek, "Nobody has set up software that can reliably drive a car safely without a human."

If one is to take their lives into their own hands with an automobile. This looks like moar fun. Truly, a Moron sport.
Hate standing in line? There is a chair for that.
Science means many things to many people. From helping Grandmother battle Alzheimer's Disease to helping Mom beat breast cancer. The politicization of science is increasing. Pumpkins are a lot of things. But, racist they are not.
Can we believe any "science" study?
A creeping political bias is exactly what we should expect: When agencies and government officials can control the flow of information to get more favorable stories and punish reporters who displease them, they will.

The Horde can have science and firearms. AR15 Mud Test
Obamacare in trouble. Congress acting tough.
According to the agency, the program experienced a shortfall of more than $2.5 billion in 2014, an amount so large that all of the risk corridor payments from 2015 would not cover it. Because all of the 2015 benefit year collections will be used for the 2014 shortfall, the agency anticipates that no funds will be available for the 2015 risk corridor program shortfall.
Target's bathroom policy costing them big bucks.
Debate at Hofstra U has fireworks behind the scenes.
Imagine always having the strongest mind in the room.
No math tonight. But, a quiz from 1928 about humor.
In the middle ages life was a bitch and then you died a horrible death.
Does this qualify as our history entry or our culture entry for the evening? You be the judge.
Holidays must be awfully uncomfortable.
No blood for water! Water wars on the horizon?
Canada is building one big a$$ trail. Impressive project between governments and private sector.
No, that's not a typo. When it's finished next year, the Trans Canada Trail will clock in at 14,864 miles long, nearly 13,000 miles of which are connected. As Anzilotti reports, the trail will open to everyone from cyclists to skiiers, horseback riders and hikers in 2017 and will be the world's longest recreational trail

Despite those bumps on the trail to completion, construction is still ongoing. The goal is to have the trail completed by Canada's 150th anniversary on July 1, 2017.

Speaking of Canada, farmers with firearms. We don't have a race problem. We have a crime problem.
News tips, spare change, recyclables can be sent here.
Be the first on your block to join The Group.
If it weren't for bad luck he would have no luck at all.

Tonight's ONT has been brought to you by COOL.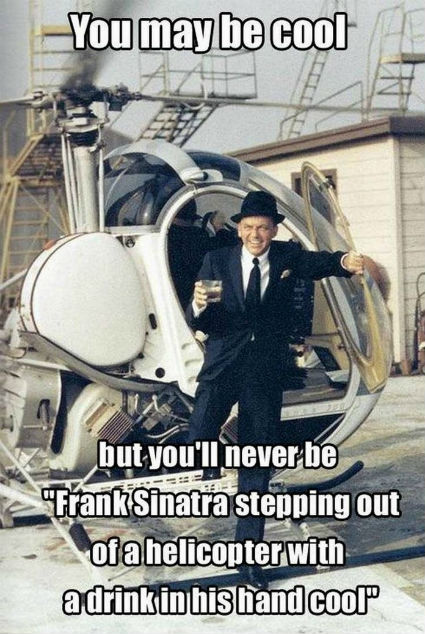 ONT posted by permission of AceCorp., LLC
Stop taking the ONT and call your doctor if you have fever, chills, body aches, cough, or other flu symptoms.
Less serious side effects may include but not limited to:
nausea, diarrhea, upset stomach;
menstrual cramps;
drowsiness, tired feeling;
headache; or
muscle or back pain.
This is not a complete list of side effects and others may occur. Call your doctor for medical advice.

posted by Open Blogger at
10:23 PM
|
Access Comments