« Ace of Spades Pet Thread [Mis. Hum.]
|
Main
|
Thoughts About "The Nice Guys" and Movies That Push Corporate and Government Conspiracy Plots »
September 10, 2016
Saturday Afternoon Chess/Open Thread 09-10-2016 [OregonMuse]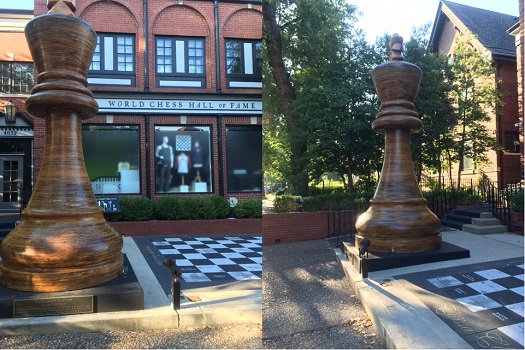 Look At That Chess Piece - It's YUUUGE
(H/T to lurking moron 'olddog in mo' who happened to be visiting St. Louis and discovered that the World Chess Hall of Fame was located very close to the hotel he was staying at. That giant king measures 14' 7".)
Good afternoon morons and moronettes, and welcome to the Saturday Afternoon Chess/Open Thread, the only AoSHQ thread with content specifically for all of us chess nerds who pay homage in the temple of Caïssa, goddess of the chessboard. And, for those of you who aren't nerdly enough for chess, you can use this thread to talk about checkers, or other games, or politics, or whatever you wish, only please try to keep it civil. Nobody wants to get into a poo fight on a Saturday afternoon.

Pop Quiz
Here's a paragraph from a 16th century chess manual:
White king's pawn goes to the fourth. If black plays the king's pawn to the fourth: white plays the king's knight to the king's bishop third, over the pawn. If black plays the queen's knight to queen's bishop third: white plays the king's bishop to the fourth square of the contrary queen's knight, opposed to that knight.
1. Translate the moves in the text into modern algebraic notation
2. Identify the opening
3. Based on your answer to #2, identify the probable author.
4. Extra credit: What was the name of the book, and the year of publication?

Problem 1 - White To Play
Looks like Black is in quite a jam. How should White exploit it?
Hint: White mates in 2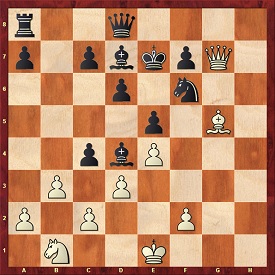 r2q4/p1pbkpQ1/3p1n2/4p1B1/2pbP3/1P1P4/P1P2P2/1N2K3 w - - 0 1


Problem 2 - White To Play
Hint: White can win the bishop
This is going to be a tricky one. Black just played 31...Bb7, which is a blunder. What is White's best response?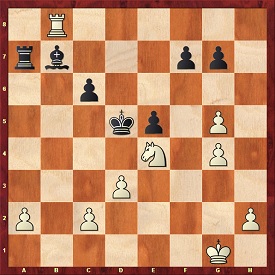 1R6/rb3pp1/2p5/3kp1P1/4N1P1/3P4/P1P4P/6K1 w - - 0 32


Chess Variant - Dice Chess
Scientists disagree on the advisability of husbands and wives playing chess with each other. Chess is a game you can get so wrapped up in, and the competition can get so intense that it can act like a corrosive on the marital relationship, resulting in bad feelings, couch exile, and child support payments. But, sometimes it can work. In my case, it sort of doesn't work because I have much more chess study and experience than Mrs. Muse that she has very little chance of winning, so it's not a fun pastime for us.
Until we discovered Dice Chess.
I started playing chess at age 10-11 because the one thing that attracted me to it was that all of the other games we played depended on chance: you had to draw a lucky card, a spin a counter and have it land on a good section, to win. Chess, in contrast, was a game where you had to outthink your opponent. So I normally wouldn't appreciate a variation that injected the random chance into a game that I took up to get away from, but it actually works for us. The rules help to eliminate the disparity of experience between Mrs Muse and myself and puts us on a more equal footing.
So here's how it works:
In addition to a chessboard, you need two 6-sided dice. You roll the dice before each move, and what you roll dictate what you move, according to the following table:
1 = pawn
2 = knight
3 = bishop
4 = rook
5 = queen
6 = king
The player may move either of the pieces indicated on the two dice. For example, a player rolling a one and a two may move either a pawn or a knight. If he can move both, he can pick whichever one he wants. A player who rolls doubles (the same number on both dice) may play any legal move. And if a player is unable to make any legal move based on what comes up on the dice roll, he loses his turn. Or, as it is called, he "passes" his turn to his opponent.
Otherwise, standard chess rules apply, with these exceptions:
If castling is otherwise legal, a player may castle upon rolling a four, six, or doubles.
An en passant capture of a pawn is possible only if the player rolls a one, or doubles, immediately once the opportunity for the en passant capture arises;
A player who is in check can only play a legal response to that check (capturing the checking piece, moving the king, or interposing a piece);
A player who is in check but does not make a roll allowing a legal response to the check loses that turn, but does not automatically lose the game;
Except in the unlikely event that the game ends in a draw pursuant to the standard rules of chess, the game ends when one player either checkmates the opponent or captures the opponent's king.
-------------------
This last bit, about actually capturing the king, makes for some interesting endgames. Sometimes, my king is sitting there in check for 2-3 moves before Mrs. Muse is able to roll up the proper numbers on the dice so she can finish me of. And of course, if I don't roll a six, I can't move my king.
So now Mrs. Muse can sometimes defeat me, and that makes for a more enjoyable experience for both of us.

Problem 3 - White To Play
Hint: White mates in 3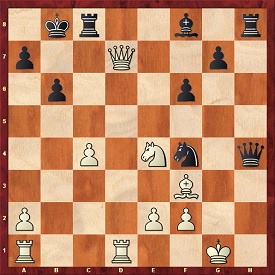 1kr2b1r/p2Q2p1/1p3p2/8/2P1Nn1q/5B2/P3PP2/R2R2K1 w - - 0 1



The Presidential Candidates Try To Secure The All-Important Chess Nerd Demographic
Hilarious interviews by the ace reporters at Chess.com of all the major candidates. For example, Jill Stein:
Q: What is your favorite chess opening?

STEIN: The French Defense, but where we don't exchange pieces so we can have more pieces for the future. And if someone does a bad trade, I like to give them a piece back so we are equal. And then give them some of your money.
And Gary 'Bloody Stupid' Johnson:
Q: What is your chess rating?
JOHNSON: High, or not high? Totally depends. Right at this moment...maybe I shouldn't play.
Read the rest.

Problem 4 - White To Play
Hint: Black can hold off a forced mate in, at most, 11 moves
The decision tree for this one is fairly extensive. Let's see how much of it you can map out. And now that I think about it, I may not have gotten it all, so you may find something I missed. This will be a fun one to work on and compare notes.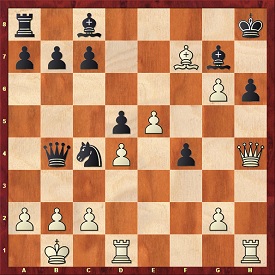 r1b4k/ppp2Bb1/6Pp/3pP3/1qnP1p1Q/8/PPP3P1/1K1R3R w - - 0 1



Endgame of the Week

Can White manage to pick off that pawn and win the game?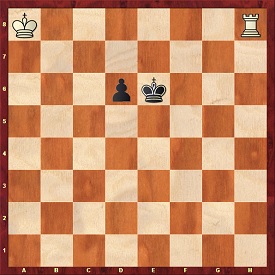 K6R/8/3pk3/8/8/8/8/8 w - - 0 1



___________
Solutions Update
Pop Quiz
1. 1. e4, e5 2. Nf3, Nc6 3. Bb5
2. The Ruy López, or Spaniah Game
3. Ruy López, or course. We're talking THE Ruy López. His full name was Ruy López de Segura (c. 1530 - c. 1580)
4. Libro de la Invencion liberal y Arte del juego del Axedrez (Book of the liberal invention and art of the game of chess), published in 1561. It was one of the first books published about modern chess in Europe.

Problem 1
It's true that 1.Bxf6+ skewers the Black queen, and if you saw that, great. But there's an even better move, better because it leads directly to mate. White captures with the queen instead of the bishop:
1.Qxf6+ Ke8
2.Qh8#
Capturing with the queen clears out the diagonal and allows White's bishop to cover the Black king's only escape square.

Problem 2
Answer:
32.Rd8+! Ke6
Black's only legal move.
33.Nc5+ Ke7
34.Rd7+ Ke8
35.Rxb7

Problem 3
1.Qb7+ Kxb7
2.Nc5+
And now Black has two possible responses, either Kb8 or Kc7. But White plays the same move for each:
2.Nc5+ Kc7
3.Na6#
or
2.Nc5+ Kb8
3.Na6#

Problem 4
1.Qd8+ Qf8
This is better than 1...Bf8 because of 2.Rxh6+ Kg7 3.Rh7#
2.Rxh6+ Bxh6
3.g7+ Kxg7 (or 3...Kh7 4.g8=Q+ Qxg8 5.Qxg8#. Another try is 3...Bxg7 4.Rh1+ Bh6 5.Qxf8+ Kh7 6.Rxh6#)
4.Qf6+ Kh7
5.Qg6+ Kh8
This check was necessary to drive away the King as a defender of the bishop, in preparation for

6.Rh1
At this point, Black can pretty much hang it up. There's no defense against 7.Rxh6+. When I reached this position with my chess app, it started throwing irrelevant checks and other delaying moves at me, like in a movie when the police are chasing a bad guy, and the bad guy keeps knocking over various objects behind him to impede progress of the pursuit. In a similar fashion, that's how Black can drag this out for 5 more moves. Ultimately, though, it's an exercise in futility.
6...Nd2+
7.Ka1 Nb3+
Black has nothing better. It's either that or resign.
8.axb3 Bh3
The bad guy knocks over a shopping cart in the path of the pursuing good guy.
9.Rxh3 f3
10.Rxh6+
Finally.
10...Qxh6
11.Qxh6#
...and there we have it. I'm curious if you morons picked up something I missed.

Endgame of the Week
There are probably a number of ways White can win. I think this is the simplest:
1.Rh5!
By parking the rook here, White is creating a barrier beyond which the Black king cannot pass. At the appropriate, this rook will be brought over to attack the pawn from behind.
1...d5
Black needs to both judiciously push his pawn and try to defend against the White king joining the fray.
2.Kb7 Kd6
If Black immediately tries to make a run for it with 2...d4, then 3.Kc6 d3 4.Rh3 d2 5.Rd3 and the pawn is lost.
3. Kb6 d4 (3...Ke6 is clearly inadequate due to 4.Kc5 d4 5.Rd5)
4.Kb5 d3
5.Kc4 d2
6.Rd5+ after which Black will lose the pawn and then the game.
___________
Note: that cryptic line of letters and numbers you see underneath each board diagram is a representation of the position in what is known as "Forsyth-Edwards Notation", or F.E.N. It's actually readable by humans. Most computer applications nowadays can read FEN, so those of you who may want to study the position, you can copy the line of FEN and paste into your chess app and it should automatically recreate the position on its display board. Or, Windows users can just "triple click" on it and the entire line will be highlighted so you can copy and past it into your chess app.
___________
So that about wraps it up for this week. Chess thread tips, suggestions, bribes, rumors, threats, and insults may be sent to my yahoo address: OregonMuse little-a-in-a-circle yahoo dott com.

posted by Open Blogger at
04:45 PM
|
Access Comments