« You Want Insanity? Here It Is! [CBD]
|
Main
|
Ace of Spades Pet Thread [Mis. Hum.] »
September 10, 2016
Saturday Gardening Thread: Put a fork in it [KT]
My goodness. The rain just keeps coming in the East, doesn't it? Not like 2012 in Pennsylvania, apparently. Though our correspondent was able to get good crops of carrots and potatoes. Including some forked carrots.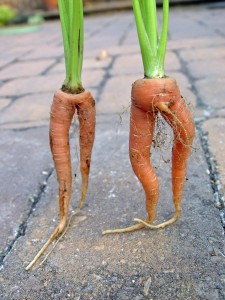 Forked Carrots on Parade
Back in late July, Gordon asked about broadforks. Interesting topic. I thought that today we could also discuss carrots, which can be harvested with broadforks. They develop forks sometimes. Though you seldom see a forked carrot in the supermarket. Below, an example of what can happen if you don't dress and care for your carrots properly in the garden.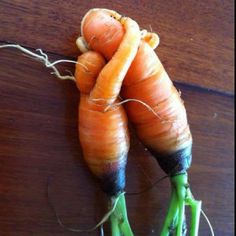 For the Love of Carrots
Cute, but deformed or forked carrots are still edible! They can be caused by compacted soil, over-watering, too much fertilizer (especially fresh manure), close spacing, root knot nematodes or disease.
Here are more examples of carrot hugs set to music. Should you not want to induce blushes in your garden, another way to reduce the incidence of carrot hugs is to choose the right carrot for your soil.
Below are the most common carrot shapes via The Kitchen Journals. Carrot colors, kitchen tips and recipes are also included at the link. For example, flavor affinities of carrots:
The carrot's strongest affinities are for butter, brown sugar, celery, ginger, maple syrup, onion, and orange, but it also pairs nicely with fresh herbs like dill, parsley and tarragon, and spices such as cinnamon and coriander and cumin. It is a natural accompaniment for roasted meats, particularly beef.
I agree with most of the above, especially about the butter. I like carrots steamed with parsnips until the parsnips start to fall apart and the liquid evaporates. Then butter is added. The butter-rich parnips stick to the carrots. I also like carrot cake with pineapple, covered with orange-flavored cream cheese frosting. But I don't have a recipe. Anybody?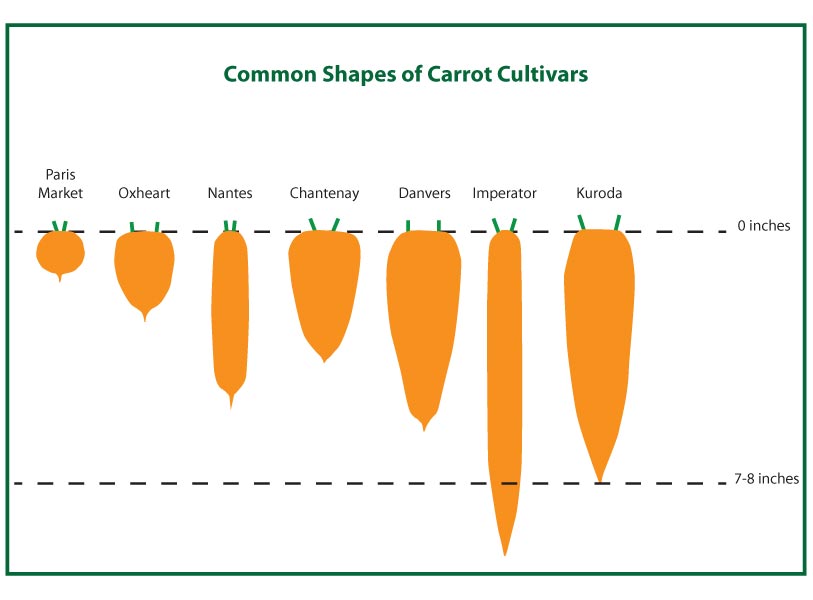 I found way more information on carrots than I really need at the online World Carrot Museum Some of it is repeated more than once. Still, fun and interesting. On the first of five pages of trivia (scroll down), I learned that the classic Bugs Bunny carrot is the Danvers type
That's all the cartoon content I have today, folks. But there is some useful information about growing carrots (and their flowers) below the discussion of broadforks.
Broadforks
I have never used a broadfork. They sound like nice, low-tech tools for people who already have pretty good to fantastic soil. Better than the soil I have usually started with. The concept behind these tools seems reasonable.
The Broadfork is used to loosen soil to prepare for planting or for adding soil amendments such as compost or mulches. It will open and loosen soil while minimizing damage to its living strata of flora and fauna that provide the nutrients for the garden bed. The Broadfork is also a great tool to choose for harvesting potatoes, beets, carrots, etc.

It's easy!! By stepping on the crossbar, one side then the other and using only body weight, the tines are set completely into the soil. Using the tremendous leverage of the pair of 48" long handles, the soil is loosened by working the handles back and forth in a kind of rowing motion. As is the case of most old, well designed human powered tools, the Broadfork requires minimal effort for the work it produces. It's the kind of tool that almost anyone can use effectively. It doesn't require brute force, rather it provides a rhythmic, almost aerobic workout when used properly.
So, appropriate for gardening broads, I guess.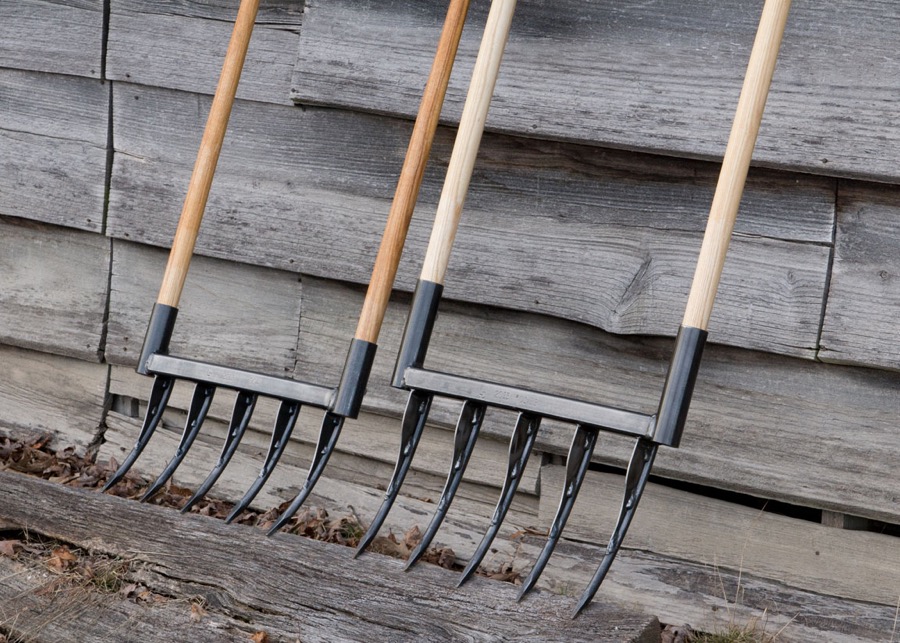 Bertha and Big Bertha
Do you have experience using this tool?
More about Carrots
If you are thinking about growing some fall carrots, Sunset says you need about 70 days before hard frost to get a crop in. There is quite a bit of advice on growing carrots at the Carrot Museum. I have never successfully grown the long Imperator type carrot because I have never gardened in sufficiently light, deep soil. I have grown Oxheart, Nantes, Danvers and Kuroda types. Oxhearts do well in quite heavy clay soils. They are so fat that they look like they would be hard to eat raw. But the ones I have grown have been tender due to a brittle texture.
Orange became the dominant color for carrots only a few centuries ago, starting in the Netherlands. There is now renewed interest in other colors of carrots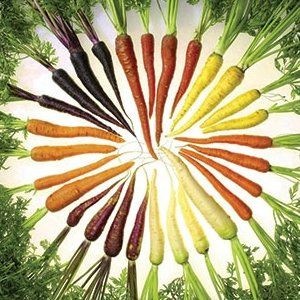 Do you have a favorite kind of carrot?
Queen Anne's Lace
Queen Anne's Lace is the wild form of the garden carrot. It is generally, but not always, a biennial, like garden carrots. You can use the flowers of garden carrots like Queen Anne's Lace if some of your carrots bolt.
Queen Anne's Lace is often used as a filler in bouquets, but looking through the interwebs I was surprised at how often it is used alone, or as the focal point of an arrangement. "The secret to keeping Queen Anne's Lace from wilting is hydration. Place fresh stems in water for six to eight hours (overnight) in a cool dark place before arranging."
Note: You can dye Queen Anne's Lace by putting food coloring in the water into which the stems go.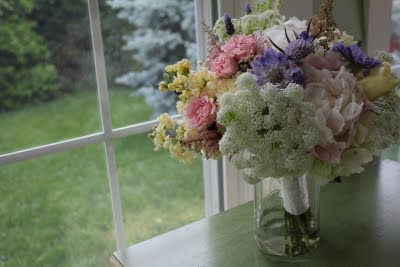 Farmhouse wedding bouquet
The Brooklyn Botanic Garden features a very nice post on Queen Anne's Lace as Weed of the Month.
A favorite in wildflower bouquets, Queen Anne's lace (Daucus carota) comes into bloom in the heat of late summer. You'll see its delicate white flowers atop three-foot stems on roadsides and in empty lots, rising above the trash and tangle of other weedy plants around it.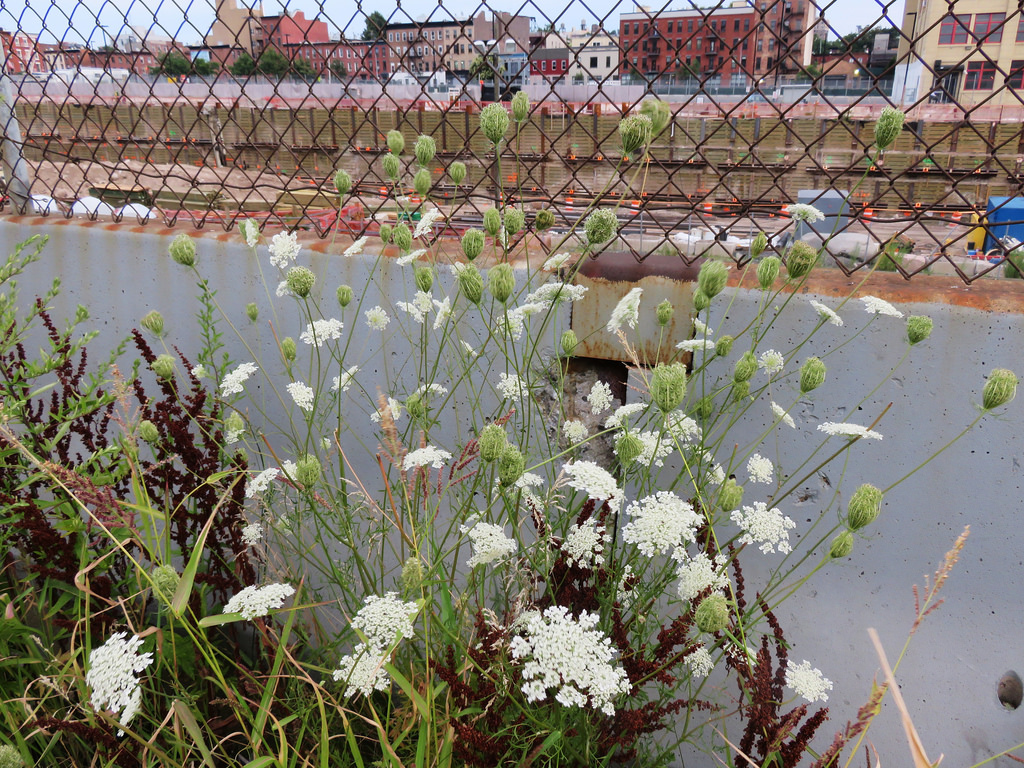 A weed grows in Brooklyn
"There are many explanations for the origin of this common name . . . " The flower umbels are white. The umbels usually have a small dark purplish or reddish center. I don't know if a purpose for the dark center blossom has been confirmed.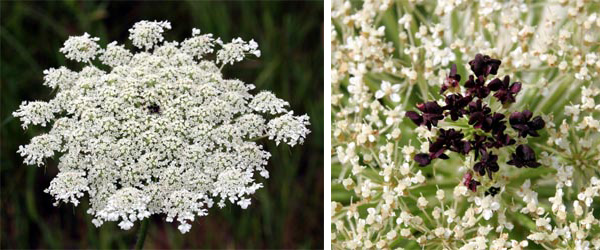 Flower umbel with small purplish center
There are several related look-alike flowers. Most notably Poison Hemlock (look for red spots on the stems). Queen Anne's Lace has hairy stems. The Eat the Weeds Guy has notes on positive identification for foragers.
Florists and gardeners now often use Ammi majus, AKA False Queen Anne's Lace, Bishop's Lace or Lady's Lace in place of Queen Anne's Lace. Johnny's sells three kinds that are all annuals (it also comes in biennial forms). These include a mixture of purple, pink and white, a full-flowered pale green cultivar and a delicate white one called 'White Dill'. There is also a cultivar in the florist trade called "Chocolate".
Sunset calls Ammi "well-mannered" compared to Queen Anne's Lace. But everything is relative. It can still self-sow. It seems to be banned in Australia and New Zealand.
Perhaps more than with celery, carrots and Queen Anne's Lace, the foliage and/or sap of False Queen Anne's lace can cause photo toxicity and allergic contact dermatitis. But not like Giant Hogweed. Unless you are very sensitive, you will probably be OK if you don't lay in the sun with a leaf on your back to form an imprint. Still, you might want to wash up after harvesting big bunches of celery, carrots or related flowers.
Carrot Music
Australian man makes carrot clarinet on stage. And plays it, starting at 1:50. Great intonation!
Make your own 2-carrot clarinet. Instructions are available. Music starts at 1:35. This is what he can do with a forked carrot.
Gardens of the Horde
We saw a lot of beautiful vistas, some lovely plants and a few nice gardens on our short trip to the Northwest last week. Got caught in smoke from a wildfire past Shasta. But the wildfires near home are calming down some. Coming back, we saw evidence of small brush fires on the edges of the freeways that weren't there on the way up.
I have been thinking about the weather in the East, too. Are your gardens drowned yet?
I bought a few small succulents that had seen better days for about a buck each. Seemed to fit with the current state of our garden. They have the species names on the labels. The climbing aloe might be hardy here.
And I bought some blue sage, because hope springs eternal.
Anything new going on in your garden?

posted by Open Blogger at
12:30 PM
|
Access Comments